Follow along on a 90-day solo circumnavigation from the South Pole to the North Pole.
If you were to assume that planes have a purpose far greater than just flying, what would you do with your plane? Would you use it as a global billboard? Raise money for aspiring pilots? Educate kids about STEM? Showcase aviation safety and technology? What about a spiritual practice to better understand yourself and life? 
I decided to do all these things and more. After my first circumnavigation in my Malibu Mirage in 2015 and then completing my second book about the trip ("Zen Pilot: Flight of Passion and the Journey Within"), I sought another adventure. Soon, a piece of research I came across from the British Antarctic Survey planted a seed.
There are few places in the world where there has never been war, where the environment is fully protected and where scientific research has priority. But there is a whole continent like this – it's the land the Antarctic Treaty parties call…a natural reserve, devoted to peace and science.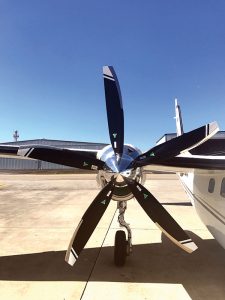 This seed, along with the experience from my 2015 circumnavigation, developed into a new mission: Join humanity together in a South Pole to North Pole flying adventure. 
To achieve this goal, I purchased a 1983 Gulfstream Turbine Commander 900 ("Citizen of the World"). Breathing new life into this capable and venerable 35-year-old aircraft has been a challenge. The Flying Thru Life team recently installed newly refurbished Honeywell TPE 331–10 T engines producing 1157 hp designed for 1000 hp and derated to 750 on takeoff. To make the aircraft climb faster and fly farther, new custom MT five-bladed nickel-tipped composite scimitar propellers were designed and installed, incorporating the latest low vibration and quiet prop technology. Add RVSM, and at 35,000 feet, the Citizen of the World will likely be the fastest Turbine Commander on the planet.  
To increase the range to a seemingly impossible 5,000 nautical miles and 20-plus hours of flight time, I located the original engineer who designed the 52-foot Gulfstream wing and asked him to conduct a feasibility study. After a lot of number crunching, the engineer determined the plane could carry an extra 928 gallons of Jet A in six additional fuel tanks. This extra fuel gets the plane to an incredible 40 percent over max gross.
Up front, the modernized Avidyne panel showcases the best technology general aviation has to offer with synthetic vision, Bluetooth, glass panels, an IPad, active traffic, ADS-B In and Out, satellite weather, communications, and music. 
This is an enormously big task that has never been completed in a twin-engine turboprop. The Citizen of the World will be setting records over both the South Pole and the North Pole for speed and distance in the C-1e and C-1f classes. If you ask me, I'll tell you there are aspects of this trip that scare me. These areas have limited air traffic control and some of the worst weather in the world. But fear isn't a good enough reason not to go. There is so much good coming along for the ride. 
If you would like to support our mission or follow along, I invite you to visit www.poletopoleflight.com or find "Flying Thru Life" on social media.