A glimpse inside the glamorous life of a corporate pilot
We arrive in Reno following a very bumpy descent out of FL410, with 25-knot crosswinds on the approach to 16L and a nasty wind shear being advertised by the tower. Our four veteran business jet passengers are on a recruiting trip for graduates of the construction management program at the local college and they hustle off the airplane with a full schedule and all kinds of other activities in mind, leaving TL (the other pilot) and myself to figure out what to do with ourselves for the next two nights and three days.
The trip down was all business as usual from a pilot's point of view. We left KBFI in the Lear 40 with a 1,500 overcast, 4-mile visibility and winds from the south, but a bit wet and unable to decide if they wanted to blow at 25 or 35 knots. All this being due to a large low pressure system from the Gulf of Alaska and now approaching the Washington coast, causing the local barometric pressures to drop like a rock. When the barometric pressure drops, it acts like a huge vacuum, pulling air and moisture in from hundreds of miles around the center low pressure in a counterclockwise, circular motion. Hence, the rain and winds from the south.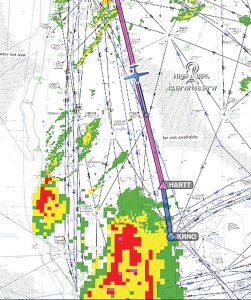 After takeoff, we encountered the expected low-altitude turbulence, then had about 20,000 feet of fairly smooth air, followed by all kinds of warnings from Seattle Center about icing, turbulence and tops above 30,000 as we approached the edge of the low-pressure system near the Oregon border. Our solution was to keep the climb rate up so we could top the system by the time we got there. It worked out fairly well, as we crossed the Columbia River at FL380 in smooth, clear air, listening to the turboprop commuter traffic beneath us looking for ride reports in all directions.
Thirty minutes later, we were over southern Oregon at FL410 looking through the reflections on our iPad screens at ominous areas of red areas over Lake Tahoe, moving slowly east and dropping ice and wet snow over the west side of Reno. The question was, would we beat the weather to the airport? When we were 10 minutes out, inbound on the HARTT One arrival, approach was reporting winds 200 at 30 knots gusting to 45, with significant wind shear below 1,000 feet AGL, but visibility good at 10 miles with 2,600 broken with 16R and 16L in use. Breaking out of the clouds at about 2,500 feet in light rain doing Vref+10, we could see a gray curtain of snow mixed with rain to the airport's west, with occasional flashes of lightning penetrating that gloom. We land just before it covers the airport. On the ramp at Atlantic Aviation, we find the linemen already have our rental cars out and running, making the baggage transfer from airplane to car in the worsening mixture of snow and rain a quick task.
Now with the airplane safely put away in the hangar and our passengers gone, we face what is our most challenging conundrum…what to do with ourselves for the next three days and two nights. By comparison, if this had been a personal flight in my Cessna 340, I would have arrived with some specific purpose or schedule in mind, most likely with my wife or family members on board. But this is rarely so when you fly for pay. You often find yourself with several days with nothing to do other than just wait. In addition, some of the destinations that might seem to be glamorous at first pass, lose their glitter once you've been there often enough.
Faced with this problem, almost always the first topic for professional crews is what to do about dinner. And for veteran pilots a lot the glitzy, expensive places advertised in the airline magazines lost their attraction long ago. No, for most of us it must be some place where the tourist crowd never goes, preferably a little on the exotic side, hard to get to, and ideally cheaply priced. Generally, one of us will always at least claim to know of such an eatery no matter where we are in the country.
After some discussion, TL says he has a hankering for German food, which sounds fine to me. As I drive up to the Marriott, he is already punching in the location of a what he says is one of the best German restaurants in the country, and it is right here in Reno. When the location comes up on his cellphone map, it is quite apparent that the only tourist we will meet in that isolated part of town is a mugger out on parole, and maybe some illegal drug salesmen. I mention this and TL does admit with considerable satisfaction that "yes, it is indeed in the 'bag lady' section of town."
We check into the hotel then head over to the famous German restaurant with me driving through the rain. TL is navigating and calling out "90-degree left now" and "clear right" whenever we enter an intersection. We have been flying together for some time and CRM habits are hard to drop.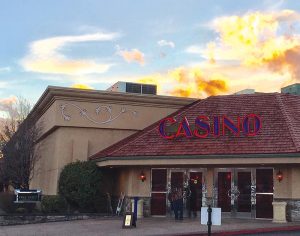 Finally, after getting lost in an abandoned industrial park, we arrive at the German restaurant just after dark on a moonless night.  Near the door, we can see a gang of local residents hanging out, admiring each other's plentiful and crude tattoos, smoking and looking for handouts. Others are pushing their life's accumulation of worldly possessions through the large and empty parking lot in rusty Safeway shopping carts, with creaking and worn-out wheels. 
Seeing only one other car present in the lot, I mention to TL that all this is not a good sign for a restaurant at the dinner hour. He assures me that contrary to all appearances, this place is a true "pilot's find." Nodding to the intimidating door greeters, we enter to find 30 tables nicely laid out with white tablecloths and silverware. Except for one other couple, it is absolutely empty. The waitress who has a distinct German accent, smiles and offers us any table we want. I ask why is the place so empty, and she says that it is raining. When that happens in Reno, people just don't go out. Sounds reasonable to me. Maybe we should have stayed at the hotel ourselves.
But the waitress turns out to be exceptionally friendly, and after we share that we are professional pilots, we get into a long conversation about her accent. She reveals she is a former TWA stewardess who has lived and traveled throughout most of the world. She says she was born in Germany, but after school was unable to get hired Lufthansa because her English "was not good enough," yet then was immediately hired by TWA because of her great facility in languages. Her level of attention as a waitress is reminiscent of someone accustomed to working the first-class section of TWA Lockheed L1011s in the good old airline days, when service meant something, and the three crew members in the pointy end of the airplane got the best treatment of all.
When she puts down large glasses of cold beer, and warm, fresh bread, TL asks about ordering something not listed on the menu, to which she cheerfully replies, "Something special for you…of course the chef will be glad to." We are halfway through our beer when a huge tray of sauerkraut, potatoes and German sausages of every known variety arrives. Later over freshly brewed coffee and apple cake, the chef himself comes out to inquire about the meal. We praise his skills extensively, and then ask about his accent. Turns out he was also born in Germany, immigrated to the United States and (befitting a true pilot's restaurant) then served as a crew chief on helicopters with the U.S. Army in Iraq. We thank him for his service to the country, pay the modest two-digit bill, then stagger out greeting the bag ladies and potential muggers out front as if they were our old friends. On arrival back at the hotel we decide to skip the free breakfast, and just sleep in.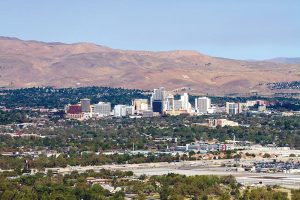 The next morning after a breakfast that lasts from 11 a.m. to 1 p.m., we decide to visit one of Nevada's renown gun stores, this one with a target range known to be the training ground for gun-toting Nevada women. We first look over a huge inventory of guns of every make, model and purpose, then turn our attention to the soundproofed glass of the target range, where a group of Reno's finest young ladies are practicing their shooting skills, many with rather large, 9 mm Glocks. Most are deadly placing kill shots on paper targets. We could not help but notice all their targets are males who look a lot like us. After a couple of hours of this intimidating activity we elect to return to the hotel to take a nap and then consider dinner choices.
Later, after a careful discussion that takes longer than planning a flight to Europe, we decide it is steak night. We are told by a local that there is an excellent steakhouse about 15 miles away in a remote northeast corner of town that has five stars and rave reviews. We head over there and arrive to find a crowd of most unattractive, poorly clothed, severely overweight people of both sexes, smoking and lounging around outside the entrance. Not a good first impression. We enter and work our way to the restaurant area in near zero-zero visibility from all the cigarette smoke, through a forest of slot machines occupied mostly by wrinkled women who look like they are not slept in months. We signal to the hostess that there are just two of us for dinner. Ignoring that at least half the tables are empty, she says that there will be at least a two-hour wait, then with a firm but meaningful smile, invites us to use the nearby slot machines until our table is ready. We might be pilots, but that doesn't mean we are entirely stupid. The restaurant is obviously devoted to losing gamblers, not hungry, steak-eating aviators, and so decide to go somewhere else where our type is more commonly seen and welcome. For our last fabulous, professional pilot, expense account dinner in Reno, we settle for the "In and Out" Burger joint located near the hotel.
At around 10 a.m., the next morning we have the Lear fueled, plus coffee and ice boarded. The weather system from two days prior has blown through, and that for the return trip is essentially clear. Our passengers arrive 30 minutes early, and we are airborne 15 minutes later. We make the Mustang 8 departure, and are shortly thereafter cleared direct to the Olympia VOR about 600 nm to the northwest, which is the entry point to the OLM Two arrival for Boeing Field. We have fun skimming along at 250 knots over the top of a 5,000-foot broken layer, then drop down to 3,000 feet and request the Harbor Visual arrival into Boeing Field (KBFI). We grin following our smooth landing 13R, and exit right in front of the Clay Lacy FBO at A9 with only the slightest braking required. Our passengers smile and nod as they get out, and we head home for dinner.
Truth is, most professional pilots will fly for free, it is figuring out what to do while waiting that we want to get paid for.