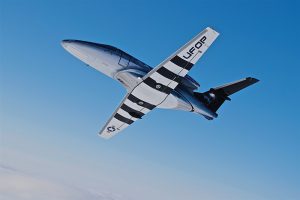 If you attended AirVenture Oshkosh 2016, you may have noticed a very unusual business jet parked in Boeing Square sandwiched between the C-47 "That's All, Brother" and an F-15 Eagle. Featuring a custom, air-brushed paint scheme inspired by Star Wars, Star Trek and vintage military aircraft markings, this is no ordinary Phenom 100. The distinctive aircraft, better known as the Millennium Phenom, has a very special mission. It and its owners Mark and Diane Holt have dedicated much of its time aloft to flying America's wounded warriors as part of Veteran Airlift Command.

"I've always had an admiration and appreciation for the people who sacrifice and serve our country so that we have the freedom to pursue any path we choose. I have always wanted to contribute something back. Now I feel like I am serving those who served us," said Holt.
The Road to Giving Back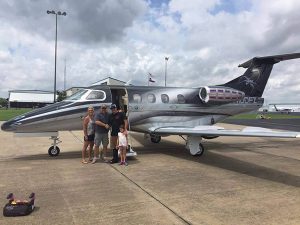 Like any great American success story, Holt found a niche in his chosen industry and with a lot of hard work and creativity, he grew his small business into an international competitor. Aviation played a vital role in his success.
"Aviation helped change the paradigm for my business," he said. "It played a key role in helping us expand our business."
Born in Green Bay, Wisconsin, Holt fondly remembers his father's passion for flying. An aircraft financier, Holt's father struck up a friendship with world-famous air racer and aircraft designer Steve Wittman, to whom he loaned the money to build his first Tailwind, a popular two-seat experimentally built aircraft. Wittman, for which the Oshkosh, Wisconsin airport was named, remained a close family friend of the Holts.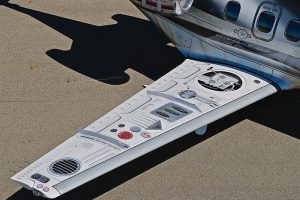 After his father lost his medical and gave up flying, Mark decided it was his turn to move to the left seat. Mark sought the advice of friend and aviation mentor Doug Rozendaal, an Iowa business owner, CFI and warbird enthusiast. At the same time, he was traveling exhaustively throughout the upper Midwest working for a bio-tech company. He had seen the power of aviation as a business tool, and was anxious to apply it to his business.
"Doug sat down with me and a pad of paper and mapped out a path to attain my ratings," Mark remembered. "A year later, I came back with my license."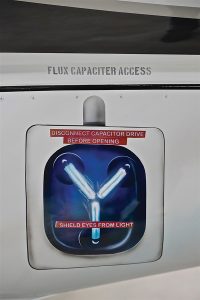 In 1998, Mark used the proceeds from the sale of his first aircraft, a Piper Archer, to buy a bio-tech company headquartered in Mason City, a small town in north-central Iowa. Called Varied Industries Corporation, the company manufactured feed ingredients for dairy cows, beef cattle, poultry and other livestock.
"When I bought the company, I was trying to figure out how to bring prospective customers to Mason City for plant tours. I quickly determined the best way was to bring them here in a private aircraft," he said.
For a small company in a big pond filled with large, billion-dollar companies — many of them household names — the ability to conduct a day trip for a plant tour became a competitive advantage. "Once we started picking up customers and bringing them to Mason City to see our technology and plant, our sales closure rate jumped to more than 90 percent. The big companies were discrediting us for being small, but once prospective customers got an up-close look at our facilities, they were convinced."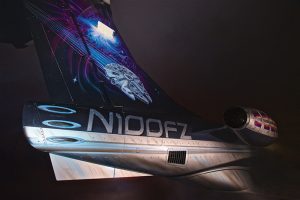 Over next 15 years, Holt and his company owned more than a dozen aircraft, including a Saratoga, Cessna 310, Piper Mirage and a TBM 700 turboprop. With the desire to fly farther, faster and above the weather, he began his search for the ideal single-pilot jet. After studying the market and considering every airframe available, he finally found the perfect match: an Embraer Phenom 100.
"I wasn't tied to one particular brand, so why not buy the one that appealed to me the best," he said. "I liked that the Phenom was a clean-sheet design, and I was impressed by the Phenom's ramp presence, robust design and roomy interior."
As his first jet, Holt was keenly focused on single-pilot ergonomics, flying characteristics, as well as mission capability. The Phenom did not disappoint.

"It is an amazing airplane and fit my missions very well," added Holt, who often travels to his residence in San Diego. "Coming from a TBM with its 6-foot speed brake out in front, the only downside – which is true of any light jet – is that it has a very small footprint for stopping. Without reverse thrust or speed brakes, you have to pay attention and be on your game when landing on icy or wet runways."
Holt said the impact of operating a jet was felt immediately.
"Put a 1,000-mile radius circle around Mason City. With the Phenom, anyone in that circle can be at my facility within two hours. For example, I can bring someone from Colorado, give them a tour, feed them lunch and have them home that afternoon. It is a powerful tool."
By 2014, Varied Industries was the largest manufacturer of all natural animal health products. Late that same year, the company was acquired by Arm & Hammer Animal Nutrition, who was attracted to the company's breakthrough in a yeast-based additive that aids in an animal's growth and health.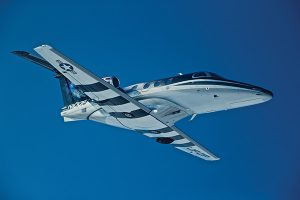 While Holt left his company behind, he kept the Phenom to help him refocus on a new endeavor.

"I am a purpose-driven person, so I began exploring ways to combine my flying with something meaningful. Veterans Airlift Command fulfills that desire," he said.
Veteran Airlift Command is a nonprofit organization that provides air transportation for medical and compassionate purposes for primarily post-9/11 injured servicemen and women and their families through a large network of volunteer aircraft owners and pilots. Founded in 2006 by Walt Fricke, a wounded warrior from his service in Viet Nam, the organization coordinates missions coast to coast, providing safe, comfortable and honorable transportation that would otherwise be difficult and some cases impossible on the airlines. Holt met Walt Fricke two years ago, and the more he learned about VAC the more it resonated. Following the sale of his company, he committed to fly 200 hours a year on behalf of VAC missions.
In early 2016, Holt decided to repaint his Phenom to reflect his new mission. "Initially, I had a military-style paint scheme in mind. But that changed when I met John Stahr," he said.
John Stahr is the founder and owner of Stahr Design, a studio located in Eugene, Oregon that specializes in original custom paint designs for aircraft. Holt had spotted a De Havilland Otter with a unique airbrushed scheme designed by Stahr. He contacted John and they began to flesh out a design for Holt's Phenom.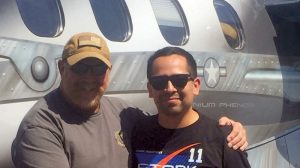 How did a military themed paint scheme evolve into a tribute to the great spaceships from two of the world's most popular sci-fi series? Stahr recalls asking Holt, "What does it feel like to fly a jet?"
He replied, "I feel like an X-wing fighter or the Starship Enterprise descending to Earth's surface." Stahr found his inspiration.
Over the next several months, Stahr and Holt refined the design, incorporating features from Starship Enterprise, the Millennium Falcon, and the famous flux capacitor that powered the DeLorean in Back to the Future. The design also featured the Star Trek United Federation of Planets seal, as well as the illusion of "battle damage" on the belly fairing. As the design continued to evolve, Holt was concerned it was straying from his vision of serving wounded warriors.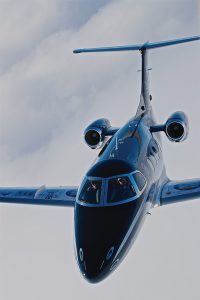 "At one point, I thought it was getting a little too crazy. John said, 'don't you think these guys have had enough seriousness in their lives? You are hauling purple heart recipients with life-altering injuries. Maybe they'd like to have some fun,'" he said. "It turned out to be pretty cool."
In addition to the airbrushed paint scheme applied by Stahr, Flying Colors Aviation in Benton Harbor, Michigan completed the prep work, base paint, and final sanding and clear coat. In May 2016, the aircraft rolled out of the paint bay, ready for its new life as a volunteer for Veterans Airlift Command. Since then, Holt has flown the Millennium Phenom for several missions for VAC.
His friend and aviation mentor Doug Rozendaal added, "Mark has this incredible vision. He can look at something and see what it could become. Whether it's turning his small company into a mega-success, creating the Millennium Phenom, or helping those who've served our country, he has the ability to see the path forward and isn't afraid to execute."
Holt recalled the conclusion of a recent mission for a young wounded warrior. "As I got his bag out of my baggage compartment, I saw that it had the purple heart pinned to it. After I handed it to him, he dropped it on the ramp and gave me a bear hug with tears in his eyes. He said, 'Mr. Holt I never believed in a million years I would ever fly in a private jet, much less sit in the front right seat,'" he said. "I don't do it for that, but it sure is so awarding."