Part 2: The "How" of Charitable Flying
Welcome to the second installment in our series on charitable flying. Last month we introduced the idea that cabin-class aircraft owners and pilots are well situated to carrying out these vital medical and humanitarian missions. As a reader of Twin & Turbine, you probably have access to one or more aircraft that are often the best choice for these types of flights.
Hopefully I piqued your interest when I presented five compelling reasons why YOU should consider signing up as pilot for a charitable flight organization in your region. If so, you probably have a lot of questions about how the process works should you decide to take the next step.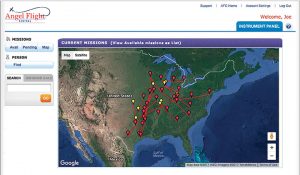 I'll do my best to answer as many questions here, and I'll start by addressing one of the more common concerns I've heard from the pilots I've recruited in the past:
"I'm too busy and it would be difficult to fit this into my schedule."
The good news is, charitable missions can typically be fit around your schedule, and it doesn't have to be the other way around! You can specify when you are available to fly missions, either in general or on a case-by-case basis. There are three primary ways that a pilot can look for charitable missions to fly.
First, you can scan the charitable organization's website for passenger requested missions three to six weeks in the future. That's right: these missions are often requested and scheduled many weeks, sometimes months down the road. As an executive, my schedule was usually very full two to three weeks out, but after that my time wasn't always fully spoken for. This made it easy to look for available missions several weeks out that were interesting to me, and then book them on my calendar.
Second, whenever you have business or vacation travel planned, you can scan the same website for missions that happen to be going in the same general direction that you were already planning to go. If you could accommodate a charitable mission objective by combining with a work or vacation mission, it is a win-win.
And finally, most charitable flight organizations will send out email notifications with a list of near-term unfilled missions, and pilots can check those missions against their short-term calendar to see if they might be able to take one of those missions at the last minute.
How to Become a Volunteer Pilot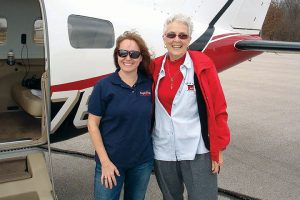 With that concern hopefully addressed, let's turn to the nuts and bolts of becoming a volunteer pilot and flying charitable missions. The first step is to get signed up with an organization in your region. (Take a look at the chart included with this article for a listing of several of these organizations across the country.)
Most charitable flight organizations will have minimum logbook requirements for their registered pilots. Since you are flying a high performance or turbine-powered airplane, you probably already meet those requirements. As an example, Angel Flight Central requires at least 250 hours plus a commercial license, or 500-plus hours if you don't have a commercial license. Having your IFR qualification is probably a good idea as well, but not all the organizations require it.
Once you are registered as a volunteer pilot, you will go through a phone call orientation from the organization's flight coordinator, helping you get ready for your first flight. I also recommend finding an experienced pilot in your particular charitable organization to go with you on your first flight, just to make sure things go smooth and to take away some of the pressure of your first charitable flying experience.
Once your flight is scheduled, you will need to coordinate the flight details with any other connecting pilots on each mission, as well as the passengers. Flights are sometimes made up of two or more connecting legs, with each leg typically planned for 250 to 400 miles each. In your case, however, you may elect to take more than one leg of a mission since your airplane can cover more ground, at faster speeds, than the typical planes used for these missions (think Cessna 182).
Next, you'll want to call the FBOs that you plan to use along your route of flight to let them know you are coming so they can be ready to assist your passengers when you arrive. Many FBO's across the country will offer a fuel discount for charitable missions, so make sure to ask the folks behind the counter if they will offer you a discount should you decide to take on fuel.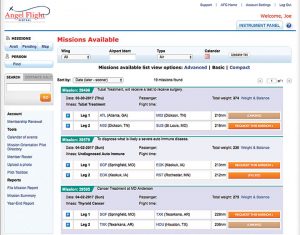 You will need to watch the weather closely leading up to the day of your flight, especially since other connecting pilots may not have airplanes capable of flying in adverse weather conditions. Most pilots can't fly in known icing conditions, and they probably don't have onboard radar either. On a few occasions, I decided to fly all the connecting legs because the weather kept the other pilots from launching.
Once the planning and coordination is all done, the best part of flying charitable missions is meeting and getting to know your passengers. The wonderful people that request these missions are so grateful to the pilots for the time, energy and money that we contribute. These passengers are going through difficult times in their lives, and as volunteer pilots, we get to come alongside them and make a small part of their lives maybe a little better.
I hope this article gives you a better sense of how the process works and inspires you to take the next step of finding an organization in your region that makes the most sense for you.
Next month, in the final installment in this series, I'll talk about the "who" of charitable flying, and share stories about the folks who are riding in the back during these missions, where they are going, and why they need to get there. You will be able to see, from the passenger's perspective, why volunteer pilots are so important and how you will be able to make an impact on so many lives when you take that next step.