WHO:
Randy Harmon – Owner
COMPANY:
Harmony Air Flight
school, aircraft rental, aircraft management,
charter
WHERE:
Nashville, TN
QUALIFICATIONS:
Lt Col, USAF (Ret)
CFI, CFII, MEI, CSIP, AGI, SES, ATP
1. Can you describe the mission of Harmony Air?
Currently, we operate with 12 pilots and 18 aircraft (we began with just three pistons back in 2006). All of our pilots are instructors. We are constantly training in both piston and turbine aircraft – Cirrus SR22, Cessna Caravan, Beechcraft Baron, King Air 350, Phenom 100, Decathlon, you name it. In addition to training, we manage and charter aircraft. Nashville is a prime spot for charter. It is an entrepreneurial city with a big understanding of how airplanes can provide value to personal life … but you've got to have a niche in order to be successful in this industry. Our niche is doing a lot of things, and we've sought to become experts in a variety of airplanes.
2. How did Harmony Air become a go-to for local Nashville stars?
It started when we gave flight lessons and developed relationships with folks who worked in country music management. Through those connections, Tim McGraw was the first singer to hear about us and reach out – which led to us teaching him to fly in a Cirrus. Not long after, fellow country singer Dierks Bentley was on the lookout to earn his instrument rating in his own Cirrus and Tim recommended us. It has just evolved from there. Along the way, we have instructed and/or managed aircraft for Luke Bryan, Reba McEntire, Blake Shelton, Kelly Clarkson, Chris Janson, Miranda Lambert and others. We also train and fly a number of people in the healthcare and hospitality industries.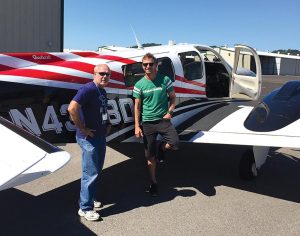 3. When did Harmony Air incorporate turbine aircraft to the fleet?
In 2010, we added and managed a Phenom 100 for Reba McEntire. Since then, we have helped several others make the jump up into turbines as well (like the Caravan and King Air 350). When looking for a new airplane, it is all geared toward the mission and costs. We'll walk clients through the entire process – research, demonstrations, financials, negotiations, etc. The core motivator we see for folks wishing to step up to a turbine aircraft is reliability. Many times, our artists fly late at night after concerts, with departures often taking place past midnight. Multiple, dependable engines is hugely appealing to this audience.
4. What is the typical mission for a country music star?
As you might guess, the country music group is typically utilizing aircraft for travel to concerts and shows all over the country. But what they're ultimately doing is keeping their families together. I can assuredly say that is priority number one across the board. As I mentioned, charter is popular, but what we see with our clients in particular is that they like to know who they are flying with. They're a very savvy
crowd — either they are pilots themselves or just seek to be knowledgeable about the airplane and crew. Plus, unlike other charter operations, we are based in Nashville. Our clients can call any time of the day or night — our cell phones are on. They choose and stay with Harmony Air because they trust us. We take a lot of pride in that fact.
5. Can you give an example of one of those calls?
A couple of years ago, I received a call from Luke Bryan's tour manager at 5:30 a.m.; I had yet to meet Luke at that time. His bus was broken down somewhere in Indiana, and he needed to get back to Nashville in time for a recording session. After calls to numerous music contacts, his manager was finally given my number. I jumped out of bed and into an airplane to Indiana. By 9:30 a.m., Luke was in Nashville recording. And he has been flying with us
ever since.