WHO:
Andrew Broom
WHERE:
Greensboro, North Carolina
POSITION:
Executive Director of the Citation Jet Pilots Owner Pilot Association
CAREER HIGHLIGHTS:
Senior Marketing and Communications Roles at Honda Aircraft Company, AOPA, Hawker Beechcraft, Eclipse and GAMA
1. Can you tell us how the Citation Jet Pilots Owner Pilot Association (CJP) got started?
CJP formed nine years ago when a group of pilots progressing from turboprops decided to join together to share stories and organize events as new jet pilots (the Mustang had just come out around that time, of which a few of the them had taken ownership). The goal was to share flying experiences and information similar to what they were seeing occur in other successful owner associations. Today, the CJP consists of a volunteer Board, around 900 members and a large number of partnerships. One of CJP's most important roles is as a conduit between owners and companies that support the Citation fleet.
2. What are the core benefits a CJP membership provides Citation owners?
So, our members fall into two buckets: owner-member and non-owner member. The owner-members receive impressive discounts toward Citation parts, service, training, fuel and more. For example, a $500 voucher toward Textron Aviation parts/service. Non-owner members (whom want to learn more/possibly make the jump) are able to interact in the online forums, earn fuel discounts and browse the Russ Meyer library – the largest online repository of articles pertaining to Citation history and operational information. We also put on multiple fantastic regional events for our members throughout the year in addition to our annual convention.
3. What's on tap for the 2017 CJP Convention?
This year, the convention is being held October 4-7 in Phoenix at the Biltmore, a Waldorf Astoria Resort. The highlights will be A) incredible content, and B) a gorgeous hotel and location. The program involves numerous events including a safety stand down led by retired NASA astronaut, Charlie Precourt. We'll also have speakers that include Textron Aviation CEO Scott Ernest, former SR-71 driver Brian Schul and representatives from partner companies like FlightSafety, Garmin, jetAviva, Rockwell Collins, TRU Simulation + Training and Tamarack. And you can't forget the parties, auction and live entertainment. This is truly a cannot-miss event for Citation owners.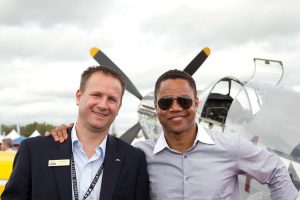 4. In what ways does CJP give back to the general aviation community at large?
CJP attends and supports industry events such as Young Eagles, Veteran's Airlift Command and others. We set forth a budget each year specifically for giving back to charitable flying organizations such as these. CJP also awards college scholarships to Embry Riddle students in cooperation with the Bob Hoover Foundation. Not only do these scholarships provide students with monetary support, but we will actually take them under our wing, introduce them to the general aviation and bring them to our convention. We want to help expose young people to the world of general aviation.
5. Why is the Executive Director position a perfect fit for you?
My entire career has been in business aviation, and lucky for me, I have spent time on both sides of the spectrum with OEMs and associations. This role at CJP allows me to bring all of that experience together in a leadership position where I think I can truly make a difference and grow the organization. Having worked on both sides, I am able to see things from a few different perspectives when looking out for our members and partners to find those win-win opportunities. With such a great volunteer Board and amazing group of members, this organization has blue skies ahead.