WHO: Kirby Ortega – Chief Pilot, Aircraft Management Programs
COMPANY: Yingling Aviation
WHERE: Wichita, Kansas
QUALIFICATIONS: FAA Gold Seal Flight Instructor, FAA Designated Pilot Examiner, 30+ years at Cessna, former chief pilot piston engine operations, 25,000 hours
1. What led you to becoming (and remaining) a pilot at Cessna for 30 years?
The versatility. I served in various piloting roles over the years such as training, air-to-air, demo and international flight operations. But flight instruction was my introduction to Cessna and actually remained my primary focus – specifically training newer pilots in the Caravan for international flight ops. Traveling to other countries was a huge interest of mine. I have now flown in more than 90, predominantly in the Caravan. Greatly enjoy seeing other cultures, the way they live, and how they view the role of general aviation. In a lot of places, aviation is the tie to civilization.
2. Can you describe your present role at Yingling Aviation?
I'm currently the chief pilot for Yingling Aviation's aircraft management program. We manage and operate aircraft for local companies. But keeping with the versatility theme, I perform a number of responsibilities around the FBO such as maintenance flights, ferry flights and training. I also do a considerable amount of training and testing on my own – primarily in the Citation Mustang and 525 series. I'll assist individuals looking for flight instruction in their own airplane whether it be a type rating or recurrent training.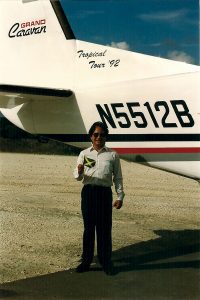 3. You've flown nearly every Cessna model – what is your favorite aircraft (or two) to fly?
In the jet line, I'd have to say the Citation XLS+ is one of my favorites. It is just a super well-rounded airplane with great range and speed; extremely easy to fly on top of the impressive performance. The stand-up cabin is also a good feature. The Mustang would be my next pick, mainly for the simplicity of the systems and G1000. I've seen a lot of pilots step out of single-engine pistons right up into the Mustang. It involves some extra mentoring for multi-engine time, but the simplicity and redundancy of the systems allows for a nice transition.
4. What are the top reasons you see pilots stepping up
into turbine aircraft?
The reliability is first. They know they are always going to be able to start the engine, whether it be a PT-6 or a jet engine. A pilot stepping up might also be looking at the simplicity of the aircraft operation or the added performance. But usually, the primary goal is finding out the amount of safety-related features their money can buy; two engines, advanced avionics, etc. – especially if they're coming from a single-engine piston or operate out of challenging terrain.
5. Can you tell us about one of your most memorable trips?
Back in 1990, we took the Caravan on a demo tour to Moscow, Russia. We landed at the larger, city airport at first, but then needed to transport to another location around
10 miles away for an airshow. We were required to have a Russian navigator on board, so once he showed up, we were on our way – flying at 1,000 feet, staring at apartment buildings taller than us. He soon points where we need to land and we look down just to see a grass field with a couple of airplanes. Turns out Russia does airshows a bit differently than we do. The focus is the aerial performers, not booths or vendors on the ground – we were the only OEM there. People sure were excited to see a new airplane though!