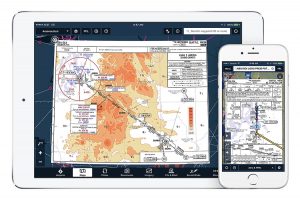 Jeppesen and ForeFlight have joined forces to combine their capabilities and worldwide content.
Starting this summer, ForeFlight subscribers will see Jeppesen global navigational, terrain and obstacle data in ForeFlight Mobile. ForeFlight subscribers on individual plans will be able to link their Jeppesen license in ForeFlight Mobile and purchase standard worldwide Jeppesen charts for use inside the app through a simple e-commerce experience on foreflight.com.
General aviation pilots will be able to choose between Jeppesen Mobile FliteDeck and ForeFlight Mobile as their preferred cockpit solution. Subscribers to ForeFlight Business Plans will purchase chart coverages through Jeppesen and then link them to their ForeFlight subscription for use inside the ForeFlight Mobile app.
"We're excited to bring Jeppesen charts and data to ForeFlight Mobile customers. The combination makes ForeFlight Mobile the premier all-in-one mobile solution for planning, briefing, filing, flying, and logging flights across personal and business aviation. Over the years, many customers have requested Jeppesen charts and data in ForeFlight Mobile, and we're so pleased that we can now meet that need," said Weihs.
"This strategic alliance will enable ForeFlight and Jeppesen together to bring advances in capability to customers globally that neither company could accomplish on its own," said Tyson Weihs, co-founder and chief executive officer, ForeFlight. "Both companies share common values and purpose – delivering next generation power and productivity to pilots with superior customer service."