In twin presentations at EAA Airventure Oshkosh last July, Innova Aerospace unveiled upgrade packages for the venerable King Air 90-series airplanes. Unlike most mods, the Innova upgrades are planned for all cruciform-tail King Airs, even the A90 and B90 series.
Shortly before the Oshkosh showing, we visited Innova's base at Perryville, Missouri, a river-plain airport located just south of St. Louis. Long the center of support for the Rockwell Sabreliner business jet fleet, of which 50 or 60 are still flying, as well as providing a broad offering of maintenance for other aircraft, Sabreliner Aviation was bought by Innova in 2015, giving it an impressive amount of space on the 7,000-foot runway field.
The Innova shops in Perryville are capable of complete interior and exterior renovation, avionics upgrades and inspection and overhaul services. Now, Innova is lending its expertise to refurbishing the Beech King Air fleet, by offering GE engine replacements for the PT6A turboprops, and by STCing a Bendix/King AeroVue electronic instrument panel suite that brings any conventional-tail 90-series King Air into the modern era. Innova's two demonstrator King Airs, featuring the engine and avionics upgrades, were painted in the modern 40,000-square-foot paint facility at Perryville before being flown to Oshkosh.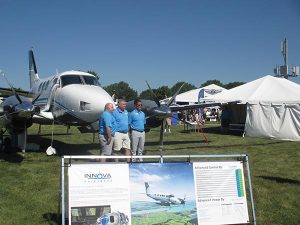 A New Level Of Performance With New Engines
First, we'll address the engines upgrade. As briefed by Innova's director of marketing, David Meske, in 2015 Innova acquired the STC previously owned by Smyrna Air Center that replaced King Air 90's PT6A engines with General Electric H80 powerplants. Based on the Czechoslovakian Walter engines, GE's H-series turboprop is available in 750, 800 and 850-shp variants, with the H80 offering 800-shp capability. Flat rated to 500 shp in the King Air 90, the engine offers abundant high-and-hot reserve and can go to its 4,000-hour overhaul without an intermediate hot section inspection. There are also no recurrent fuel nozzle inspections.
As discussed at the Oshkosh press conference, the two Innova demonstrator aircraft recorded dramatically different fuel burn numbers on their identical flight profiles from Missouri to Wisconsin. The GE-engined airplane took on 60 gallons, while the King Air with its original engines required 130 gallons. The H80's reportedly propelled the elderly A90 upward at a climb rate of 4,000 to 5,000 fpm.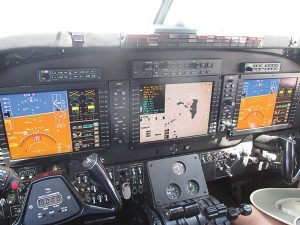 AeroVue Transforms The King Air 90 Cockpit
Up front, Innova's replacement of the original King Air remote electronics with Bendix/King's AeroVue suite makes a radial change in the cockpit, and in the nose compartment. The three LCD displays replace a plethora of remote avionics, and offer full ADS-B compliance, WAAS RNAV approach capability, synthetic vision and cursor-controlled tuning and inputs. The former avionics bay in the nose now offers space for baggage, and weight was reduced by a considerable number of pounds. Innova plans to offer an AeroVue installation kit STC'd for all 90-series King Airs except the F90.
Bendix/King's AeroVue is not a brand-new EFIS system, by any means. Its basic  architecture has long been used in Gulfstream, Pilatus and Falcon business aircraft, and it's well-proven in new-production installations. As the retrofitable AeroVue, it addresses the problems of taking a venerable airframe forward through several decades of progress, using a three-display setup with the trademark cursor-control console in the center pedestal. We found the palm-rest for the data-entry and selection functions very natural and comforting in turbulence, versus touch-screen management. Kits are expected to be available by year's end. Innova stresses that even though the demonstrator aircraft is a C90A, its AeroVue installation is applicable for all 90-series through the E90, rather than being restricted by serial number.
For more information, visit www.myka90.com