Today, the term "smart home" is not uncommon. More and more, homeowners can simply use mobile apps to control home features such as garage doors, lighting, entertainment systems, doorbells, security cameras, appliances and more. The benefits of such technology include safety, accessibility, energy efficiency, cost-effectiveness and convenience. Maybe you have integrated such smart products throughout your own home. According to an online report, the smart homes market was valued at $64.60 billion in 2019 and is expected to reach $246.42 billion by 2025.
So, with the obvious surge expected in smart homes, we wondered is there work toward "smart hangars?" The buildings we house our pricy and precious flying investments? Fortunately, in recent years, several companies have entered the industry with that very mission of integrating technology between pilot-owners and hangars. Below, we explore three of those companies: HangarBot, HangarStack and Hangar Tonight.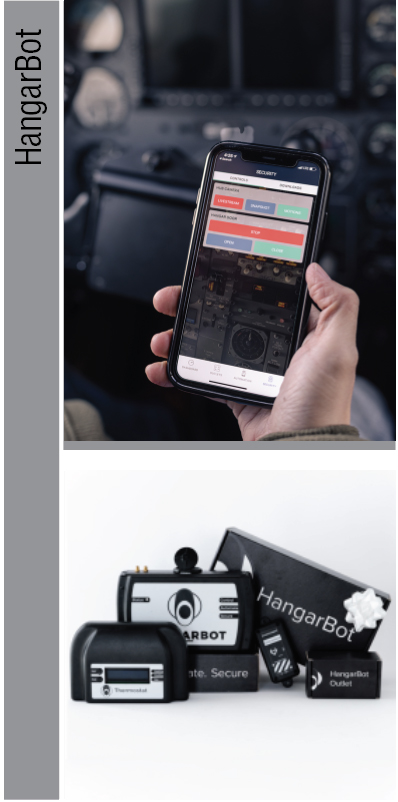 HangarBot
Since launching in 2016, HangarBot has developed multiple new products to automate the everyday pilot's life. It is the company's mission to help bring the aviation industry into a more connected era and has since partnered with well-known brands like Tanis Aircraft preheating systems and Schweiss Doors for automated hangar solutions. The company's first product was the remote door controller.
Pilot and HangarBot founder Morgan Walker (also featured in this issue's "Five on the Fly") wanted a simple way to open the hangar door as he taxied in, or even from home. Once he found success in this goal, Walker decided he wanted to take on other problems pilots face during pre-flight and post-flight related to the hangar. Today, the company offers around a dozen product offerings that help aviators take control of their aircraft and its environment, including the HangarBot Hub, Industrial Outlet, Door Sensor, Thermostat and Security Camera.
The HangarBot Hub (4G and Wi-Fi versions) is an internet-connected device embedded with a 24/7 video surveillance camera and motion detection that will send notifications directly to your smartphone. The HangarBot Industrial Smart Outlet allows pilots to preheat their airplane's engine from anywhere, and can also turn on or off lights, fans, batteries, etc. The HangarBot Door Sensor adds a security element by sending notifications to the user when their door is open, closed or left ajar. The HangarBot Thermostat allows for remote monitoring and control of the hangar's central temperature, allowing aviators to crank up the heat while on their way to the airport. And, the soon-to-be-released HangarBot Weatherproof Camera complements the Central Hub camera by allowing for multiple views indoors or out.
"Saving time in pre-flight and giving peace of mind, any aviator can find a use for HangarBot in their hangar," said Kendra Garrison, the company's marketing coordinator. "This was built as an out-of-the-box solution that just plugs in and works right away. Easy installation does not require
permanent changes to the hangar and most products are mounted with magnets."
Imagine this scenario: A man walks down the stairs in his home while on his cell phone. With a few clicks, he activates his aircraft's engine preheater through the product's app. The app then alerts him that motion is detected in his hangar, which he confirms is his mechanic after a quick phone call. While on his way to the airport, the hangar fan and coffeepot are turned thanks to geo-fencing technology. This is just one example of how the product can benefit pilots looking to streamline their workloads.
"Our company was built from taking in customer feedback and growing from there," said Walker. "HangarBot never wants to stop making the pilot's lives easier and safer."
Available on: iOS, Android
More information: www.hangarbot.com
___________________________________________________________________________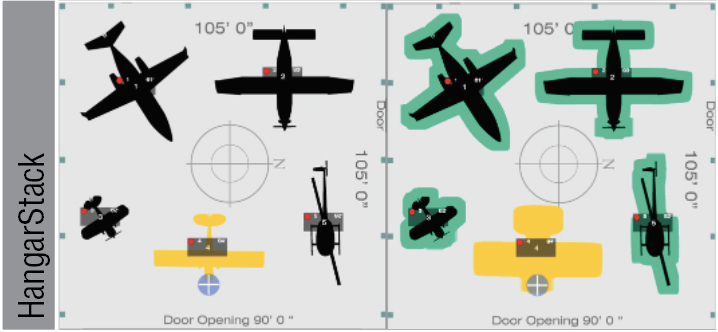 HangarStack
Created to maximize hangar revenue at FBOs, HangarStack is also a great tool for small aircraft owners looking to best position their airplane(s) and other objects within their hangar.
"Our program allows parties to prevent hangar rash with the capability to pre-plan aircraft movements digitally prior to any aircraft being moved," said Mike Partin, HangarStack sales manager.
This is accomplished through a scale size, simulated hangar that allows users to "stack" aircraft inside of it. Pricing is dependent upon hangar size and other factors, with a one-time setup fee. For an additional fee, HangarStack users can also add custom-drawn objects to their simulated hangar, from tractors to boats. This allows for a more realistic example of their own hangar and the obstacles within.
HangarStack's technology was created a few years ago, with more than 85 software updates occurring within the last year to ensure the product remains a useful tool for FBOs, owners and operators. A demo is available on the website, which allows you to select and test from four hangar layouts (of varying size), one ramp layout and a plethora of planes. While the full product stores more than 450 aircraft in its database (any unavailable ones can quickly be added), the demonstration allows users to select one aircraft per manufacturer.
For my demonstration, "Hangar 3" was selected and random aircraft were chosen to be puzzle-pieced into the 105-foot by 105-foot hangar: a HondaJet, Quest Kodiak, Aviat Husky, Pitts biplane and a Robinson R22 helicopter. Next to the hangar square is another screenshot that demonstrates the product's "spacing" feature. This example shows 3-foot spacing, which is useful to better visualize the amount of clearance between the aircraft and other objects within the hangar, as well as its walls and fixtures. The available spacing ranges from zero to 10 feet.
Other useful capabilities in the HangarStack software include assigning a priority level or custom notes to each aircraft, such as "must be ready by 9:15 a.m." or "add 200 gallons of fuel prior to departure." Partin noted that the team is also working toward integrating flight tracking data in order to automatically update the hangar inventory based upon which aircraft are out for flights. For example, if a HondaJet leaves the hangar at noon, the feature would automatically show it re-stacked when it returns. This future addition is just one part of the team's overall plan to help lessen the almost $1 billion in annual insurance claims attributed to hangar incidents, in addition to making consumers' aircraft movements easier and more efficient.
Available on: Windows, Mac, and iPad
More information: www.hangarstack.com
___________________________________________________________________________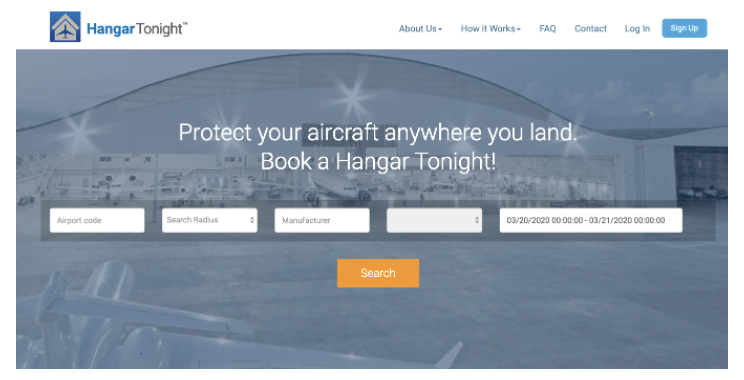 Hangar Tonight
In 2016, Brendan Clarke, former fighter pilot and current commercial real estate professional, witnessed a brief but intense hailstorm at the Colorado Springs Airport. Tennis ball-sized hail caused millions of dollars in damage to aircraft sitting on the ramp. The experience led him to create Hangar Tonight – or "Airbnb" for your airplane. Clarke noted that although there was ample hangar space available at the Colorado Springs Airport that day, there were still several transient aircraft (including a Citation Sovereign and a Gulfstream GV) exposed to the elements that were total write-offs.
Exemplified by this example, pilots flying across the country often need hangars on short-notice to protect their expensive asset from harsh environmental hazards – hailstorms, dust storms, snow, extreme wind, extreme temperature, etc. Hangar Tonight is a site specifically designed to suit those pilots' needs for overnight aircraft storage.
Hangar Tonight allows owners to rent their hangars, or sections of them, and for pilots to arrange short-term (28 days or less) rentals. Currently, there are listings in Colorado, Alaska, Arizona, Florida, Texas and Pennsylvania, with more states coming on soon. Clarke notes that the team is actively working to increase the number of hangars listed and airports that they are available.
Listing your hangar on the website and app is free the first year. The price then becomes $27 per month for an individual hangar, $67 per month for an FBO, or $197 per month for an airport. Hangar owners simply create a listing by providing the hangar location, dimensions and other details, as well as pictures of the space. Supplying a map of the airfield is also strongly encouraged, as it assists pilots in finding the hangar.
Owners have the discretion to set the listing price, and when a pilot is interested, they can inquire about the listing and "chat" directly with the owner. This upfront coordination prevents scamming, as it ensures that a real pilot (who is given a six-digit alphanumeric code by the company) is making the reservation.
For example, let's say you are an Eclipse 500 owner flying to Colorado Springs. You would be able to log onto the Hangar Tonight platform (there is no fee for pilots to sign up and use the services) and view options of staying at one of the airport's many available private hangars. It is important to note that the software will only list available hangars that fit the particular aircraft inputted. So, T-hangars won't be listed as options for the Eclipse 500 but might be for another aircraft, such as a Piper Malibu or Mooney M20.
After selecting a suitable hangar within the requested date range, you are then able to chat directly with the hangar owner to confirm availability and other details. Once the hangar owner accepts your booking, you will enter your credit card details and a confirmation will be sent to you both upon successful payment. Once payment is confirmed, any additional information (i.e., door code) will be communicated and sent to you prior to arrival.
Clarke states that they are currently in greater need for hangar owners to sign up than pilots, as they help to grow the platform to more locations.
"For the platform to succeed, the aviation community needs more hangar owners to list their spaces," said Clarke. "You never know when you might be the one who needs hangar protection at an airfield that you fly to."
Available on: iOS, Android, online
More information: www.hangartonight.com