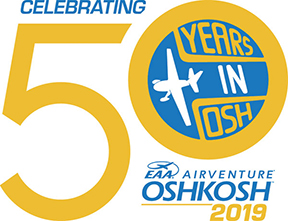 This year, EAA celebrates the 50th consecutive EAA AirVenture fly-in convention in Oshkosh. The event initially took place in Milwaukee in 1953 then moved to Illinois in 1960 before a final move to Oshkosh in 1970.
"A half-century ago, EAA founder Paul Poberezny saw Oshkosh as the perfect place to bring together aviation enthusiasts," said Rick Larsen, EAA's vice president of communities and member programs, who coordinates AirVenture features and attractions. "Oshkosh has become synonymous with the World's Greatest Aviation Celebration, so it's natural that we commemorate 50 consecutive years here with events that involve those who attend and those who have made the city such a welcoming place for aviators."
To celebrate the occasion, I enlisted the help of writer MeLinda Schnyder to capture some of the stories and sentiments from longtime Oshkosh attendees of all different types – a performer, exhibitors, an attendee of VFR arrival, an attendee of mass arrival, a volunteer, an Oshkosh resident and EAA staff. While each provides a unique perspective of the show and its meaning, a common theme is evident: They continually return each year for the passionate community and comradery.
We also interviewed EAA Director of Communications Dick Knapinski for this month's "Five on the Fly." Dick first attended Oshkosh in 1978 and has worked on the frontline for EAA for more than 25 years. He provides an insider's look at all of the moving parts required to pull off the world's greatest aviation celebration. In 2018 alone, Oshkosh welcomed more than 600,000 people from 87 nations, along with more than 10,000 aircraft. EAA expects to see similar numbers in 2019. 
Highlights in store for the 50th EAA AirVenture Oshkosh ("Year of the Fighter") include: 
Aircraft from the USAF Air Combat Command, including fighters such as the F-15, F-16, F-22 and F-35, as well as the A-10 attack aircraft;
The first Oshkosh appearance of the unique XP-82 Twin Mustang;
A salute to World War II ace Bud Anderson, with every flying P-51 in the U.S. invited to Oshkosh to participate;
The 50th anniversary of the Apollo 11 mission, with featured guest Apollo 11 command module pilot Michael Collins;
Observance of the 75th anniversary of D-Day, with aircraft that participated in the actual invasion on June 6, 1944, as well as C-47 airplanes that will have just returned from a historic anniversary flight to France;
The 50th anniversary of the Boeing 747;
Programming celebrating renowned aerospace engineer and aircraft designer Burt Rutan.
It is sure to be another memorable year, and I personally look forward to marking my ninth straight Oshkosh. Cheers to 50 years!