Photos Courtesy of Lajitas Golf Resort
Any golfers in the audience? Black Jack's Crossing in Lajitas, Texas consistently ranks as one of the best golf courses in Texas by Golfweek, the Dallas Morning News and Golf Magazine. The course is located at Lajitas Golf Resort, an all-inclusive resort offering a wide array of activities, dining and services – all accessible by a private on-site airport.
Activities and Amenities
Naturally, the golf course is the highlight of the 27,000-acre resort. Accented by the terrain of Big Bend National Park, golfers are presented with spectacular mountain views and backdrops at every hole. 
For supplies and carts, guests visit the Pro Shop found inside the historic Lajitas Trading Post, built in 1899. Green fees for 18 holes are $125 per person and include a GPS-equipped golf cart, balls and a cooler. The carts can be utilized either by golfers or anyone looking to take a scenic drive along the Rio Grande river. 
The course is an exciting one for amateurs and seasoned golfers alike as it was designed by Lanny Wadkins, winner of the 1977 PGA Championship, eight-time member of the US Ryder Cup team and inductee into the World Golf Hall of Fame. 
"While golfers make up around 80 percent of the guests at Lajitas, we also offer dozens of other activities," said Terry Olson, director of sales and marketing at Lajitas Golf Resort.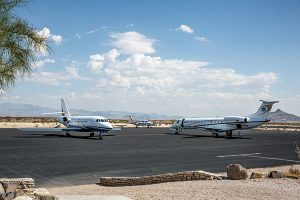 Olson is referring to such activities as zip lining, paddle boarding, spa packages, shooting, horseback riding, mountain biking, Jeep tours, swimming and hiking. To help navigate the options, the resort's "Activities Desk" is available to assist guests with planning their memorable trip, combining both on-resort and local attractions. 
One of the more popular and unique attractions at Lajitas is the Cowboy Action Shoot – or "Wild West experience." Reminiscent of the days when U.S. Army General "Black Jack" Pershing drove Pancho Villa out of the area, the event allows guests to enter Stargazer Springs (a fictional Wild West town) and shoot a single-action pistol, a side-by-side shotgun and a lever action rifle.
Another shooting activity is the combat course, where guests try their hand at shooting a 9mm pistol, AR-15 and a tactical pump action shotgun. For guests with a competitive spirit, there are timed scenarios available.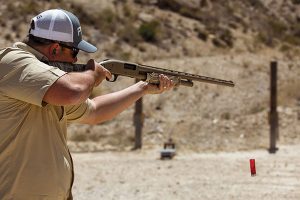 Horseback riding is also a common choice among Lajitas visitors. Riders can experience the grandeur of the region on horseback, particularly during the sunrise and sunset trail rides. Champagne, wine and cheese are typical accompaniments on these rides for when riders take short breaks and admire the view. 
Olson says that Lajitas is in one of the "darkest skies regions of the world," so some activities at the resort capitalize on this feature, namely the outdoor option of "Dining Under the Stars." Guests can gather with family and friends around an open flame where dinner is cooked in Dutch ovens, unlimited beverages are served (including beer and wine) and live music is played while the sun fades into pitch darkness. The clear night sky allows guests to witness stellar formations and planets often hidden elsewhere. 
When it is time for shut-eye, guests retreat to their room at Lajitas' four-star hotel – comprised of more than 17 room styles, each with individual charm. The hotel consists of suites, villas, condos and standard rooms, with several of the options boasting multiple bedrooms and bathrooms (perfect for large groups). Each option features unique themes and décor designed to transport visitors back to the days of the Old West.
An added convenience is an on-site General Store, open seven days a week that carries a variety of products and deli. And if guests require outdoor gear, Red Rocks Outfitters offers footwear, backpacks, trekking poles, cooking equipment, lighting and other outdoor products. 
Lajitas International Airport is a privately-owned airport for use specifically by the resort's guests. The airport has Jet A, 100LL, a GPU, an FBO building with flight planning options, tie-downs, hangars as well as transportation to the resort.
"Lajitas is arguably one of the most remote regions in the United States," said Olson. "With Midland, Texas being the closest large city at a four-hour drive away, the resort is ideal for private aviation." 
Chris Baur, an operator of a PA46T Piper Meridian and a Robinson R66 helicopter, is a frequent visitor to Lajitas. Upon raving about the resort, Baur provided an overview of the flight procedures: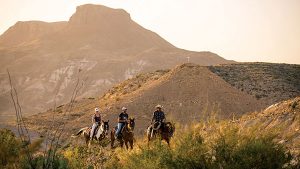 "Pilots can file IFR to 89TE. You will receive a cruise clearance from ZAB (Albuquerque Center) and a phone number (505-856-4500) to call and cancel your flight plan after landing at Lajitas. Cell service and internet are excellent at the resort, but there is no radio or radar service in this remote region of the United States. Pilots must also face high terrain in all quadrants around the airport."  
In addition, Chris noted that Hughes Aerospace Corporation is in the process of implementing a COPTER LPV Instrument Approach and Departure at Lajitas, as well as instrument approaches and departures to the new runway. This, along with the new AWOS-A, will provide day and night all-weather access to Lajitas International Airport including access for emergency medical helicopters.
The approaches are not the only tentative update to the airport, as the new 6,500-foot by 100-foot concrete runway (7/25) has a projected opening date of May 1, 2019. It will run parallel to the old 6,000-foot by 100-foot asphalt runway (to be used as a taxiway upon completion of the new runway).
Further information about the airport, such as landing reservations, can be found on the Lajitas Golf Resort website (www.lajitasgolfresort.com). Also on the site are numerous videos showcasing the features and beauty of Lajitas – something that can truly be appreciated in person.
Stay tuned for our next "Great Getaways" feature in the May issue.