Gaston's White River Resort, located in the picturesque Arkansas Ozarks, understands the value of an on-location runway. The popular pilot destination boasts a 3,200-foot grass strip and welcomes a wide range of aircraft including Piper Cubs, Beechcraft Barons, Quest Kodiaks and Pilatus PC-12s. Clint Gaston, the current owner and grandson of Gaston's founder, claims guests fly or drive in from all parts of the country because they "become family when they stay here."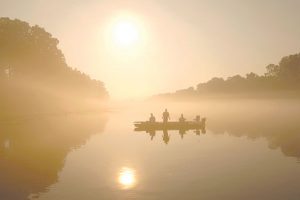 Activities and Amenities
While there are dozens of ways to enjoy oneself at the 400-acre resort, the key emphases of Gaston's have remained the same since its founding 61 years ago: fishing and lodging. Directly adjacent to the resort is the White River (2.5 miles south of Bull Shoals Dam) where guests often catch Rainbow Trout, Brown Trout (the "Gaston's Trophy Fish" due to their size), Cutthroat Trout and Brook Trout. Sometimes, parties get so lucky as to catch the "White River Grand Slam," meaning all four of the noted trout species during the same trip.
Though beginner's luck could be a contributing factor for some in catching fish, the only proven way to become a better angler (or pilot for that matter) is instruction and practice. To that end, the resort offers a fly-fishing school which is led by a 25-year veteran guide and master fisherman, Frank Saksa. The school is a one-day course capped at two people to ensure ample one-on-one instruction. The course combines classroom teaching with hands-on experience, and is suitable as either a beginner or refresher class.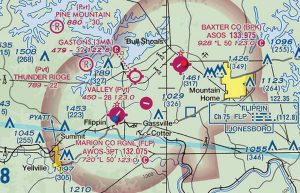 For those ready to jump into the action right away, there are also guided fishing tours available. Guests have the option of choosing "float" or "local" guided tours which are offered in half- or full-day increments and allow for a small group to join a guide on one of Gaston's many fishing boats. Or if doing things on your own is more your speed, there are more than 70 boats available for rent. And not to worry if you forgot your rod and reel (or do not own one) as the resort has plenty available for rent along with various other items to complete your fishing excursion.
After angling and relaxing on the river, guests often opt for a meal at Gaston's on-site restaurant. This award-winning dining establishment offers one of the best views on the property as the large picture windows provide a panoramic view of the river and surrounding scenery. Headed by Executive Chef (and avid fly fisherman) Rick Gollinger, the restaurant serves a variety of steakhouse fare and of course, trout and other seafood. And what better way to enjoy your days' work than to hand over your fish to the kitchen for the "You Catch 'Em, We Cook 'Em" option on the menu. Chef Gollinger's team will fillet, clean and cook your trout however you prefer – broiled, fried or pan seared. 
If you prefer to cook your catch yourself, be sure to select a kitchenette-equipped cabin complete with pots, pans and appliances. In all, there are 79 total riverfront cabins with assorted layouts. Aside from lodging and dining, the resort also features tennis courts, a pool, a playground, a wild-bird sanctuary, a gift shop, a game room, a duck pond, three nature trails and a conference center. 
"What truly makes this place special is we go out of our way to accommodate guests' needs," said Gaston. "The various activities and hospitable demeanor of the staff culminate to create one of the most inclusive resorts in the Arkansas Ozarks."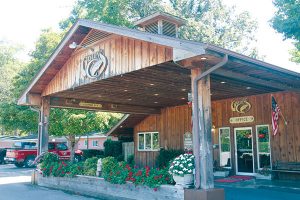 Flying into Gaston's
Approaching Gaston's White River Resort is scenic as the backdrop is sweeping, tree-covered hills and backcountry. The final approach into 3M0 is relatively simple, although there are power lines on short final that might surprise anyone new to the airstrip. Zachary Wilkinson, a pilot who has flown a Quest Kodiak into the strip, described the experience as "the kind of flying the first pilots did. The ones who were free to fly low, enjoy the view and land anywhere with an open area of grass." 
Wilkinson added that Gaston's reminds him of why it's important to stay sharp with seat-of-the-pants flying, even today. "Tucked in the White River Valley south of Bull Shoals Lake, you approach the downwind from the south over a high ridge then let down into the curve of the river for base. It leads you to an open area for approach to the field. Eyes must always be up and out with mind on pitch and power to control the approach. With a steady eye out for power lines along the way and trees at the end, you can set down smoothly on the 3,200 feet of well-kept turf."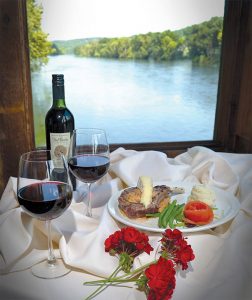 John Young, a pilot who has flown multiple aircraft models (both piston and turbine) into the airport, offered up advice for first-timers. "If it's your first time to visit Gaston's, the key is thinking ahead as you would for any flight. Talk to people who've been there before, watch videos online and plan your first visit in fair weather conditions. Backcountry flying is all about knowing your aircraft, your capabilities, having a plan and executing it. What a fantastic way to hone your skills and expand your flying adventure. And for those of you with float planes – Bull Shoals lake is right next door!"
If your aircraft is not suited for off-field landings, there are two alternate airports within a 15-minute drive of the resort: Baxter County Airport (BPK) and Marion Country Regional Airport (FLP). Both airports offer a 5,001-foot by 75-foot asphalt runway, lighted approach and Jet-A. While BPK is around four nautical miles to the northeast of Gaston's, FLP is about four nautical miles to the southwest. Transportation to and from the airports can be covered by the Gaston's staff.
With its beautiful scenery, world-class fishing and convenient landing options, Gaston's White River Resort easily deserves recognition in this pilot destination series. Stay tuned for our next "Great Getaways" feature in the April issue.