Many pilots are aware of Best Tugs and their broad offering of aircraft tugs – product lines we covered in the February 2019 issue of Twin & Turbine. Brothers Mark and Mike Patey, along with their wives Suzie and Chandra, are the co-founders of Best Tugs, and their team is building upon their extensive experience in power systems. They started a new entity called "Best Power" to develop a line of Ground Power Units (GPU). 
Because most aircraft today have advanced avionics with database update requirements, pilots frequently need an external power supply to update the systems or simply spend time in the plane reviewing avionics or testing systems. I've used various external power supplies over the years, so when Mark Patey told me they were working on a new product, I arranged a visit to the company as I knew it something I wanted to evaluate. I own a Cirrus SR22 and Eclipse 500 and operate several other turbine aircraft, all with various ground power requirements. It would be a good field test.
Many aircraft owners may be storing their aircraft in hangars with 15-amp electrical service. In my case, one of my planes is stored in a hangar that shares one 15-amp circuit among seven other hangars! Not a good situation when you need power. 
To accommodate this situation and still meet short-term power needs, such as pump activation or flap deployment, Best Tugs incorporated an innovative capacitor design that provides short pulses of current without the need for larger circuits. Their 28VDC 57-amp model (BP-57/100) can handle a 100-amp surge for several seconds. While a 20-amp circuit is recommended, I found that it can deliver the power I needed on a 15-amp circuit. The GPUs are designed for worldwide service and can accommodate 120-240VAC power.
When you use an external power supply, it is useful to see the energy consumption of various systems, and with the Best Power GPU, that is easy to accomplish. The Best Power GPU not only provides a display of volts and amperage but also provides current watts and total watts consumed for those that are really interested in power engineering.
Mark and his team's engineering prowess is visible even in the packaging for the GPU. Many of the Best Aviation team are pilots, and they want full control over the components that power, tow, or go inside the aircraft. To that end, they design and manufacture many of the components in-house. And for parts purchased from others, they frequently modify them as well. For example, the team modifies the protectives cases to not only fit the power supply but to also include a 12-gage extension cord, 8-foot power cable, and two screwdrivers! I'm always looking for a screwdriver to remove my GPU access panel – something you don't have to worry about with Best Power.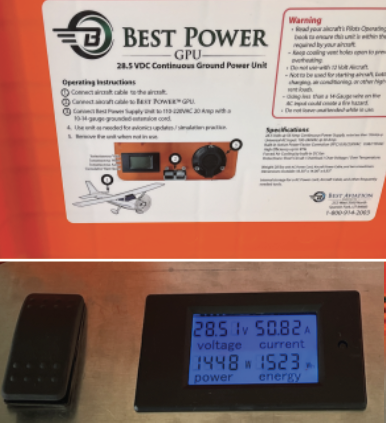 GPU Testing
The best way to evaluate the GPU is to use it on various aircraft. I started with the smallest power requirement, the SR22. It easily handled the database updates, as expected, and draws 12 amps powering the avionics. I also tested the amp draw for a complete flap deflection – 14 amps.
The next test was on my Eclipse jet. It easily handled the higher current loads of avionics and flap extension. I tested the GPU to 10 amps over its limit (67 amps) to see what happened. It simply provided a lower voltage, which was still above the batteries' (the Eclipse has two), however, the new higher load was shared between the GPU and them.
I then tried the unit on the Beechcraft
Premier, which has a much higher electric current requirement. The 57-amp GPU accommodated the load of the basic systems, and if I turned off the automatic AC system, it would also handle the avionics, pulling 50 to 55 amps from the GPU. The loads will drop after the initial connection since the GPU is also charging the batteries simultaneously. As they reach full charge, then the GPU only has to provide power to the aircraft systems. The voltage was rock steady throughout my tests – 28.5VDC, up to the load limit of the GPU, as advertised.
Summary
This GPU is the first in series of ground power units from Best Power. They are currently shipping the 57-amp ($1,495) and 114-amp (BP-114/200 – $1,995) power units. Best Power anticipates shipping the 171-amp (BP-171/300 – $2,395) and their largest, 288-amp continuous/400-amp surge (BP-288-400 – $2,895) by the end of the first quarter of 2021. All units other than the 57-amp BP-57/100 will require 220VAC power. They are also developing a series of battery-powered power supplies for starting aircraft.
The larger units weren't available for my testing during this evaluation, but I would recommend selecting the appropriate model for the load of your aircraft. In my case, with multiple airplanes, it is best to choose the unit that will meet the need of the aircraft with the highest electrical load requirements.
On top of tugs and GPUs, the company is also adding another product line – Best Scrubbers – a line of floor scrubbers. As with their other products, these incorporate a number of innovations, and they are offering two models. With their expanding line of products, they are organizing Best Tugs, Best Power, and Best Scrubbers companies under a new entity – Best Aviation Products. I'm not sure what their next product line will be, however, it is sure to be innovative.