The turbine engine is the single most expensive component on an airplane. Here's how to best manage and minimize maintenance.
Now found in more than 70 aircraft models, the PT6A engine family is a powerhouse among the turboprop world – and with good reason. With versions varying from 500-1,700 shaft horsepower, the engine has proven to be incredibly versatile and dependable no matter the application across general, commercial and military sectors.
An incredible 47,000 PT6A engines have been produced since the product entered service in the 1960s. On top of performance, operators especially appreciate its predictability and vast service network. One service organization in particular has been involved since the engine's infancy.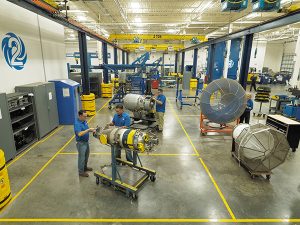 Dallas Airmotive
Dallas Airmotive, an operating unit of BBA Aviation, has been servicing the PT6A for more than 50 years. Today, its official designation is as a Pratt & Whitney Canada Distributor and Designated Overhaul Facility (DDOF). The company essentially covers it all: overhauls, full service repair, hot section inspections, part sales, engine testing and more. Its current employee count sits around 800. 
"Our experience runs deep, with many of our employees averaging more than 20 years in tenure," said Kalyn Ortiz, marketing manager at Dallas Airmotive. "We know engines because it is all we have done for more than 80 years."
Originally a piston overhaul facility during its founding in the 1930s, Dallas Airmotive quickly grew as it started winning OEM contracts with Pratt & Whitney, General Electric, Rolls Royce and Honeywell over the following decades, relationships which still run strong today. 
While they service over 20 different engine types, current specialties include the PW200, PW300, PW500, JT15D, TFE731, M250, RR300, RR Spey, RR Tay and of course the PT6A. Dallas Airmotive sees approximately 300 PT6A engine events every year.
To keep with demand and increase efficiency, the company recently consolidated five locations into one enormous new headquarters and overhaul facility near the DFW airport. It is the largest engine maintenance and testing facility in the world, sharing 240,000 square feet between its MRO facility and one-of-a-kind "Engine Test Center." The MRO facility operates a production floor for six engine product lines, engine accessories and component repair. It is expected to house at least 10 additional engine lines by 2019. 
Next door, the engine test center is comprised of six engine test cells with the capability of testing up to 25,000 pounds of thrust. Each area is strategically designed to achieve quicker turn times and reduced cost. In addition, the company has nine regional turbine centers (RTC's) and 50-plus field service reps from 27 dispatch locations (a map of facility locations can be found on their website, dallasairmotive.com).
"Our success with the PT6A stems from our ability to be close to customers through our RTC's, F1RST Support field service team and valuable partnerships like the Pinnacle Air Network," said Joe Capra, senior commercial director at Dallas Airmotive. "We all have the same goal: keep customers flying and minimize maintenance costs."
Expectedly, Capra notes cost is almost always the top question and concern amongst PT6A owners. The good news, however, is those owners can significantly influence the life and operating cost of their engines through certain operating and maintenance practices. The bulk of those practices fall under two categories: following OEM recommendations and conducting preventative maintenance. 
Follow OEM Recommendations
The Pilot Operating Handbook (POH) should be every operator's go-to for engine operation guidelines. Adherence to OEM recommendations will lead to savings in both time and money when it comes to servicing the engine. 
"Following the POH is extremely important," said Capra. "When the parameters are continually exceeded, we often see those engines come in for shop visits related to degradation of the engine, usually as a result of exceeding engine temperature limits." 
This is because extended operation outside recommended power settings can result in hot section component distress and increase general engine wear and tear. Consequently, the engine may prematurely reach operating limits (adding cost). 
Another frequented topic among PT6A owners is TBO extensions. This option potentially allows operators to achieve maximum usage out of their engine. Though appealing to some, there are several factors to consider. One being an aircraft operated beyond the manufacturer's TBO is likely to appear less attractive in the used aircraft market. Additionally, operators should consider the potential toll on the engine's health.
"Whenever this question comes up, we answer depending on the hours they fly," said Capra. "If an operator is racking up lots of hours flying each month, an approved TBO extension may work without issues. However, if there is a greater amount of time between flying, the engine is likely susceptible to corrosion." 
Capra explains that in those particular cases, when the engines are serviced, what could otherwise have been a repairable part may now need to be replaced. Typically, Dallas Airmotive embraces a "repair versus replace" mentality. "But whether it's a brand-new or used part, we provide customers with detailed options to fit their unique situation," continued Capra. The basic Time Between Overhaul (TBO) and Hot Section Inspection (HSI) interval is published in the appropriate Service Bulletin for each PT6A engine model. 
Preventative Maintenance
There are a number of preventative measures Dallas Airmotive recom-mends PT6A operators take in order to keep their engine its healthiest:
Fuel nozzle maintenance – The No. 1 most "cost effective insurance" against hot section distress is using conservative fuel nozzle maintenance intervals;
Borescope inspections – In conjunction with fuel nozzle maintenance, monitor hot section condition for early detection of degrading conditions and costly repairs. Early detection may increase component reparability versus replacement;
Oil analysis – Conduct periodic oil filter inspections looking for metallic and non-metallic debris. Look for signs contamination, darkening, unusual smell, carbon particles in the oil. With or without professional oil analysis, the regular monitoring of oil conditions is highly recommended;
Compressor/turbine washes – Must be tailored to the aircraft operating environment (salt laden environment, and industrial pollution). This is frequently found to be one of the more neglected preventive maintenance measures;

 

GPU starts (when possible) – Spools the engine faster during start for lower peak ITT. Extends hot section and starter life;
Introduce fuel at peak Ng (not minimum stated in manuals) – Allows for maximum cooling airflow during engine start to reduce hot section distortion and thermal distress;
Pre-shutdown cool-down – As recommended by the OEM. Promotes thermal stabilization of hot section components and helps prevent Compressor Turbine blade rub;

 

Run engine(s) at least once every week – Reference Maintenance Manual, Preservation & Storage instructions. Improper preservation or storage may render engines unairworthy requiring costly inspections;
ECTM – Engine Condition Trend Monitoring (sold by PWC) – Early detection of potential engine problems. Allows for preplanning of maintenance actions. Reduces risk for unplanned removals;
All of the above serve to detect early engine degradation and avoid unplanned shop visits. But when it does come time to for a normal overhaul, where might PT6A operators turn? One notable solution is Pratt & Whitney's "Flat Rate Overhaul Program."
Flat Rate Overhaul Program
Due to the engine's popularity, there are a number of service programs available to PT6A owners. It is important each owner conduct the research and find a service program fitting for their unique situation. One program worth considering is a flat rate overhaul option offered by the OEM itself as well as Dallas Airmotive. 
"As it relates to what we are seeing on the PT6, we think Pratt & Whitney's Flat Rate Overhaul Programs offered by Pratt & Whitney Canada and Dallas Airmotive is the best-value opportunity," said Capra. "I don't think operators realize yet how good it is." 
The program is widely accessible, being offered through all participating Pratt & Whitney Designated Overhaul Facilities. Core benefits include a fixed price upfront, increased new part mix, category 1-6 Service Bulletins and no extra charges for typical corrosion or normal repairable FOD (if FOD did not cause removal). There is also a premium offer for military customers.
Those interested can find more information on this program via the Pratt & Whitney website, Pinnacle Air Network or any PWC Designated Overhaul Facility.