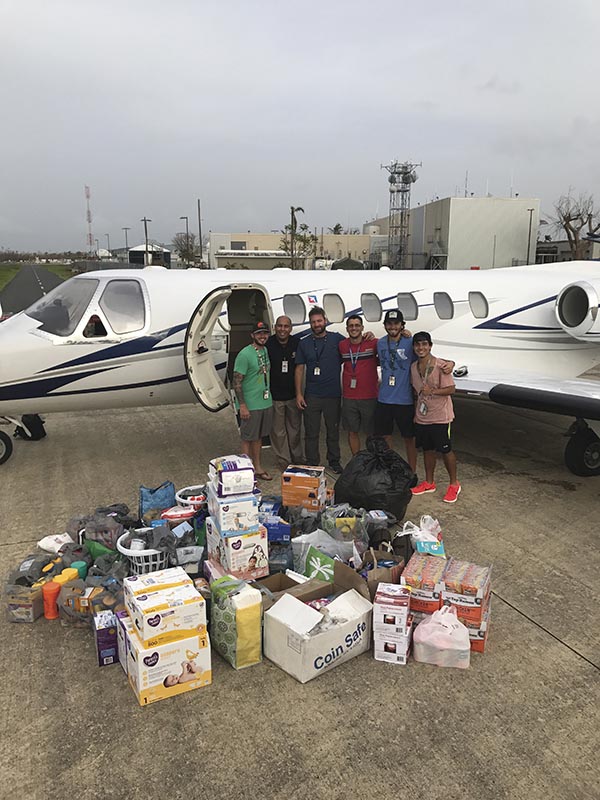 Earlier this year, in a matter of just four weeks, three record-breaking hurricanes pummeled the United States and Caribbean. Hundreds of thousands of people were displaced, cut from power sources and left with unrecognizable homes and neighborhoods. Conditions in some areas were referred to as "apocalyptic."
As the world watched these disasters unfold from afar, many looked for ways to help, pulling out their checkbooks or donating goods. But seeing as the hurricane damage made it near impossible to access areas affected, it was clear aviation must play a huge role in delivering those goods and providing vital relief efforts.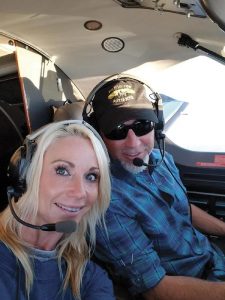 PALS Sky Hope Disaster Relief Program
Just weeks before Hurricane Harvey making landfall, two charitable aviation organizations, Patient Airlift Services (PALS) and Sky Hope Network, merged to form PALS Sky Hope Disaster Relief Program. Little did the group know they were about to be thrown into the midst of three full-blown hurricane response efforts.
Both formed in 2010, PALS and Sky Hope Network were founded upon similar missions: using business aviation for emergency aid. Whereas Sky Hope Network provides predominantly disaster relief, PALS typically focuses on medical and veteran transport.
"Our goal in merging with PALS was to connect with a charity flight organization that had full-time staff. This would enable us to create better infrastructure to respond to disasters in the future," said Robin Eissler, program director for PALS Sky Hope Disaster Relief Program and COO at jetAVIVA. "We barely had had time to begin strategic planning before Aug. 26 when Harvey hit. I called PALS executive director Eileen Minogue and said, "looks like we are going to be doing our planning live!"
In just over two days, Hurricane Harvey grew from a tropical storm over the Gulf of Mexico into a Category 4 hurricane as it made landfall near the Texas Gulf Coast late on Aug. 25. On initial impact, Harvey had a diameter of 280 miles and winds of 130 mph. But it was the slow movement that led to the catastrophic flooding in southeast Texas. Harvey broke the U.S. record for rainfall from a single storm, dumping over 50 inches of rain in some parts of Texas.
Residents were seen wading out of their homes, flagging rescuers from their rooftops or boating down streets. Help was needed and needed fast. Fortunately, in addition to the incredible first responders and guardsmen, hundreds of owner-pilots stepped up to the plate.
"In a two-week period, PALS registered more pilots than it normally does in a year," said Eissler. "We flew approximately 175 missions for Harvey. Many were life-saving."
Warren Brown, electrical contractor and PC-12 owner, was one of the pilots to answer the call.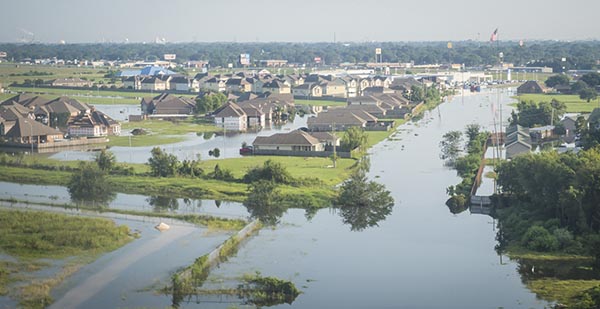 Hurricane Harvey
The day after Hurricane Harvey made landfall, Warren Brown, a Houston native, saw his Facebook newsfeed filling with panicked friends being pounded by the rain and floodwaters south of his Austin home. It was not long until he decided he had to do something.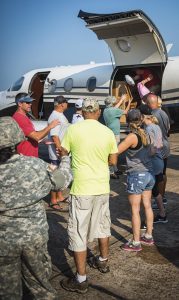 Having flown charitable missions before, Warren recognized his PC-12 could be particularly useful in a situation like this with its range/payload capability and cargo door. He jumped onto the Pilatus Owners Association (POPA) webpage and was soon connected with PALS and Robin Eissler. He was informed general aviation disaster-relief operations were going to be conducted out of Georgetown, Texas, just a short hop from his home base of Lakeway Airpark.
"My wife Bethany and I showed up that first morning not knowing exactly what we were getting in to," said Brown. "But after about a 20-minute pilot briefing, all of us just hit the ground running. There was a hangar full of pallets loaded with food and supplies, weighing at 500 pounds each. Half-dozen or so volunteers helped load up my airplane and off we went."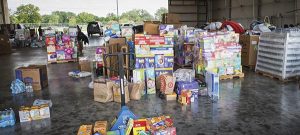 Over the next five days, this same process would occur as many as nine times as Warren either flew supplies to Beaumont or Orange, Texas. PALS had worked with several local area Austin nonprofits and aviation businesses to set up a supply chain mission that supported Houston and the Texas coast. At one point during the hurricane's peak, the coastal cities of Beaumont and Port Arthur received 26 inches of rain in 24 hours.
"The area was essentially an island. There was no way of getting food or supplies in except by aircraft or boat," said Brown. "You looked down and just saw miles and miles of roads and houses underwater."
The bulk of the supplies consisted of packaged food, water and sandwiches. But one flight in particular stuck with Warren – a critical mission to deliver Pedialyte and other infant supplies for a baby in Beaumont suffering dehydration.
"That flight felt the most urgent of them all," recalled Brown. "It was apparent those supplies were needed right away." Fortunately, the items were successfully delivered.
After each landing in Beaumont, Warren joined hundreds of helicopters and other aircraft on the ground. Some were owner-flown but the majority being military. Beaumont's Jack Brooks Regional Airport, a commercial airport, incredibly had little ramp space to spare.
"I don't think I will ever see an airport like that in my lifetime – from R-22s to Chinooks and even C130s," said Brown. "A couple of times, we had to hold outside the airspace 10 minutes before we could get on the radio."
Nearby, Orange County Airport, an uncontrolled airfield, presented Warren with challenges of its own due to TFR's and heavy helicopter traffic. Warren's strategy consisted of keeping his airplane 1,500 feet or higher until he was able to bring it into a short final then "dive-bomb" the runway. Once on the ground, people quickly appeared to help offload and distribute the supplies.
"It was a busy, exhausting week of flights. But everything was extremely organized considering the circumstances," said Brown. "PALS and the ground crew did an amazing job. I feel really good that I was able to help my home city."
But just as Hurricane Harvey diminished, another tropical storm was rapidly brewing in the Atlantic. A storm that would go on record as the strongest Atlantic basin hurricane outside the Gulf of Mexico and Caribbean Sea ever recorded by the National Hurricane Center.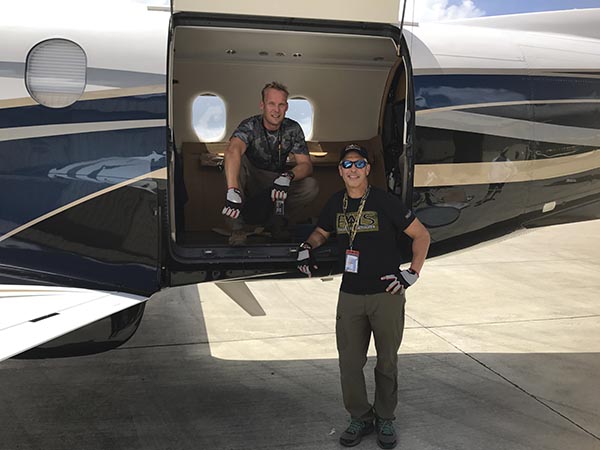 Hurricane Irma
On Sept. 6, Category 5 Hurricane Irma plowed through portions of the Caribbean with incredible 175-plus mph winds, causing tremendous damage to Barbuda and parts of the United States and British Virgin Islands. The storm which stretched 650 miles from east to west, prompted massive evacuations amongst the islands and Florida, displacing millions of people.
As many continued to flee the affected areas, PALS founder and owner-pilot Joe Howley and his co-pilot Brian Lisoski prepared to fly critically needed communications equipment from White Plains, New York to St. Thomas. The hurricane had completely wiped out communications on the island.
"Irma was a really big challenge being an international flight. It was not a situation where you can just show up," said Howley, an experienced volunteer pilot. "I think I spent around 12 hours on conference calls with other groups and NGO's (non-governmental organizations) in preparation. Our office coordinators probably spent twice that much."
As the plans solidified, Brian prepared Howley's PC-12 for the mission by reconfiguring the seats and protecting the interior. The duo then loaded a batch of handheld satellite equipment before flying to Georgia (PDK) to pick up 10 satellite dishes and corresponding equipment. From there, it was off to meet Rescue Global (NGO) on the ground in San Juan, Puerto Rico.
"You cannot do these flights unless you have a contact in the specific place you are bringing your aircraft or it can get real uncomfortable," explained Howley. "But Rescue Global was a huge help in the logistics of the operation."
After spending the night in San Juan, Joe and Brian completed the flight to St. Thomas where they delivered the equipment to another NGO, Global DIRT. Upon landing, they were greeted by an awful sight.
"It looked as if a nuclear bomb went off," recalled Lisoski. "Irma absolutely decimated the area. There was just one controller working four frequencies from a damaged control tower."
As they dropped off the equipment, they became aware of an older gentleman in St. John who needed to go to San Juan to receive medical care. They successfully transported the man then quickly headed back to New York, well aware another hurricane was on its way.
"When these things happen, it is a short-term, needs-to-be-done-now event," said Howley. "In this case, you cannot save people if they cannot communicate. So, it was very satisfying trip where we were able to see the results of what we were doing right away."
Less than 24 hours after Joe and Brian departed San Juan, Hurricane Maria hit Puerto Rico.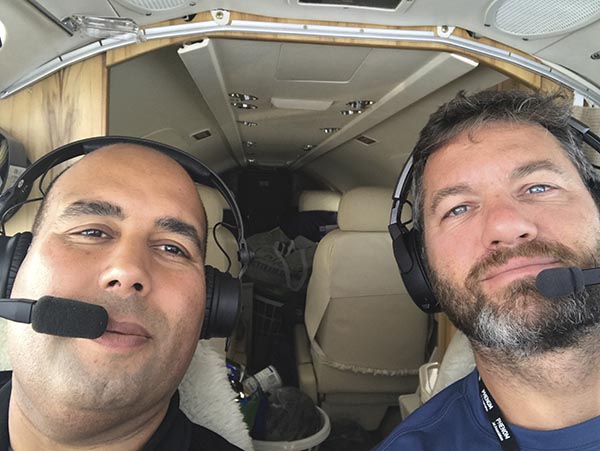 Hurricane Maria
In just one day, on Sept. 18, Hurricane Maria rapidly intensified from a Category 1 to Category 5. Two days later, it was the strongest hurricane to make landfall in Puerto Rico since 1928. Maria devastated the country along with parts of the Virgin Islands and Dominica.
Through partnerships made during Irma with global relief agencies and clients, PALS Sky Hope jumped into action yet again. A supply warehouse was set up at Banyan Air Service in Fort Lauderdale and around 150 flights were completed to Puerto Rico, St. Thomas, St. Croix and Dominica. Each island's missions were coordinated through contacts focused on the particular area.
For Puerto Rico, United Airlines pilot Miguel Estremera helped coordinate most PALS' missions to the country. Miguel had a personal connection with the air traffic controllers and one of the first flights was to supply the ATC controllers themselves with much needed food, supplies and generators for their families and control center. To help with this mission, the PALS team reached out to owner–pilot Paul Weismann.
Paul, an investment portfolio manager and ATP pilot in Connecticut, had flown several medical transport missions for PALS the past two years; this would be his first disaster-relief flight. But all it took was the late-night phone call and Paul was in his Citation V the next morning departed for Puerto Rico. Miguel flew with him.
"We loaded the airplane as full as we could and then waited to get an oceanic clearance. That took a while; the airways were closed because Maria was still out there," said Weismann. "Once we were able to get a route, it was almost four hours direct to Puerto Rico."
At that time, no radar was available in San Juan and ATC had a slot system running. Paul recalled many general aviation airplanes having trouble getting in and being asked to hold. Any delays or holdings would have pushed the Citation's range, but fortunately, with their connection to ATC, Paul and Miguel were ushered in despite the heavy traffic.
As he taxied in, Paul processed the damage. The terminal was battered, piles of debris lay strewn, hangars had collapsed and trees were blown everywhere. Remarkably, he pulled up to an unscathed Jet Aviation FBO.
"It was very chaotic. The airport was crammed with airplanes and all kinds of people – federal agents, rangers, civilians, military," said Weismann. "Supplies were lying everywhere. It was evident a lot of aide was coming in and a large number of people were trying to leave at the same time."
After the supplies were unloaded, Paul and Miguel worked to figure out who they were going to take back to Florida. Cell service on the island was down and they had been unable to reach the people they had planned to transport. They ultimately ended up taking a mother and her young child, a frail older lady and U.S. Army sergeant back to Ft. Lauderdale.
Over the next couple of days Paul would fly two more missions, a second one to Puerto Rico and one to Dominica. He was challenged with more heavy traffic, poor weather conditions and lack of fueling stops.
"These were not flights just anyone could wake up and do. You really need to know the procedures, be comfortable flying IFR and dealing with international charts," said Weismann. "Thankfully, I had previously flown a number of flights in the area. I never felt in danger, it was just a lot of physical work and always a sense of urgency."
Upon returning to Connecticut, there was little time for rest. Paul received a flurry of media attention and surplus of folks wanting to also help and donate items. He avidly worked to use that support and round up the money to fund a cargo Gulfstream flight back to Puerto Rico.
"It feels really good to combine my true passion of flying with helping other people," said Weismann. "Once I started flying missions for PALS, I found it very addicting and rewarding. Truly an amazing organization."
Owners and pilots who are interested in learning about future disaster missions or interested in flying for PALS can register at PALSflight.org.