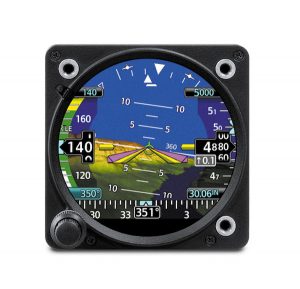 Garmin announced the release of a totally new instrument – the GI 275. The Garmin GI 275 is unique, having the capability to replace a number of legacy instruments depending upon configuration and installation. 
The GI 275 can serve as the primary instrument for various functions, including attitude indicator (AI), attitude directional indicator (ADI), course deviation indicator (CDI), horizontal situation indicator (HSI) and engine indication system (EIS). With both touch-screen and knob controls, it is easy to manage. In some configurations, it can provide multiple functions in a single unit. 
Since Garmin had legacy instrument panels in mind when they designed the GI 275, the 3.125-inch instrument is rear-mounted to reduce installation time and minimize panel customization. While the GI 275 offers an easy upgrade path for pilots with legacy instrument panels, the extensive capabilities will also be attractive to a number of other pilots who already have the latest avionics. 
Attitude Indicator
The GI 275 can serve as the primary attitude indicator (AI), replacing legacy instruments like the KI-256, one of the most popular gyro-based units. In its basic AI format, the ADAHRS-driven GI 275 provides the same functions as traditional instruments. To obtain full capabilities, you can integrate air data information and display altitude, airspeed and heading. With the addition of the options Garmin SVT (their synthetic vision offering), flight path markers are available. If you want to integrate this same instrument with your autopilot, the optional built-in interface can provide attitude information to various autopilots and provide flight director command cues. In the full-featured AI configuration, the GI 275 provides virtually all of the capabilities of much larger systems but in a smaller package.
When configured as a 4-in-1 flight instrument, the GI 275 can be used as a dedicated standby for Garmin flight displays and a backup to a variety of third-party systems. The built-in VFR GPS provides guidance on the moving map. When installed as a primary or standby instrument, a 60-minute backup battery is included with the unit.
For those aircraft operators that want even more redundancy, two ADAHRS-equipped GI 275 units can be installed for reversionary capabilities. 
With so much information in such a small package, it seems it would not be very easy to view. But I had the opportunity to use the GI 275 at NBAA this past fall, and even with all of the data displayed on the instrument, the clarity was amazing. 
Navigation Guidance
In another variant, the GI 275 can serve as either a CDI or HSI. In its simplest form, it is an electronic CDI (with vertical guidance) with a bright display. The GI 275 can accommodate two GPS sources as well as two VHF navigation inputs. If you add the optional Garmin magnetometer, it becomes a powerful HSI. One of the challenges for aircraft owners with older navigators is the ability to interface with the newer displays without upgrading their systems. The GI 275 features an Omni Bearing Selector (OBS) Resolver that can work with these systems without an additional interface unit. Fewer components result in higher reliability!
With all the options and appropriate inputs, the GI 275 becomes an enhanced HSI, displaying a high-resolution moving map with terrain, flight plan and weather (Sirius XM and FIS-B).
Multi-Function Display
Since the GI 275 features the same high-resolution display technology as Garmin's GTN Xi series, when configured as an MFD, it can display a wide variety of information in a very clear format. The integration and interface capabilities are broad. A variety of overlays, including terrain, Sirius XM weather and FIS-B, are available with appropriate inputs.
Digital Primary Engine Information
The GI 275 can be configured as an Engine Indicating System (EIS) for single-engine and multi-engine piston aircraft, including turbocharged installations. Offering the complete range of engine monitoring functions, the unit can also be programmed for range limits and wirelessly transmit information and exceedances to their Garmin Pilot iOS application. In the case of a multi-engine aircraft, the installation requires two of the GI-275s.
Summary
The Garmin GI 275 is perhaps the most versatile single-instrument that we have seen in aviation, and this article only touches on an overview of its capabilities. This new instrument also includes Garmin's Database Concierge making it is easy to manage the databases, even across multiple units. 
With an initial approved aircraft list of 1,000 single-engine and multi-engine aircraft and numerous autopilot interfaces, it should enjoy widespread use.