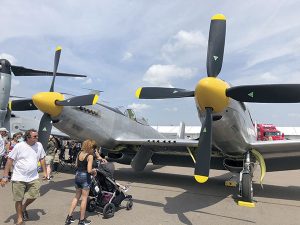 Last month, I attended the 45th annual Sun 'n Fun International Fly-In and Expo (SNF) in Lakeland, Florida. With 200,000 guests and 500-plus exhibitors, SNF is aviation's second-largest airshow, falling in line behind EAA AirVenture (Oshkosh). And while I am longtime regular at AirVenture, this was only my second visit to SNF. I excitedly returned to the show, remembering it fondly as the first airshow I worked professionally after entering the aviation industry. 
At the time (2013), I was a marketing assistant at Piper Aircraft, which is headquartered a mere two-hour drive away from Lakeland in Vero Beach. Leading up to the show, I worked closely with the marketing manager in charge of planning the event, quickly learning there are an inordinate number of moving parts involved when preparing for a trade show – equipment bookings, contract signings, insurance documents, marketing materials, merchandise, arranging of industry meetings, development of work schedules – along with what seemed like a thousand other tasks.
Exhibiting was no less demanding. I spent the week at the show helping with setup, selling and stocking merchandise, assisting our dealers and speaking to show attendees. I can tell you one thing – there is a lot of work that goes into these shows (and a lot of steps recorded on my Fitbit!). It was an eye-opening and fun experience to see firsthand what happens behind the scenes. My recent return to SNF was the opposite. Free from assisting in a booth, I was able to stroll the exhibits, take in the incredible aircraft displays and meet with industry friends and colleagues.
Show highlights included performances by the GEICO Skytypers, Aeroshell Aerobatic Team, Patty Wagstaff, Michael Goulian and the ever-popular U.S. Navy Blue Angels. The warbird area was crowded with enthusiasts, with one of the main attractions being the long-awaited appearance of the XP-82 "Twin Mustang" (pictured). It truly is a spectacular sight in person. 
In addition to typical airshow fun, aviation education is a core focus of SNF. The show hosts more than 300 forums over the course of the week, as well as hands-on workshops, seminars and museum tours. The show is also the largest fundraising event for the Aerospace Center for Excellence (ACE). ACE is a leader in STEM-related and aerospace education through its various learning centers, outreach programs and scholarships. SNF annually raises over $2 million for ACE, enabling the delivery of STEM-related education programs to more than 40,000 local youth each year. 
Sun 'n Fun is a fantastic way to kick off airshow season, and I looking forward to heading back to Florida next April.