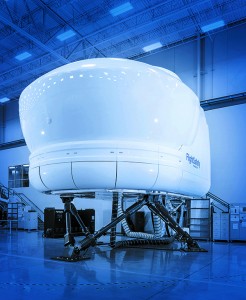 FlightSafety International has announced that it is building a full-flight simulator for the King Air 350 aircraft. The new FlightSafety FS1000full-flight simulator will be equipped with the Rockwell Collins Pro Line Fusion integrated avionics system.
"FlightSafety is pleased to increase the support we provide owners and operators of King Air aircraft," said Steve Gross, Vice President, Sales. "Building a King Air 350full-flight simulator equipped with the Pro Line Fusion avionics system demonstrates FlightSafety's commitment to respond to the changing needs of our Customers."
The Level D full-flight simulator is expected to enter service early in 2016 at FlightSafety's Learning Center in Atlanta, Georgia. Owners and operators of the King Air 350 also benefit from FlightSafety's new Operational DayFlow training methodology. This innovative, highly customized training system, transforms ground school by presenting critical procedures and tasks according to phase of flight.
The FlightSafety FS1000 full-flight simulator being built for the King Air 350 will feature tightly integrated computer hardware and software across subsystems, which allows for more accurate and higher fidelity simulation. It will be equipped with a new multi-function Instructor Operating Station designed to enhance the effectiveness of training by providing an intuitive interface, scalable graphics, and large multi-touch displays. The simulator will also be equipped with FlightSafety's VITAL 1100 visual system and electric motion control and cueing.
For further information, visit www.flightsafety.com