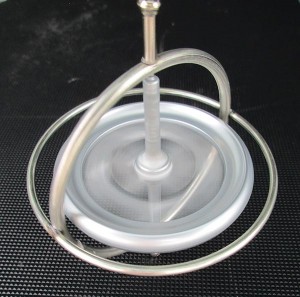 What do you enjoy? Gently resting the pad of a finger on a four pound test line then, one click at a time, trying to convince your favorite fish to bite? The smell of fresh-cut grass while waiting for frost or dew to recede from the greens? Gardening, cooking, building things or music? Or is it more of a nurturing endeavor: showing the grandkids how to tie a square knot, operate a gyroscope, keep a kite airborne or learn that the roots of a sassafras sapling smell like root beer?
Maybe you like all of the above but also enjoy being at the airport with family and fellow aviators, sometimes if only to enjoy the airport smells and sounds, view the artistry of flying machines and hear and speak "piloteze." Occasionally making a spur-of-the-moment trip – taking control of your machine to become a physical part of life's adventure. Do we only fly to increase the efficiency of our business, and thereby its profitability? Is it to save on our most valuable asset – time? Or is our reason to fly the popularly-accepted new paradigm: to avoid the inefficient, inconvenient and occasionally embarrassing aggravation of the TSA/public transportation process? Or could it be more personal and selfish.
We the People
Recently in the U.S, it appears that we've transitioned to a more politically-correct, diversity-intense and tolerant, socialist society. The rulings handed down this summer serve to remind us that our values, freedoms, and perhaps some of our favorite things from above, exist in accordance with a judicial and political system that's sometimes only marginally influenced by the majority. Could our general aviation freedoms be modified or taken away as easily, just as airport screeners seized our scissors, shoes and shampoo? While repeatedly challenged by a few, general aviation continues to give us the freedom to come and go as we please, on a course of our liking, to destinations of our choosing. Except for the occasional zig-zag caused by a TFR, NPRM or AD, We The People of GA are still in control. It's a gratifying Declaration of our Independence but are we neglecting the creativity that makes our technology and aviation freedoms possible? It's been said that when you take man out of the adventure, you take adventure out of the man. Our desire to defend GA must be resolute.
We fly because our heart is in aviation and we love airplanes, to be physically present and to have control of the adventure. And if control is the reason, isn't that enough? Why do we climb into a deep-sea submersible, blast into space, or fly above the earth, instead of sending a pilotless vehicle or observing a video screen? It's because we enjoy being in the driver's seat at the controls, becoming the architect, facilitator and witness to the voyage. To be responsible for how it goes. We need not be ashamed and our motives need not be cryptic or esoteric – maybe only a bit ethereal, since we experience sights and emotions unavailable to wingless humans and politicians. Even those that fall into the profitability or shoe-and-shampoo-retention reasons to fly, denying the satisfaction of control, must concede that control is indeed the reason that resonates most honestly and faithfully. We have a connection with our airplanes, out of both desire and necessity.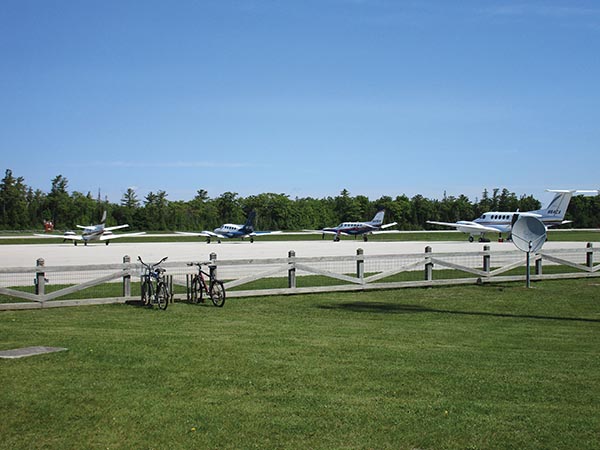 Say Again
I flew the Duke to Mackinac Island, Michigan a few weeks ago; just for the day. A very nice King Air pulled into a parking spot near me as I was installing the chocks. A group of six passengers climbed out, followed by a senior pilot wearing a uniform with four shoulder stripes  – the Captain. He was followed by a younger pilot wearing three stripes  – the First Officer. I couldn't help but eavesdrop on the conversation between the passengers and crew. At first, I thought it was a chartered flight; the routine was polished and the pilots were very respectful and subservient to the passengers. The group was headed to the Grand Hotel for three days, so the crew was to pick them up on Friday. Then the crew unloaded their own bags and secured the plane – they would wait on the island. In the terminal lounge, I continued to eavesdrop. I overheard one of the ladies say to another "say again?" Well, you and I both know what group of people use that phrase instead of "huh, what or pardon me." Holy cow, I thought, she's a pilot, it's her plane and she hired a crew. I can only speculate on the reasons to hire a crew. I know that I've wished for a crew a few times, when my passengers were allowed to imbibe and stay up late while I had to remain clearheaded and rested for the return trip.
Her arrangement made me realize how much of our thought process is absorbed by the task of flying a complex airplane. If you only have a few days to unwind and enjoy the destination, removing the flying task from your brain can make a difference. Most people don't know that we aviators think about flying constantly. For example, we have a sense of things in flight that is supplemental to the physical task of flying – things that are a subliminal component of piloting. Whether pressurized or unpressurized, we can smell our environment, we can hear and feel changes in temperature and pressure and, perhaps most notably, through our mind's eye, we can see hundreds, even thousands of miles across multiple weather systems and terrain. When a layperson sees a flash of lightning, they think wind, rain and thunderstorm. A pilot, in flight or on the ground, will think the same but with a global, or at least a continental, perspective.
The wider perspective is due to an understanding of the cause and effect of planetary airflow, the heating and cooling of oceans and land masses, the circulation around high and low pressure systems and the relationship of temperature, pressure and dew point on the creation of weather and the lightning flash. We also have a keenly-developed appreciation, respect and, rightfully so, fear, of the components inside of the storm: windshear, intense rain, ice, hail and tornadoes. Because of both our physical and mental perceptions, the level of understanding extends across multiple disciplines and encompasses aspects of flight beyond just the weather. From topography, fires, earthquakes, floods and social gatherings, to riots and war, we see and perceive a plethora of information and events from our perch above the earth.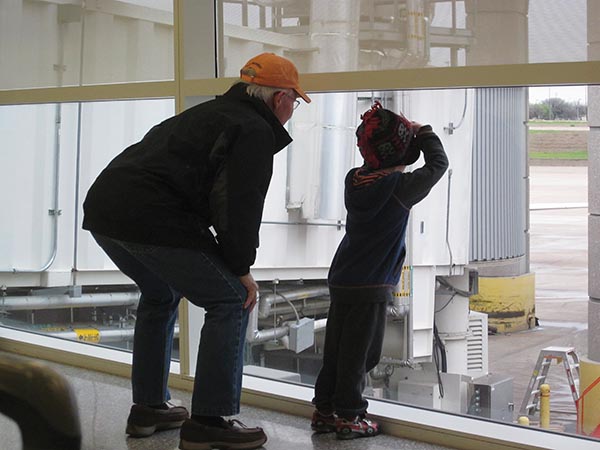 Screw the Pooch
My unauthoritative assessment is that pilots share a common personality trait: we seek out and enjoy the multi-faceted gratification of flying an airplane. We like the interdisciplinary relationship between the science and art of flying, and the fulfillment we get from merging these contrasting disciplines together. The preparation, planning, scheduling, decision making, responsibility, artful execution and, finally, the completion of the mission. Oftentimes, in fact, we enjoy the completion component the most; the "post-flight-relief" after closing the hangar door. Sometimes we are covertly grateful, like Gus Grissom, to have not "screwed the pooch." We gaze at the machine in gratitude, knowing that it is the one that performed the real work, as it once again overlooked our minor mistakes in the execution of a sometimes complex and tasking flight. We admire its form and function, engines crackling; imagining that the machine is resting, like a horse after a run. Maybe we say a word or two of admiration to the airplane, the artistic device that facilitates our flight. No one needs to know that we talk to our airplane; they wouldn't understand. Just as we mumble to our golf ball, to the fish in the lake and to ourselves; let them believe it's a deep-in-thought, focused and contemplative exercise.
August is the month in which The Babe played his last game of baseball, She Loves You (Ya, Ya, Ya) was released in the UK, the first A.L.T. (approach and land test) was conducted on the shuttle Enterprise and, in August of 1993, the Dow set a record at 3,638.96. My, how time flies. With a historical and politically inferred perspective, I invite you to consider my anthropomorphic view of airplanes as we celebrate National Aviation Day, also observed in August, on the 19th . The date coincides with the birthday of Orville Wright and celebrates the history and development of aviation; and, with creative license, may I add, the freedom and control it provides.
While We Can
It's okay to reward ourselves by flying for enjoyment, to take advantage of the freedom and control. Shall we celebrate our appreciation for aviation this month and fly the airplane somewhere inefficient and pointless, just because we can, while we still can? A couple-thousand-dollar pancake breakfast, a golf or fishing excursion, or dinner and a movie in another country. Hire a crew if you want, but good luck separating your heart from the machine and your pilot brain from piloting – I say again.