For any sophisticated flight planning tool to be truly effective and useful, it must incorporate detailed aircraft performance parameters. For jet pilots, that deep dive was missing from the highly popular ForeFlight tablet and phone app. Until now. At the NBAA BACE held in Orlando last fall, ForeFlight announced that it will be releasing an updated version in early 2017 that will meet the needs of turbine operators.
ForeFlight had been hearing from the market for some time that better jet capability was needed. The company listened and has spent the last several years working on the technology and functionality design specifically for jet operations. According to ForeFlight co-founder Tyson Weihs, the new release will allow jet pilots to incorporate meteorological data along with aircraft weights and fuel loads into their flight planning, allowing for a more accurate and useful tool for their mission decision-making.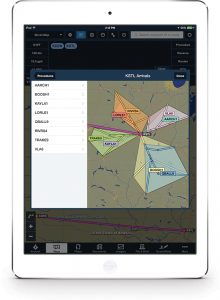 With the new version, pilots can quickly complete calculations for people, fuel, bags and other variables, which are then plugged into planning the flight. Pilots can then adjust variables to look at different flight scenarios, route options and airspace contraints. The jet capabilities will be incorporated into a new release of the ForeFlight app, rather than a different app or product.

In addition, the upgraded version will be more seamlessly integrated with the company's web-based flight planning tool. Pilots can use their computer to plan, brief and file, all of which is synced to their mobile devices running the ForeFlight app. All the core weather products, such as NEXRAD, infrared satellite, airmets and sigmets and up-to-the-minute TFRs, are available in both places.
Hand-in-hand with flight planning is the ability to find the airport with the best available fuel prices. ForeFlight has partnered with JetFuelX, allowing ForeFlight users to quickly determine the best price from multiple fuel program memberships. Pilots can log in to JetFuelX's free web-based service with their ForeFlight credentials and quickly search and compare prices at nearby airports. Users can view prices on an interactive map, which highlights the best price available. From there, pilots can quickly request a fuel release. The site continually syncs with vendors' published prices, so the service is always up-to-date.
For more information, go to www.foreflight.com.