General aviation has become an irrefutable asset to businesses and organizations of all sizes, needs and profits. Whether it be manufacturing firms, consulting agencies or law offices, aircraft provide value not obtainable by using other transportation methods – especially when operating in areas of little infrastructure. Aviation's impact is also felt by conservationists, who are often tasked with monitoring or traversing a large geographic area in a short amount of time on limited budgets.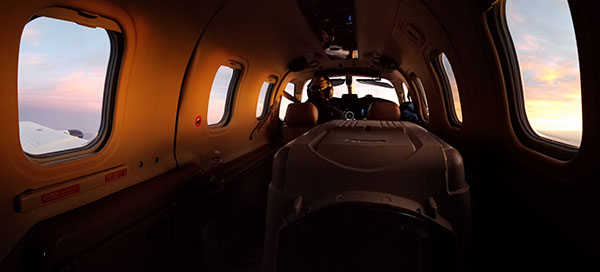 Conservation Flying
Conservation groups utilize aircraft in several ways when supporting nature-related causes, and LightHawk is the largest of the few volunteer-pilot based conservation organizations in the United States. The group is based out of Fort Collins, Colorado, with staff and volunteers dispersed across the country. It has assisted in hundreds of projects supporting the protection of wildlands, water and wildlife since its founding in 1979.
What started as a "one-man operation" with a single plane has now become a national conservation group that utilizes 300-plus volunteer pilots. These aviators fly almost 50 twins and turbines alongside hundreds of single-engines and helicopters in support of a growing mission.
The non-profit's conservation efforts are diverse, with projects falling into three types of self-classifications: Flagship Projects, Strategic Projects and Flights of Opportunity. Flagship Projects are large-scale, multi-year initiatives in which the organization works with many partners toward achieving long-term goals. These projects result in hundreds of flights over several years and address the biggest conservation issues of our age. Examples range from "Restoring the Everglades" to "Conserving the Colorado River" to "Monitoring California Marine Protected Areas" and others.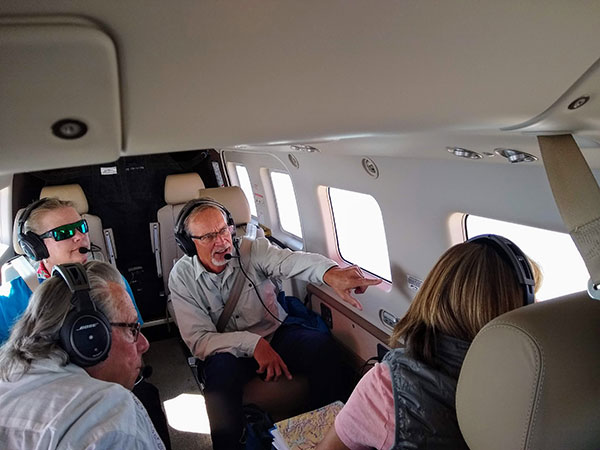 Flagship Projects
Lee Pagni, LightHawk's foundation relations manager and pilot, speaks about one of the group's key flagship projects and the irreplaceable impact that aviation has had:
"Over the last five years, LightHawk has worked with many of the partners involved in California condor recovery. The very successful captive breeding program often involves moving birds and even eggs from one facility to another for re-pairing to increase genetic diversity or moving juveniles to the field sites to be released to the wild. LightHawk flights have made these transfers much smoother and safer for condors, reducing the likelihood of 'capture myopathy,' a condition caused by excessive stress during transport. In just the last two years, we have transported six adult birds and one egg between breeding centers, and 13 juvenile condors for release to the wild flocks in California. And with radio telemetry antennas mounted on airplanes, these flights also enable biologists from Pinnacles National Park and the Santa Barbara Zoo to locate missing wild birds when they go out of range of the hard-working field crews tracking from the ground. Keeping close tabs on these birds is important for their recovery, as sources of lead in the environment still pose a threat to the species. When scavenging birds, like condors, eat the remains of carcasses shot with lead ammunition, tiny fragments of the heavy metal can be ingested and then absorbed into their bloodstream, often causing long-term side effects and sometimes even death."
These flagship projects and other missions that the group supports all utilize aircraft in a different way. Further highlighting aviation's invaluable impact is safeguarding the Colorado River.
LightHawk's involvement in a project makes conservation work on the ground far more effective. They educate donors and policymakers at an integrated landscape level in just a few hours. The aerial perspective provides a platform for media that is compelling and unique and allows the group's partners to bring more attention to the Colorado River than through standard media channels. Policymakers and donors routinely share that the perspective and education they receive during a flight provides observations and understanding they can get nowhere else.
Strategic Partnerships
The organization also classifies some of their projects into "Strategic Partnerships," which are meant to be short term engagements that reach conservation outcomes sooner and involve fewer partners but still require expert planning and a series of flights. Some past and ongoing Strategic Partnerships include Mexican wolf transports, monitoring the Elwha River post-dam removal, tracking woodpeckers after fires and dozens of others. 
Flights of Opportunity
Finally, there are Flights of Opportunity, which consist of only a few flights, but still produce significant results for the organization. The importance of these missions is especially clear during the operations where the organization showcases its conservation efforts to the general public and special guests. Whether it be photographers and journalists who document environmental issues or politicians and decision-makers who help swing environmental reform, the flights over impacted areas highlight the need for continued and proposed conservation efforts.
The Flying
Twin and turbine aircraft find a special place across all of LightHawk's projects, Pagni says, "because of their range and speed profile, they are able to assist with flights that other aircraft cannot." For example, these pilots can assist in over-water whale surveying flights, extended-length transports of larger animals and providing the aerial perspective to a larger number of decision-makers.
In general, the special-mission profile (low, winding tracks often over undeveloped landscapes) of conservation flights may be unique to many pilots, but Pagni notes the organization's heavy involvement in making sure all details are ironed out for the pilots. "Our job [Light- Hawk and its partners] is to do the conservation-related tasks and make sure the pilots are in the loop and set up to succeed. We ensure that the pilot is able to fly their part and make a positive impact on conservation efforts," he expresses.
Aside from the flying portion that is largely planned by LightHawk, pilots can get as heavily or as minimally involved in the actual conversation activities as they like. Alongside the prerequisite of interest in supporting these efforts (no experience necessary), the qualifications needed for pilots are explained further on the organization's website. Prospective pilots must have logged 1,000 hours of PIC time with an excellent flying record, provide two or more references, complete an orientation call with the group's staff, provide a copy of their medical or BasicMed-related information, as well as several others.
How to Volunteer
Once accepted as a volunteer pilot, individuals can fly as much or as little as they wish. Flight opportunities are emailed to volunteers based upon geographic proximity, but pilots are also able to tell their local program coordinator if they are interested in flights such as long-range animal transports, supporting local land trusts or flying into Mexico with announcements for these missions being sent a select group of parties with capable aircraft.
For those curious about the immediate impact that they can provide upon joining the organization, the following are several current missions in need of assistance:
Two spring flights into New Brunswick, Canada, to look at land for consideration of future protection.
Video flight in Ohio to capture oil and gas infrastructure.
Surveys for migrating eared grebes (a tiny water bird) in the Salton Sea with Oasis Bird Observatory.
Surveys to monitor restoration efforts in the Colorado River Delta in Mexico with Sonoran Institute.
Whether it be transporting personnel or animals, overflying deserts or mountains, LightHawk coordinates ample opportunities for conservation-minded pilots to donate their time and aircraft in pursuit of ensuring nature's survival. Without aviation, the organization would not be able to provide the impact that they currently have on wildlife, oceans, landscapes and rivers. 
For more information: https://www.lighthawk.org/