A flight in "Doc" – one of only two airworthy B-29 bombers in the world.
"Ladders up; crew in position; 15-degree flaps; departure to the south. Superfortress Doc is ready for takeoff."
I'm seated in the bombardier's seat as Mark Novak, retired military pilot and today's pilot-in command, completes his checklist just a few feet behind me. I tense with excitement as he calls up the McConnell Air Force Base tower for clearance. The afternoon heat is intense within the B-29's infamous all-glass nose, but I take little notice. I am too busy absorbing the number of dials and switches around me (the majority of which involve "bomb" in the label). I specifically note the Norden bombsight mere inches in front of my feet. The reality of this device's purpose some 70 years ago is difficult for me to fathom. Even more difficult is imagining the thoughts and feelings that the occupant of this crucial seat would have felt preparing for takeoff.
After receiving clearance, Mark lines the warbird up on the centerline and instructs the flight engineer, Donnie Obrieter, to set the manifold pressure to 30 inches. He obliges, running the power up on each engine simultaneously, checking temperatures and pressures as he does. He announces when everything is stabilized. Mark promptly releases the brakes, cranks the throttles and we lurch down the runway. 
Fortunately, I was forewarned that a B-29 takeoff is not arrow-straight. We sway back and forth slightly while gaining speed; an especially noticeable occurrence from the most forward seat. Without nose wheel steering, the pilot must use differential power to turn the aircraft, or to correct for any crosswind, until the rudder becomes effective around 60 mph (note: the airspeed indicator in a B-29 displays mph versus knots). 
Once this speed is achieved, I hear Mark request, "Engineer, set max power." Donnie confirms and proceeds to take over the throttles (throttle control remains in his hands for the duration of the flight). The four massive 2,200-horsepower radial engines (a hybrid Curtiss-Wright 3350-95W and R-3350-26WD) launch us past Wichita's Air Capital Flight Line where B-29 "Doc" has been housed since 2000. The significance of this location is goosebumps-worthy as it is the former Boeing Wichita facility; the very place that Doc came off the assembly line in 1944. 
At this point, we have rolled over 1,500 feet. Mark is now looking for a speed of around 100 mph. By 2,000 feet, we hit it and he lightly lifts the nose, allowing the airplane to fly when it's "ready." We lift off and start our climb, accelerating to 130 mph before Mark raises the gear and lifts the nose higher. Around 150 mph, Mark finally raises the flaps and requests Donnie adjust the power settings from max power to a reduced power setting they refer to as "Climb 1." As we make our climb-out, I am in awe of the largescale view of Wichita developing in front of me. Despite having flown above this city countless times, experiencing it from a B-29's nose somehow makes it seem like the first. I am struck with an airy feeling closely resembling the thrill I experienced during my first solo.
At 170 mph, Mark requests the next reduced climb setting, "Climb 2," which produces an estimated climb of 500-600 feet per minute. This is the setting he keeps as we turn north and continue to climb toward our assigned altitude of 7,500 feet. Next stop: Eau Claire, Wisconsin.
Doc's Story 
Doc's chronicle began in December 1944 when it rolled off the Boeing Wichita assembly line (Serial No. 44-69972) and was delivered to the U.S. Army Air Corps the following March. The giant bomber earned its namesake when it was assigned to the "Snow White" radar squadron, each B-29 named for one of the seven dwarfs. During WWII, radar squadrons were used to train the navigator bombardiers on the latest radar equipment used for bombing and routing. 
Over the next 11 years, Doc would serve in various non-combat roles before being retired to China Lake, California, to be used as a target for Navy missile testing and bombing practice. For 42 years, it sat in the Mojave Desert until Tony Mazzolini and a team of local volunteers were finally able to rescue the relatively unscathed warbird from its resting place in 1998. 
Deplete of the necessary resources to piece the giant airplane back to operational status in California, Tony Mazzolini soon contacted Doc's birthplace, Boeing Wichita. Boeing executive at the time, Jeff Turner, welcomed the opportunity to have the WWII hero return to its home. So the rescue team in China Lake, led by Tony, disassembled Doc and shipped to Wichita on seven flatbed trailers in 2000.   
Over the next 16 years, thousands of aircraft parts and more than 350,000 volunteer hours were invested in bringing Doc back from the brink of destruction. Local mechanics, engineers, electricians and other technicians came together from neighboring manufacturing plants to piece the iconic aircraft together. 
"You could not restore a B-29 anywhere else in the world. The reason for that is the people," said Josh Wells, spokesperson for Doc's Friends, the nonprofit organization managing the operation of B-29 Doc. "Without Wichita's aviation workers and can-do attitude, this would not have been possible. Not to mention the dozens of local aviation companies who contributed custom parts solely for Doc."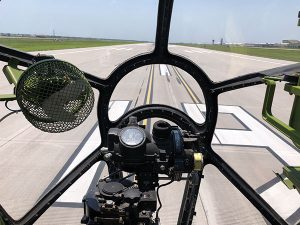 Doc's Friends was formed in 2013 by Wichita business leaders to financially support and complete the final stretch of the B-29 Superfortress restoration. The group continues to manage events, fundraising and communication efforts meant to ensure and protect Doc's future. The latest endeavor is the construction of a permanent 32,000 sq. ft. hangar situated at Wichita's Dwight D. Eisenhower National Airport (KICT). The hangar will not only provide a secure home and maintenance facility, but will also make the warbird significantly more accessible to the public. The $6.5 million project is expected to be complete this Fall.
"The hangar is not meant to be a museum, but a living experience," said Wells. "We want to honor the men and women who designed, built and flew the B-29 by allowing the public to be able to come in and see, touch and feel the technology and engineering that went into this airplane."
Doc's Friends is currently raising additional funds to launch its STEM (Science, Technology, Engineering and Mathematics) education project which will be delivered from inside the hangar. The group is working through a curriculum and plans to eventually host schools with the hope that the experience will spark future aviators and engineers.
Flying Museum
Last year, B-29 Doc completed its first air show tour with eight show appearances, including its much-anticipated EAA AirVenture debut. Joined by fellow B-29, FIFI, the pair flew their first formation flight. It is believed theirs was the first formation flight of two B-29s in over 60 years. 
"Everywhere we went, Doc attracted record crowds," said Wells. "The most emotional of course are the WWII and Korean vets who actually witnessed these airplanes in combat. They're often speechless upon seeing Doc. You can tell the memories are suddenly flooding back and they are 19 again. It is truly amazing to learn their stories, which is exactly why we restored the airplane and why Doc's Friends exists."
Upon meeting many veterans, specifically WWII veterans, the Doc's Friends team often sets up a camera/audio and allows them to talk however long they wish. The recordings are collected and added to a library so they can be preserved.
"I think this is something we owe that generation," continued Wells. "What they did during those dark days is incredible. To capture their stories and the emotion behind them is really what we are all about."  
Doc's Friends plan on attending as many as 12 air shows each year. With it being an all-volunteer organization, the airplane will typically only be away from Wichita 3 to 4 days at a time. The main hurdle, specifically when flying to the east or west coast, is fuel cost. The group estimates a burn of $2,000 to $3,000 per hour in fuel and oil. Adding in maintenance, hangar rent, etc. and the total operating cost climbs to around $8,000 to 10,000 per hour. This is covered by a combination of appearance fees, merchandise sales, donations and as of just recently, rides. 
Doc's Friends received FAA approval for passenger flights in July. Each "B-29 Doc Flight Experience" is approximately 90 minutes and includes a 30-minute ride. Rides can be purchased on the Doc's Friends website and either coincide with an air show or take place during a "Ride Weekend" in Doc's hometown of Wichita. Proceeds go directly toward supporting the Doc's Friends mission.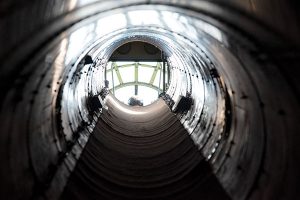 Back to the Flight
After just 15-20 minutes of flight time, we are out of the city and flying our assigned altitude. We cruise along at about 200 mph with the total flight expected to be 2.5 hours. I am tagging along as the group makes its way to the Chippewa Valley Air Show where Doc will be on static display for the weekend. The crew is relaxed and carrying on casual conversations. Like old friends, they exchange stories, ask about family members and discuss the weather. Thanks to the B-29's modernized panel, navigation is simple with the inclusion of Garmin's GTN 650, GTX 33 and GDL 88. 
It's not long into the flight when the crew tells me it is safe to move about, and invites me to explore. Though it's tough to abandon the views from the bombardier seat, I am curious to check out the rest of Doc. I climb over the seat and make my way toward the infamous tunnel. 
The B-29's tunnel was originally designed in order to connect the pressurized fore and aft sections of the airplane, while the bomb bays below remained unpressurized. In wartime, pressurization was a unique advantage and allowed the bomber to fly altitudes of up to 30,000 feet. This capability was the B-29's best defense as it put it out of the range of unpressurized fighter aircraft. Today however, Doc is unpressurized and typically maintains an altitude anywhere between 4,000 to 8,000 feet each flight. 
After making the awkward but fun crawl, the crew opposite of the tunnel greets me with smiles and offerings to try their various seats. I first sample one of the scanner positions. Situated on both sides of the aircraft, the scanners serve as additional eyes for the pilot and watch for any abnormalities with the landing gear, flaps, engines and propellers throughout the flight. Next, I jump up into the central fire control seat (or "barber chair" as the crew calls it). It sits on a raised platform in the middle of the aircraft, between the scanners, and allows its occupant to pop their head out the top of the airplane within a secured bubble. I take a look and the view has me awestruck at first. I can see everything: fuselage, engines, empennage and tail. Because the chair swivels 360 degrees, gunners were able to easily maneuver and scan the open sky for potential threats.  
I take my time in this seat before finally stepping down and inspecting the rest of my surroundings, which include passenger seats and the tail gunner position. With no stone left unturned, I then head back to the bombardier seat for the remainder of the flight.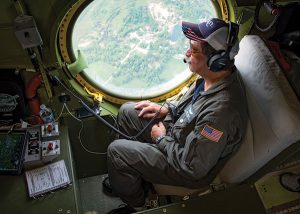 Landing a B-29 Bomber  
As we descend and approach Eau Claire, my headset is alive with communication. Each crew member affirms their position and Mark calls out to Donnie with his first under-power setting of 26 inches manifold pressure. This gradually slows us to 180 mph and Mark proceeds to let the gear down. The scanners observe from the back and soon confirm, "three green." 
Abeam of the numbers, we have slowed to around 150 mph and Mark puts in 15-degree flaps. He then flies his typical "bomber pattern" of 1-2 miles past the runway before turning base and putting in 25-degrees of flaps. On final, he sets them to 35 degrees, closely watching his airspeed. He again calls to Donnie to reduce the manifold pressure, this time to 24 inches. He is looking for an approach speed of about 125 to 130 mph. 
Once we are above the runway, Mark says, "Engineer, ease it off." Donnie slowly cuts the throttles and we make a smooth touch down, coasting nearly 3,000 feet before Mark finally tests the brakes. I let out a deep breath (I must have been holding it) and smile as we safely exit the runway and taxi toward the airport's small terminal building. 
After that, it's a whirlwind weekend at the Chippewa Valley Air Show, filled with great performances and passionate aviators. I thoroughly enjoy my time spent with the Doc's Friends crew, friends both old and new. And on Sunday morning, we clamber back on-board, crank up and start home to Wichita. 
Despite it being my second ride, I am again struck with emotion; a mixture of excitement and awe. I think of my own grandfathers who served in WWII, a doctor and a paratrooper. Doc's history – our history – is overwhelming in its presence on board. I am highly grateful I was given the opportunity to experience it firsthand, and encourage readers to schedule a ride themselves. 
To schedule a ride or learn more about Doc's Friends, visit b29doc.com.