Touring Australia in a Cessna 182
Eight days, 22 flight hours, memories for a lifetime
"I have an idea," said friend and Citation owner Kirk Samuelson. "Let's meet in Sydney, rent Cessna 182's, and fly around Australia."
"Sounds interesting, but I fly jets and haven't flown a single-engine anything in over 40 years," I replied.
"Then you better go back to school," said Kirk. Learning to fly again (see On Final, April, 2017) was one of the many things I had to do in preparation for this lifetime adventure.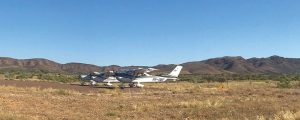 Our travelling partners, Kirk and Rebecca Samuelson, Joe and Annie Fisher, and J.R. and Jane Spalj all owned Huskies, Cubs or 182's. Patty ordered matching shirts for all. We named our group the "Aero Nomads" to reflect the spirit of the journey. But for me, it was back to the airport and numerous touch-and-go's.
Stateside Prep
Our trip was organized by Clare McEwan of Air Safaris International (www.airsafarisint.com) who leads excursions in Europe and Australia customized for the experience level of the participants.
But first the paperwork.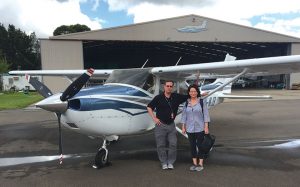 Likely the result of the Sept. 11, 2001 attack on the United States, world-wide entry requirements for pilots hoping to fly small airplanes in foreign countries have dramatically increased. First, we had to obtain a Civil Aviation Safety Authority (CASA) issued Certificate of Validation (COV) by submitting a multi-page notarized application, including a security background check, copies of logbooks and medicals, followed by acquiring an Aviation Security Identity Card (ASIC) worn at all times while traveling. In addition, we had to be English language proficient (fairly easy for Americans). Finally, we had to have proof of airplane qualification prior to our trip and pass a check ride in the airplane upon entry into Australia. Under Clare's supervision, the faxes, emails, and FedEx envelopes flowed frequently between the United States and Australia.
It was worth the effort.
Aussie Ground School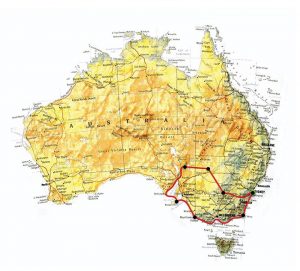 We found ourselves at Sydney's Bankstown Airport in early February (Australia's summer) in three 182's and a 206 where we met Marilyn Anderson, our classroom instructor. Marilyn provided an eight-hour briefing covering differences in Australian airspace and ATC procedures, and loaded us up with more VFR charts than you can imagine. Rules there are similar to the United States, but enough differences exist to get your attention. As Marilyn said, "You are departing from a Class D, transiting military Class C, (Nowra and Sale), landing at Class C, (Essendon), and Class D (Parafield). The rest are Class G CTAFs apart from Bankstown, plus the Class C transit for the Sydney Scenic.
"Our military airspace is all Class C and requires a clearance to transit, but we don't have MOA's. Clearance may or may not be available, so have a Plan B. Also remember that apart from that Class C, you will be outside of radar assistance, so do not expect vectors or flight following."
After hearing all that, I decided that hiring an experienced co-pilot was a wise Plan B. Recently retired 747 captain Roger Hendry fit the bill. For the next eight days, Roger, Patty and I flew over, under, and around some of the most spectacular scenery anywhere.
The Trip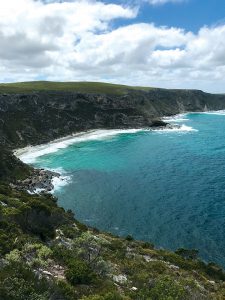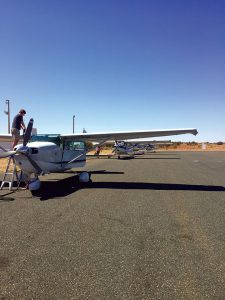 Our group decided to avoid many typical tourist spots in favor of experiencing the geography of the country. We travelled clockwise along the coast from Sydney, stopping in such places as Mallacoota, Mount Gambier, Kangaroo Island (koalas and several kinds of kangaroos), an underground hotel in an opal mine at White Cliffs, and late night telescope stargazing at a true Outback post in Arkaroola Village.
Much of our flight time was spent just off the coast at low level wearing life jackets just in case. Each day, we received an early morning briefing from Marilyn covering weather, airport procedures, and possible challenges. I had to learn how to read VFR charts all over again. One morning, Roger pointed to a spot on the chart called Deception Creek. We decided not to go there for fear it was a trap. Passing south of Adelaide, we noticed that the local time there was thirty minutes different. Odd but true. As in any multiple airplane adventure, things happen. In our case, Kirk's 182 refused to start one morning. Within 12 hours, Clare had located a replacement and off we flew. Expect to pay reasonable landing fees at even the most remote airports and a little extra if the field has a tower.
The Weather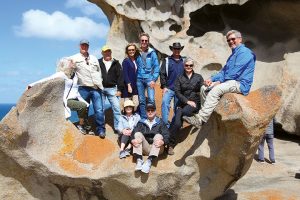 We were limited to strictly VFR and 500 feet over non-populated areas. One afternoon, in deteriorating weather, Patty said, "Look at the cute little cows and sheep running along with us." Based on our altitude, I was pretty sure they were running away from us. Indeed, it had been a long time since I had to climb from cruising altitude to enter the pattern.
The People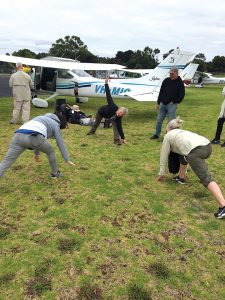 Expect friendly, unbridled hospitality everywhere. At the airport on Kingscote Island, the Hertz rental attendant also ran the coffee bar. His wife baked the cookies for sale. The guy at the Avis counter seemed very lonely. On a bus tour of the island, our guide realized that the normal picnic stop location was unavailable. He simply drove us to the tour owner's home where we dined on her gorgeous patio unannounced.
Kangaroos, koalas, emus, seals, lizards, and delightful people. Most memorable for Patty and me, were the 12 Apostles, which are limestone rock stacks jutting out of the water at Port Campbell National Park on Victoria's dramatic coast line.
This was truly an Australian adventure of a lifetime.
Fly Safe.