Kevin Duggan, the founder of Jet Shades, loves flying but often found himself unbearably hot while in the cockpit on the ground in his home state of Florida. He faced the same dilemma above the clouds (even with air conditioning), struggling to shade his eyes from the bright sun. He tried the usual solutions like cling plastic panels, suction cup screens and aircraft charts jammed in the windows. Each helped but had drawbacks such as low UV protection, potential window damage and user difficulty. Kevin, an engineer by training, decided there must be a better way.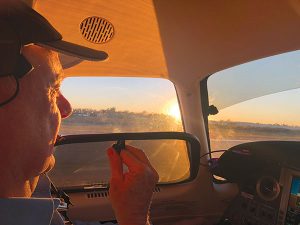 At the time, Kevin owned an Eclipse 500 and in 2016, developed his first protective shade prototype. He had several goals: lightweight, high UVA and UVB protection and sufficient solar radiation reduction to help cool the aircraft. Kevin and his team experimented with various materials and coatings which resulted in an optically perfect polycarbonate shade layered with a proprietary and patented coating. The resulting shade blocks 99.9 percent of UVA and UVB radiation, 72 percent of visible light and 47 percent of total solar energy – and is extremely durable. 
Kevin designed a clever installation method that doesn't rely on suction cups or even touching the window. Using a surround seal and pull tabs, the shades fit securely within the window rim with precision. Jet Shades released their first production version for the Eclipse in 2018. Since then, the demand for that version (and others) has exploded. I've personally tried numerous options to shade the cockpit in my airplanes, including building my own tinted acrylic inserts. So, I looked forward to chatting with Kevin and giving Jet Shades a try in my Eclipse. 
On the Ground
Since there is an air gap between the shade and the window, you can actually leave the side panels in place on the ground. But I would not recommend doing so on a really hot day. I'm probably overly cautious and would remove them when in doubt.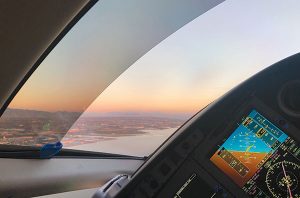 As Kevin told me, I found the installation to be very simple and the fit to be perfect in our Eclipse. In some aircraft models, the window surround is not consistent so designing a precise fit may be a challenge. In that particular situation, Jet Shades will work with operators to customize and ensure a good fit in all of the airplanes they support. Jet Shades is also in the process of developing a dealer network which will help customers and even create a custom set for operators.
On the ground, I found the visibility through the side panels to be more than adequate to leave them in place while taxiing during the day. The optical clarity of the panels is similar to looking through high-quality sunglasses which was a nice improvement over other options. Jet Shades recommends removing them at night, which I agree. They offer an optional custom storage bag to protect them when removed.
In Flight 
On departure from Montgomery Airport (KMYF) in San Diego, flying into the bright afternoon skies, I quickly experienced the value of Jet Shades. I had installed both the side and windshield eyebrow panels. I actually found it to be safer with them in place since I could visually see the traffic in our busy airspace rather than searching with the bright sun directly in my eyes. While my wife Jane and I flew a low-level flight through San Diego Harbor in the bright sun, I observed the glare reduction and improvement in contrast were very impressive, enabling us to see clearly even in direct sunlight.
Usually in cruise, I'm searching for ways to block the sun. At FL410, with the Jet Shades in place, it made the cockpit much more comfortable. Not only was the glare gone, but I was also able to keep the cockpit cooler, reduce the UV radiation (and skin cancer risk) and still have excellent visibility outside. My wife and I both remarked on the sharp view, which is likely enhanced by the shades' slight bronze tinting. These benefits also have the potential to reduce pilot fatigue, especially after long cross-country flights.
So, how do they perform in turbulence and higher G situations? In brief light to moderate turbulence episodes, I found the shades to stay firmly in place. At lower altitudes, I loaded up the airplane in a 60-degree, 2G banked turn and they did not budge.
Jet Shades pricing varies for each aircraft, ranging from $299 for a Cessna 182, $599 for larger pistons, $799 for the Eclipse and $1,199 for numerous Citations. The company is also developing products for larger jets including a set they recently made for a Boeing 737.
If you are on the search for a high-quality cockpit shade option, it is worth looking at Jet Shades. And if you get a chance to talk with Kevin in person, you will learn more about cockpit comfort than you ever thought existed. To learn more, visit jetshades.com.