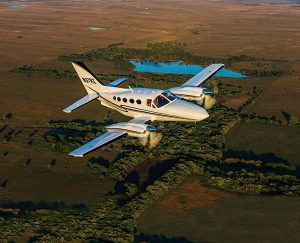 By helping single pilot operators keep track of their location, fuel burn, weather and traffic conditions, and more, flight management systems (FMS) are a particularly valuable tool in modern cockpits. However, systems differences between different FMS manufacturers and models of FMS may also make managing these systems an unwelcome challenge at an inopportune time.
"If you're so overly focused on how to do the FMS, it takes away a lot of your time from flying the airplane and managing it," pilot Long Nguyen said in a recent episode of NBAA's Flight Plan podcast.
Although Nguyen regularly flies a Cessna Citation CJ3, he is occasionally required to fly a CJ2. The aircraft are similar to one another, and they share a common (CE525) type rating. However, Nguyen admits he sometimes has difficulties when transitioning between the two, as each aircraft has an FMS from a different manufacturer. Not only do the user interfaces between the two systems look completely different; each also has a distinct operating logic behind it.
"It's always stressful because I don't fly [the CJ2] enough to stay really familiar with its FMS," he added. "Whenever I have to go fly single pilot in it, I have to have the current pilot give me a familiarization to the box, [and] let me go sit down inside the airplane and go over how to program it." Nguyen also recorded one of his previous CJ2 flights specifically so he could review FMS operation prior to stepping inside the cockpit.
That level of preparation is key to operating safely with an unfamiliar FMS, said NBAA Safety Committee member Jay White. "Assess yourself, and how familiar am I [with the specific FMS,]" he said. "Assess where you're going, understand what the threats are as far as airspace, terrain, weather, and the software itself. It will only take one small distraction to increase the level of task saturation in a high workload environment."
In recognition of these and other factors that make single pilot operators particularly at risk for loss of control inflight (LOC-I) accidents, NBAA's Single Pilot Working Group, as part of the NBAA Safety Committee, recently formed a dedicated working group tasked with raising awareness of the importance of LOC-I training, recovery, and other mitigation methods for operators. The group will be led by Paul "BJ" Ransbury, president of upset prevention and recovery training specialist Aviation Performance Solutions (APS).
More information on single pilot safety is available in the May/June issue of NBAA's member publication, Business Aviation Insider. A digital edition is available at www.nbaa.org/news/insider/.