WHO: Matt Younkin
WHERE: Siloam Springs, Arkansas
QUALIFICATIONS: Air Show Performer, 20-30 Shows / Year, Proficient in More Than 80 Types of Aircraft, 5,000 Hours
1. What led to your career in aerobatics?
I'm a third-generation pilot and my dad was a renowned air show performer – flying in shows for more than 20 years. And though I've been flying since I was 14, I actually did not do much in aerobatics until my dad passed away in 2005. I began practicing skills I learned from him and with R/C airplanes and applying them in a Super Decathlon, performing in my first air show in November of that year. Once I graduated from the Super Decathlon, I added the Travel Air Mystery Ship to the lineup. I flew both for a couple of years before introducing the Beech 18 in 2007.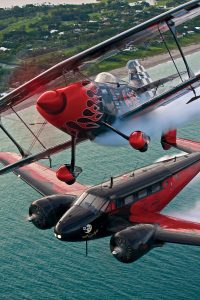 2. Can you describe how the Beech 18 handles during aerobatic maneuvers?
In a lot of regards, it flies like a heavy twin. But it's also a very honest airplane. Not necessarily super forgiving, but will let you know if you upset it any way and allow you time to fix it quickly. It was not designed for aerobatics so you have to be very careful when doing so. I preplan all maneuvers and everything I do is positive G – loops, rolls, Cuban eights, point rolls, etc. With the Twin Beech, there is a lot going on in the cockpit. You can actually look up videos on YouTube where you can watch what all I'm doing and keeping track of.
3. What air show performers/performances influence you the most?
That's a very long list… but my dad has certainly always been my hero. I think he was one of the greatest stick-and-rudder pilots there has ever been. And one of the biggest pieces of advice he had for anyone aspiring to be an aerobatic performer was "an air show act must be unique and original to be successful." I've tried to abide by that advice over the years. I'm proud to carry on his legacy act with the Beech 18, eventually pioneering my own twist with the night air show.
4. Can you describe how the night air show came about?
When I first started flying the Twin Beech, I noticed there were a lot of factory lights all over the airplane that no longer worked. Which got me thinking, if all the lights functioned, we would already be halfway to a night show. Inspired, we designed spotlights for the engines and tails to highlight the smoke, similar to the AeroShell Aerobatic Team. Then we pioneered something new: the use of lights inside the engine cowlings. Lastly, we planned the performance to a sequence that was short and sweet, but with a powerful soundtrack that only the Twin Beech could pull off.
5. How many years have you performed at EAA AirVenture? What makes it special?
This will be my 11th consecutive year. I took the Mystery Ship the first year, and the Beech 18 every year since. EAA AirVenture is the absolute mecca for aviation enthusiasts. It does not matter which facet of aviation you're interested in, there's going to be a plethora of whatever that is somewhere on the grounds. It was a vacation destination for my family growing up; my dad performed there many years. To be a part of the event now is truly an honor I cannot describe in words.