Above Featured Image: Carl Wolf (left) with James Lovell, commander of the Apollo 13
WHO: Carl Wolf, Garmin International
Homebase: Olathe, KS
POSITION: Vice President, Sales & Marketing, Aviation Business Segment
RATINGS: ATP, single and multi-engine land
HOURS:5,000+
If you've worked in the business aviation industry for a few decades, chances are you know Carl Wolf. With a work ethic and energy bordering on legendary, Wolf has not only has enjoyed a successful career in aviation, he truly lives it. It would be difficult to find a person with more knowledge and who emanates more enthusiasm and passion for the aviation industry than him. He has also had a hand in launching the careers of many current industry leaders.
After starting his career and working up to management roles at King Radio and AlliedSignal (now Honeywell), Wolf joined Garmin in 2002 as manager of aviation OEM sales. In this role, he led the Garmin team as the company launched its first integrated flight deck, the G1000. Since then, the company has grown to dominate not only the OEM general aviation market but the retrofit aftermarket landscape as well. He was appointed to his current role of vice president, aviation sales and marketing in October 2011.
1. In your career, you've been on the front row to some of the biggest technological leaps in general aviation avionics. In your opinion, what developments have been the most impactful to how we fly?
Several come to mind, but certainly the transition to area navigation systems (RNAV) is near the top of the list. With that advancement, pilots could plot their course on a Jeppesen RNAV en route chart, input the cardinal radials and distances into the RNAV system, and off they go – direct! At the time, we thought what could possibly top this? Now, the world of navigation has dramatically improved further with satellite-based navigation. I will never forget reactions to the first "space-based" approaches using zero land-based NAVAIDS. People were spellbound. Finally, database administration gets an honorable mention. Long gone are the days of floppy disks and data cards. Recently, with the proper equipment, the process can be done wirelessly with nearly no human interaction at all.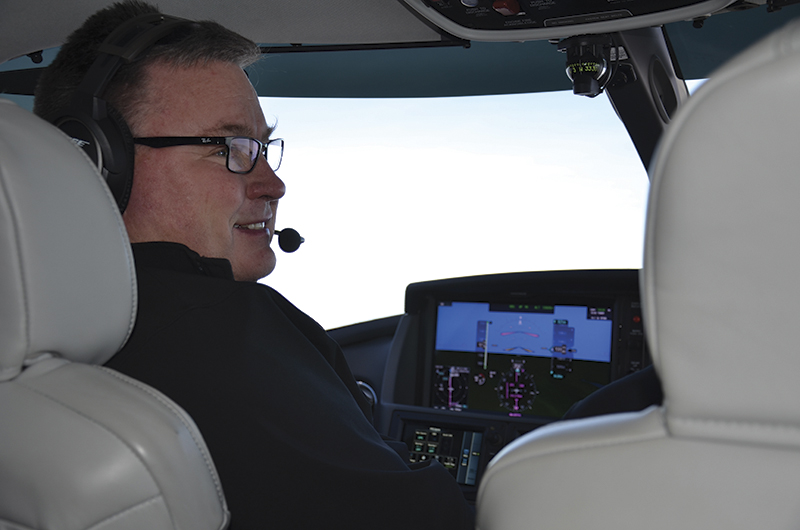 2) What particular advancements in avionics technology have had the biggest impact on safety?
TCAS systems, TAWS (GPWS) and topographical mapping – all are excellent contributors to improved situational awareness and safety. Along with advanced new-generation autopilot systems using MEMS-based AHRS (as opposed to iron gyros) that include safety features such as electronic stability and protection (ESP) and emergency decent mode (EDM).
I used to joke that airborne weather radar came over on the Mayflower, but considering the number of technological advances that have driven new radar designs over the years, I would also add this product to the list, given its benefit of real-time tactical weather avoidance.
3) For the past decade (starting with the G1000),
Garmin has been a dominant player in the development of integrated flight decks for new aircraft. How does Garmin keep the fire lit to continually pursue innovation and improvements? 
Simply put, Garmin is strongly committed to serving our customers, both current and future, with continuously improved-upon products. This is the same culture and passion our founders instilled in the business from the beginning. For example, with regard to the G1000, entry into service occurred in July 2004, but Garmin has since implemented dozens of new features, interfaces and enhancements – nearly all of which are designed to be compatible and upgradable with the first systems delivered over 10 years ago. Synthetic Vision Technology (SVT) being one of the more notable enhancements.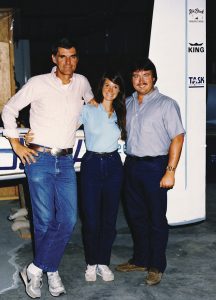 4) With the improved economic outlook, general aviation is poised for growth. What happenings or trends do you envision occurring in the marketplace over the next decade? 
I am feeling very optimistic for the future of our industry. Along with everyone else, Garmin was impacted during the economic downturn. However, we did not allow it to affect our ongoing investments. Judging by recent new aircraft developments and product announcements, other manufacturers also recognize the need for innovation. Trend-wise, I think we can expect new entrants into the avionics space over time (more so on the small-airplane side). The FAA has done an amazing job in recent years in focusing on safety and the speed in which innovation can occur and be certified on certain aircraft.
5) Garmin seems to be increasing its investment of new products for the retrofit market. Why is this an important market for Garmin to focus on?
I can see why it appears that way. The past three years were incredible in terms of new products of ours reaching the finish line. But the truth is we've been working on these products for a long time! Along with forward-fit solutions in G1000, G3000 and G5000 (plus the rotorcraft derivatives) and more recently NXi, I think it gives the appearance that we're just coming back to the retrofit solutions. But we've been developing "retrofit" products all along as it is a very important market for Garmin.