Some of the volunteer members of the PALS Sky Hope disaster relief team assembled during the recent efforts following Hurricane Harvey.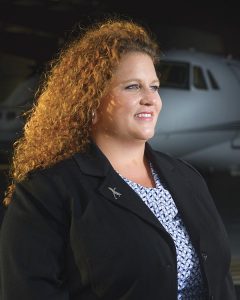 WHO: Robin Eissler
WHERE: Georgetown, Texas
POSITION: COO of jetAVIVA
CAREER HIGHLIGHTS:
Founder and Program Director PALS Sky Hope Disaster Relief Program
Private Pilot
1. You've been in aircraft sales for more than 20 years. Can you describe your start in the industry?
I grew up around the industry helping my dad with his aircraft sales business. At the age of 18, I had an opportunity to go to work for one of the largest preowned aircraft sales companies at the time. I jumped at the chance! After working there for two years, I then took at position at Banyan Air Service while I finished college. I loved the FBO business, but my heart was in aircraft sales. In 1999, my dad and I founded Jet Quest, Inc. And just this year, I sold the business to jetAVIVA, which is where I am today.
2. Aircraft sales is a predominantly male profession. What type of hurdles have you faced as a female? How did you overcome those hurdles?
My dad and I actually started Jet Quest after I was told by another aircraft sales company that they would never hire any women salespeople. Being female and not having an ATP certificate, I have always had to work harder to establish my credibility. One way of doing so was in 2008 when I was one of the first women to take the NBAA Certified Aviation Manager exam and distinguish my skills.
3. jetAVIVA projects energy, urgency and innovation embodied in its branding and slogan "Life is short, fly a jet." Why do you take special pride in mentoring the younger members of the company's team, many of which are women?
There is nothing more exciting than watching someone you have trained and mentored delight a customer through the sale or acquisition of their airplane. When I started in the business, "young professionals" meant you made the coffee! Now, it's a great feeling to be able to pass along the skills and techniques I've used for 20 years to help our young members of the team grow.
4. Disaster relief is nearly 24/7 work. What motivated you to put in long hours for PALS Sky Hope during the recent hurricane disasters?
My kids are the motivation behind my disaster relief work. My twins were preemies born between two hurricanes in Boca Raton, Florida in 2004. We were forced to evacuate and leave them 1 mile from the coast during a Category 3 storm. After Hurricane Katrina occurred the next year, I saw a story very similar to ours and took action. The helpless feeling I experienced myself inspired me to help others.
5. There were many organizations involved in the recent disaster relief. What was uniquely impactful about PALS Sky Hope's efforts?
The key to effective disaster flying is recognizing the critical missions and finding the right aircraft assets to respond. Having a very solid understanding of aircraft performance enables us to do missions that others are unable to fill. During disasters, we can receive hundreds of requests a day. Filtering through those to determine the ones that will have the biggest impact is the most critical role of our team. We must also have the confidence of our aircraft donors. Almost every one of our airplanes flies more than one mission for us.