WHO: Dr. Shelly deZevallos
WHERE: Houston, Texas
POSITION: President of West Houston Airport / Principal at Independent Mortgage Company
CAREER HIGHLIGHTS: NBAA Board Member / Founding Member and President of Texans for General Aviation
Ratings: Glider, SEL, MEL, IFR, Commercial
Hours: 4,000+
1. As a third-generation pilot, aviation is in your blood. How does aviation play a role in your life today?
I have this theory in life that there are two things you can never replace – people and time. Our airplane saves us so much time. We own a Beechcraft Baron B58 and it enables us to be more efficient and effective, both professionally and personally. At least every other week, my husband and I use it for business-related trips, which are often last minute. We also regularly fly with our children. We are a family of four, so traveling commercial can quickly get expensive and time-consuming whereas the Baron allows for quicker, more enjoyable travel. The airplane fits us perfectly.
2. How great of a presence does the West Houston Airport have in the aviation infrastructure of Houston?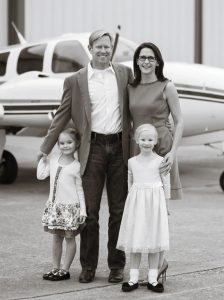 West Houston Airport is the closest general aviation airport to downtown Houston and the Energy Corridor. So, airplanes typically choose to land here for its convenience as well as fast turnaround service and amenities such as conference rooms or maintenance facilities. In all, the airport generates a local economic impact of over $25 million to the community. We also are host to several community groups including the 99's, EAA, FAA FAST meetings and others.
3. As a founder of Texans for General Aviation, what is the primary mission of the organization and what do you consider its greatest achievement thus far?
Texans for General Aviation came about when several of us in the business aviation industry realized the Texas Legislature and local officials were not being informed about the impact general aviation has on the state. We wanted to assist policy makers in recognizing its importance so we formed the organization and helped initiate the Texas Legislative General Aviation Caucus, made up of legislators and their staff. And it's just taken off. We have some wonderful leaders like Representative John Cyrier. The caucus is now a great resource for policy makers in Texas regarding general and business aviation.
4. As a member of the NBAA Board, what do you hope to contribute to business aviation's leading organization?
I was elected to the Board last November, which is an absolute honor. Being a pilot and small-business owner in both aviation and a non-aviation industry, I see firsthand what's going on at our country's airports. I think that experience, combined with my policy and educational background, allows me to bring a different perspective to an already-diverse Board. In addition to aviation, I love policy. It has worked out really well bringing those two passions together.
5. In late August, the entire country watched in horror the devastation of Hurricane Harvey on the city of Houston. How did the hurricane affect the West Houston Airport and how did the aviation community come together to aid the city?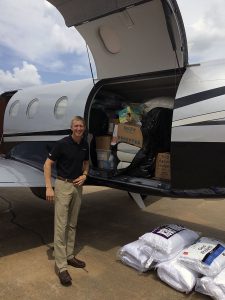 When Hurricane Harvey hit, it rained for almost six days. But what hurt us at the airport specifically was not the wind or rain, but the floodwaters from the reservoir and diversion afterward. We had been hoping to assist with relief efforts right away, but were unable due to the high water being slow to recede. Finally, on Sunday (Sept. 3), airplanes delivering supplies were able to make their way in.
We have had dozens and dozens of pilots fly into our airport from all over the country – Michigan, Florida, California…I think I've seen every make or model of airplane fly in here. They're doing what they love while helping others at the same time. Those of us affected by the storm have assuredly experienced a grieving period, yet the comradery that has surfaced is unlike anything I've ever seen. For example, the Sky Hope Network in Georgetown, Texas, and Operation Air Drop from Dallas, Texas, we could not have delivered the relief supplies if it weren't for these organizations and people like Robin Eissler and Stephen Langley getting these air lifts started. It's truly been awe-inspiring.