WHO: Todd Simmons
POSITION:
President of Customer Experience,
Cirrus Aircraft
HOMEBASE:
Knoxville, TN (KTYS)
RATINGS:
Private, Instrument, Vision Jet SF50 Type Rating, Glider Rating
FLIGHT HOURS:
2,300
1. Can you describe your current role at Cirrus Aircraft and what "customer experience" entails?
Customer experience describes all of the touch points for our customers – or as I like to say, every outwardly facing aspect of Cirrus Aircraft. I have responsibility globally for the brand, which includes sales, marketing, flight training and operations, customer service and support, design and personalization. I probably spend the majority of my time on the ownership aspect collectively. Sales is important, of course, but I spend a lot of time thinking about the experience a customer will have while owning the airplane.
If you look at the segments "above us" with the larger cabin business jets, many of those airplanes are flown by professional flight crews. So, a lot of the ownership aspects I am speaking to are managed by flight departments. But in our world, our customers are typically the ones in the front left-hand seat. I look to focus on, refine and be creative in the ownership programs and initiatives we offer, all of which are intended to make the benefits of personal aviation as accessible and easy as possible.   
2. What is your current view on the activity and strength of the GA market? What key factors need to remain constant to ensure GA will thrive into the next decade?
At Cirrus Aircraft, the trajectory is certainly upward. We just completed the best year we've had in a decade, with 380 SRs and 63 jets delivered in 2018. Our performance has strengthened every year since the tough times in 2008 and 2009. What we find our customers are looking for is innovation, improved utility and more value in an airplane. Our commitment to meeting those expectations and improving value is what is driving our business. We are never satisfied with sitting still or settling.
It's also important we don't lose sight of some of the difficult areas facing aviation such as user fees, privatization, fuel alternatives, etc. It seems there is no shortage of challenges, so we got to keep making sure those challenges do not restrict access to aviation. In my view, expanding access and accessibility to personal aviation is the bottom line.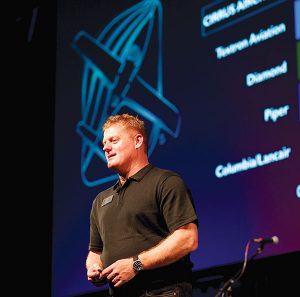 3. Last year, the company opened the Vision Center in Knoxville, TN. Can you discuss how customers were the driving force behind the construction of this facility? 
As the Vision Jet came along, we recognized some challenges with our current facilities and customer operations in Duluth and Grand Forks. The jet forced us to think differently because when a type rating is required, you can run into more challenges with weather, fuel and maintenance. That drove us to pursue a new location, closer to customers, that is more weather-friendly. We did a thorough search looking at 30 locations in 15 states before we selected Knoxville – and we could not have made a better choice. Both from the geographic location and the amenities offered here in East Tennessee. 
The key components we have here are aircraft delivery, flight training (SR or SF), part 142 authorization and a level D full-motion simulator (the flagship of the facility). And of course, we offer all aspects of service and maintenance here as well. 
We feel that we have built a customer experience that has not been defined inside of aviation but by the bar that has been set by those outside of the industry like luxury automobiles, high-end resorts, cruise ships; places like these have raised the bar in terms of customer experience. That's why we built the Vision Center. Our singular focus here is on customers, and it's worked extremely well. Our customers love it. 
4. In your position, you help set the tone for a buyer's entire ownership experience. How would you define your leadership philosophy? 
First and foremost is collaboration. Collaboration with our customers – thinking together about how to improve that ownership experience. Collaboration with the marketplace – how can we make a more significant impact on GA as we know it. Collaboration with our partners and suppliers – how we can grow together. Collaboration with our partners right here in Tennessee – what are all the ways we can enhance our facilities and amenities on a localized level.
Secondly, I am a pretty energetic person. I always have a sense of urgency. I like to say that when you are in the business of defying the laws of gravity, you can never let up because it never lets up. It takes energy, a sense of urgency and a commitment every day to making our business better and looking outside the industry for the benchmarks that our customers want and expect. 
The third and final thing I'll mention is creativity. If you are not careful, a lot of things like regulatory effects and the airport environment can be a detriment to creatively thinking about how we move this industry forward, and how we move our products and experience at Cirrus Aircraft forward. So, we spend a lot of time looking at signals or trends outside of aviation and think about how they can be a part of aviation. Creativity is something I like to think I keep in my pocket every day. 
5. Since the first Vision Jet deliveries began in 2016, what have you learned about your customers, products and industry? 
There are a couple of very distinct things. The first one is our customer's expectations are even higher. What I mean by that is personal aviation has a legacy going back decades, where the owner-operator is responsible for all components of ownership, management, maintenance, etc. Our customers want all of those moving parts to be easy. Especially with the Vision Jet, they're bringing a turbine-level expectation of dispatch reliability and operating reliability that we have to live up to every day. And a number of our customers have had experiences with airplanes from a price point and size well above a Cirrus, yet bring those same ownership expectations to us – as they should. We are having to up our game even further.
The other trend we see – which has been underway for quite some time – is our customers and operators want a complete suite of ownership options. Bundling items like aircraft management, prepaid maintenance and prepaid flight training accomplishes a few things: complete ownership programs, consistency and predictable costs. We recognize that we don't want to manage the airplane piecemeal but instead bring all of those aspects together. We were already seeing this in the piston line, but are bringing an even more sophisticated approach to the Vision Jet.