WHO: Jan McKenzie
POSITION:
President,
Ninety-Nines
International
HOMEBASE:
Loveland, Colorado
(KFNL)
RATINGS:
Instrument Airplane
and Commercial
Rotorcraft
HOURS:
2,800
1. Can you summarize the history and mission of the Ninety-Nines (99s)?
The organization was founded in 1929 at Curtiss Field in Long Island, New York. All 117 women pilots at the time were invited to assemble for mutual support, advancement of aviation, and to create a central office to keep files on women in aviation. In 1931, Amelia Earhart was elected the first President, and the group selected the name "Ninety-Nines" to represent the 99 charter members. Membership was then immediately opened to other women as they became licensed pilots.
Today, we are an international non-profit organization of over 5,600 licensed women pilots from 44 countries. We are pilots who teach and pilots who fly for pleasure. We are pilots who are technicians and pilots who are mechanics. But first and foremost, we are women who love to fly! Our mission is to promote the advancement of aviation through education, scholarships, and mutual support while honoring our unique history and sharing our passion for flight.
2. What led you to become involved with the organization? 
I learned to fly in a 1948 Stinson when I was 21. During my flying lessons, I did not come across any other women pilots. So, when someone mentioned the 99s to me, I was eager to reach out and join. When you don't see any other pilots like yourself for a year, it is great to meet other women who enjoy flying as much as you do.
As I continued to fly over the years, I wanted to give back to this organization that has given me so much. I volunteered and was elected to Chapter, Section, and eventually positions at the international level. The giving of my time and skills for the 99s is fun. I enjoy every day that I have the opportunity to meet these incredibly accomplished women. Providing my talents is a small "thank you."
3. It is estimated women make up approximately 5 percent of the global pilot population. In your opinion, how can the industry attract more female pilots?
We need to start at the middle and high school level and introduce these young women to aviation and flying. If girls don't see women in the cockpit, they won't know that is a viable option for their future and career. So, the 99s started a new program to introduce young people (and their parents) to a flight at their local airport. The program is called "Let's Fly Now." We just recently kicked off this program and hope to expand it worldwide over the next few years.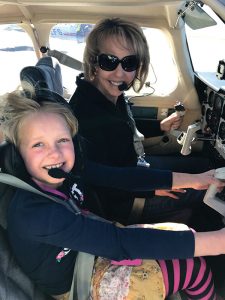 4. When speaking with someone who has never heard of the 99s, what do you convey are the core benefits of membership?
Experience: Some mistakenly think this is a social organization for older women pilots but it is so much more! Get to know the players, and you'll find that 99s are experienced pilots of all ages and areas of aviation from jet airliners, helicopters, space shuttles, business jets, tail-draggers, air racing, soaring, aerobatics, ballooning – you name it, and there's a 99 doing it.
Networking: The 99s consists of thousands of women pilots worldwide. We are eager to share our knowledge and experience with fellow members. 
Education: The Ninety-Nines sponsor many large and small educational programs, from local chapter initiatives to public aviation safety meetings and conferences.
Friendship: Want to make friends in your new flying vocation or avocation? Meet women who share your interests.
Scholarships: From chapter awards and new pilot awards to the Amelia Earhart Memorial Scholarships for advanced pilot training and aviation education, the 99s can help achieve goals in aviation.
Understanding: Many of us have been through the same trials and tribulations when learning to fly or achieving advanced ratings. We have figured out ways around the obstacles and can help fellow members with good ideas to move forward. 
Recognition: Your victories and achievements, large and small, will get the recognition they deserve from your peer group. 
Encouragement: This natural part of women sharing with women is particularly useful since we fly in what is still mostly a man's world. Find your female role models and mentors in the 99s.
Career Tips: Pilot-specific information, realistic solutions, mentoring, and career networking are just a few of the tangible rewards.
Acceptance: Being a 99s member guarantees your acceptance, regardless of your experience level. Chapters exist worldwide, and you'll find the welcome mat is always out, wherever you may land. 
5. Can you describe one of your most memorable moments (or events) since joining the organization?  
Traveling to 99s meetings around the world and getting to know our members create my most memorable experiences. I have met members who are astronauts and spent months on the International Space Station. I have met a world aerobatic champion. I have met a pilot who flew solo around the world in a single-engine piston plane. I have even met members of WASP who flew P51s in the 1940s. Moreover, I have gotten to know many women like me, where flying is their passion in life.