WHO: Guido Warnecke
POSITION:
Worldwide Ferry Pilot, Owner of GW Aerologistics LLC
HOMEBASE:
Danbury, CT (KDXR)
RATINGS:
ATPL (SACAA and FAA) with types in BE30, CE-525, CE-500, G159, GLF2
FLIGHT HOURS:
10,000+
1. Can you describe your introduction to general aviation?
I was born and raised in Germany and was always fascinated by flying, mainly because my father was a passionate private pilot. However, back in the 1980s, it was not possible for me to pursue a professional pilot career in Germany, so I got a master's degree in mining engineering and started working in a totally different field. I finally got my private pilot license in Canada in the 1990s, and while working as an engineer in South Africa, I had the opportunity to fly to remote mining operations in a Cessna 210. After more than 1,500 hours flown as a private pilot, I was finally determined to turn my passion into my new career! 
Once I passed my ATPL, I quit my engineering job and founded my own aircraft operations business in South Africa. I flew mainly for the mining industry in smaller aircraft like Beechcraft Baron, C421 and King Air 90. Later, I added type ratings for the Gulfstream G-159 and the Gulfstream II. In 2008, I moved with my wife to the United States. I started to work as a Part 135 Charter Pilot in the Northeast and added the FAA ATPL and some type ratings to my licenses. After a few years, I was given a great opportunity to take an assignment in the Middle East, flying a private VVIP jet owner and his family across the globe. All these global flying experiences built the foundation for becoming a ferry pilot. By now, I have completed more than 100 ferry flights across the globe.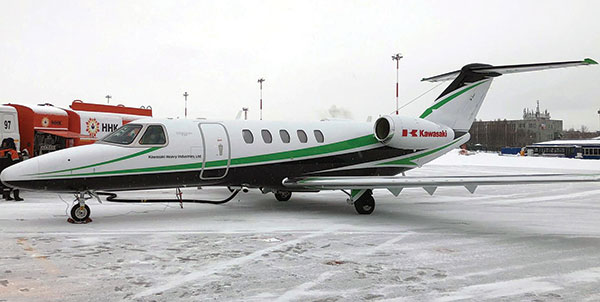 2. What is your role today? Typical mission?
In addition to working as a worldwide ferry pilot for turbine and light jet aircraft, I provide contract pilot services for U.S. aircraft owners on King Airs and C525 series jets. I offer insurance approved mentoring and training programs for King Air owners, especially the Garrett engine-equipped B100. Training on new avionics systems, e.g. ProLine Fusion and Garmin G3000 is available. Furthermore, I provide aviation consulting services to support aircraft sales projects and am a passionate aircraft photographer. (You can check out my photo section on Flightaware.com for more than 35,000 aircraft pictures).
3. Can you discuss some of the challenges of ferrying aircraft all over the world?
Every ferry flight is its own project! There is never a routine as each flight has to be planned and prepared in great detail. And still, even with the best planning, there will be unexpected events such as weather, technical issues, logistical aspects, etc. Keep in mind that larger aircraft cannot be packed in a container, so ferry flying is the only way of transportation between seller and buyer. For both parties, this is a very sensitive part of the deal, and the ferry pilot carries the full responsibility for the multi-million-dollar asset. 
Not to mention, the aircraft I ferry are not designed to cross the globe. To share some flavor of the challenges, imagine flying a Cessna Caravan single pilot 14 hours nonstop from California to Hawaii (taking off with FAA-approved 30 percent over gross weight), crossing the North Atlantic during winter in a King Air, or landing a Citation Jet at a Russian peninsula at minus 40 degrees in a snowstorm with limited visibility. 
4. What trends do you see occurring in worldwide aircraft sales? 
On top of being strong in the domestic market, U.S. general aviation aircraft are of high demand in the global market. I am mainly involved in the delivery of Textron Aviation products like the King Airs, Caravan and Citations. High sales numbers are being seen in Asia along with the expansion of the Chinese market. Other growing markets include tourist sections (like resorts in Africa), utility aircraft for remote areas, or modified aircraft for research organizations. 
5. Can you describe one of your most memorable trips/deliveries?
There are many remarkable moments as each trip is unique. The first ferry flight in a light aircraft remains a very special one for me – a North Atlantic crossing in a Mooney. Ferry flights to South Africa are also special for me as I can leverage my local knowledge and network. And of course, coming back stateside and being greeted by the New York ATC controllers is always a highlight. I experience each delivery as something very special. It is highly awarding to see how happy the new owners are in taking over their aircraft. On some of the ferry flights, I accompany local crews on the way to their new destinations and have made friends with pilots from Japan, South Korea, China and Australia.