WHO: Glenn Watson

COMPANY:
Mach Point One Aviation Photography
POSITION:
Owner/Photographer
HOMEBASE:
GTU
RATINGS:
ATP MEL, COM SEL
HOURS:
2,500
1. Can you summarize your aviation/piloting background?   
I was born into a general aviation family with my dad teaching high school aviation courses and flight instructing. But due to life, finances and a family move when I was 8, I took a 20-year hiatus from flying. Once I had a decent job in my late 20s, I picked up flying again and knocked out my private in a rental Cessna. Soon after, I bought a Skyhawk (172M) with a few friends and began the "airplane owner" phase of life, which basically meant selling everything I have to get an airplane. It was a great plane – flew it from Texas to Oshkosh and everywhere in between for years. 
Like everybody, you always want more, and after having three daughters, the Skyhawk was a little tight. It wasn't long before I was daydreaming about a six-place. During this same time period, I got very interested in air to air photography. Enter the A36 Bonanza – sexy, fast, six seats and certified for flight with the doors removed. The photo biz brought so many airshow and aerobatic airplanes and friends into my life that I also naturally got interested in the upside-down flying. A great friend loaned me her Super Decathlon to try my hand in Sportsman aerobatic contest flying. I was hooked, eventually buying a Christen Eagle, which we still have and enjoy.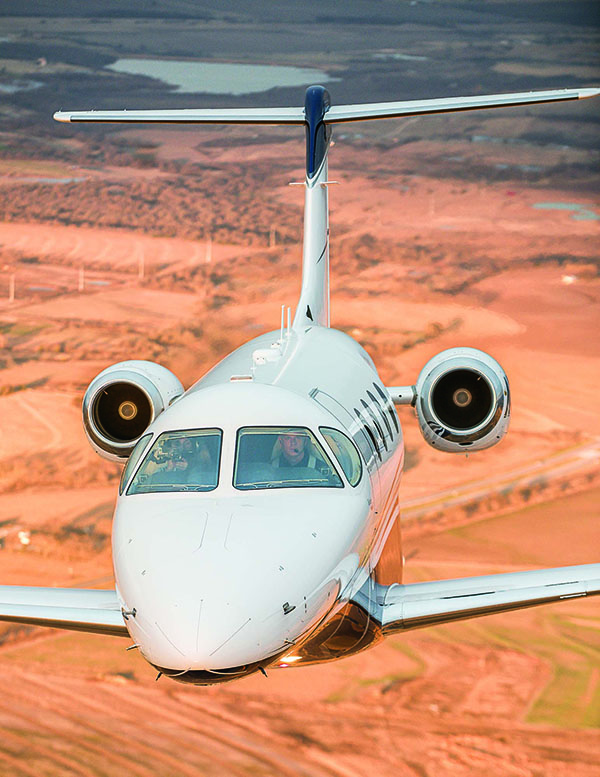 2. When (and why) did you first enter the air-to-air photography scene? How has the industry changed up to today? 
I've never been satisfied being "okay" at anything. And a motorcycle adventure up the California coast in 2009 found me detouring to Reno to take photos of the airplanes at the Reno air races. The photos were garbage and this was all I needed to challenge myself to get better. Air-to-air photography seemed to be that "golden ring" everybody reached for, so in 2010 I found an opportunity to go up on my first air-to-air (a2a) photoshoot – flying on a B-25 Mitchell Bomber photographing two awesome military jets from the open tail. It was the most amazing experience, and it was that moment I decided I wanted to be the best a2a photographer in the world. 
I'd say the biggest changes in my limited time in the industry are the challenges brought about by the quality of iPhone cameras and the sheer number of people who want to do it. I'd love to think I had something to do with inspiring other photographers to think bigger and aim higher after seeing what I was able to accomplish in the industry. But I'll let you in on a little secret – the actual photo-taking is the easy part. The planning, formation flying and photo aircraft equipment are the hard parts. Once that's in place, I just go after the most dynamic, unusual and exciting photos I can dream up – and hopefully, it continues to stand alone often enough to keep paying for my airplanes.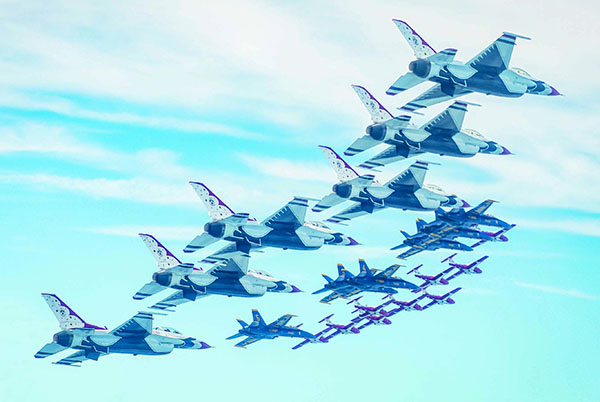 3. Can you walk us through your creative/planning process that occurs each photoshoot?
My goal for each shoot is to try and get a unique aircraft angle or formation of multiple aircraft that has never been captured before. It helps me push the limit by constantly competing with myself. Also, I have my own team of formation pilots that are the real secret to the photos – without their time and skills, none of this would be possible. 
Going into a shoot, we typically have an idea of 75 percent of the obligatory shot list. The remaining (my favorite) happens dynamically as we fly and observe the light and backdrops changing, and as the form pilots get more comfortable with the particular aircraft. Every shoot is different whether it's a mid-afternoon 60-second airshow grab behind the crowd or an "owner experience" that we donated to a fundraising auction. But they all start and end at the same place – conservative plan and flight safety briefing with known crew. We all want to come home.
4. You recently joined the airlines as well. What led to your decision to enter the commercial aviation world, and how is the experience thus far? 
I never really dreamed of being an "airline pilot" like lots of folks, but as I spent more time around corporate aviation in the photo/marketing side, I got much more interested in flying jets. Then at Oshkosh 2018, a good friend of mine had recently left a lucrative sales career for a regional airline job and told me it was the best decision he ever made. With the regionals pay basically double since I last looked, along with the pilot shortage, it looked like the best time ever to go for it, so I was inspired. 
I spent about four months getting the commercial and multi-engine experience to meet the prerequisites and fired off some applications. I was in a training class at Envoy within a month. I'm now a year in with about 600 hours in the jet (E-175), and I have to say it's about the best thing I've ever done. I love every day of it, and it's a little cliché, but it's hard to believe I get paid for it. The flexibility is very compatible with my photo company work, and the income from flying has allowed me to be more particular about the creative jobs I take on. 
5. Can you describe one (or two) of your most memorable photo shoots?
I enjoy the photo flying so much, most shoots are memorable – but two definitely stand out. 
The first is a photoshoot I did with Skycatchers I used to own for a Cessna magazine article about my "fleet." Apparently, I was the largest private Skycatcher fleet owner with three airplanes. So, of course, I wanted to do a three-ship formation photoshoot of 162's, probably the only such photo ever taken. What made it particularly memorable was I owned all four airplanes in the shoot. I remember looking at the four airplanes and my four good friends flying them after it was over and just having a proud moment. Only a few short years prior, I was sitting in a corporate cubical job daydreaming about getting my private license. Now I owned and operated four airplanes and my aviation photo company is shooting them for Cessna. I've always lived go big or go home!
But a lot of what I've done has paled in comparison to the 2018 photo shoot at the Cleveland Airshow of all three North American jet demo teams historically flying together for the first time. Through my hard work building a relationship with the Blue Angels, I was selected to be the photographer for this once in a lifetime event. The photo ship would be none other than the Blue and Gold #7 jet with me strapped in the back. After a year of planning, all three jets teams successfully rejoined 22 jets over Lake Erie and we captured some spectacular images. It was truly an amazing and emotional day – felt as though the opportunity completed my journey to the top of my aviation photography.