First Plane, a Jet

How did it come to be that Tom Garritano's first foray into aircraft ownership was a Cessna Citation Mustang jet? As he puts it, "The Cirrus I was renting was no longer available, so I said, 'Looks like we're going to have to buy an airplane.' When Tom Craft called me from Cessna sales, that got the ball rolling." The rest, as they say, is history.
Garritano had become a fairly recent convert to aviation. He and his long-time partner, Jan Carpenter, were on an "aviation cruise" themed shipboard vacation, with John and Martha King and other notables aboard, and the seed was thereby planted. Jumping right in, he began taking flight training in 2008 and became a rated pilot in March of 2009. He's racked up at least 200 hours per year ever since. Most of his pre-jet time was spent in glass-cockpit Cessna Skylanes or Cirrus SR22's; he acquired his instrument rating in 2011 and then flew a Piper Seminole at ATP, Inc. to gain his multiengine ticket. "I was never going to do things in a hurry; I wanted to take extra time to do it right," he said.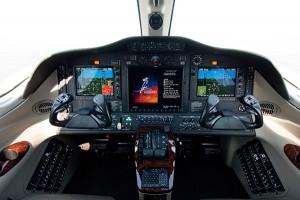 Garritano has applied this philosophy to the jet transition as well. He estimated it would be a two-year process to gain single-pilot certification, which proved be about right, even though he had accomplished all the legally necessary steps much earlier. His methodical approach toward "being comfortable" with the airplane was well-regarded by his insurance carrier and mentoring pilots. Fortunately, he began the transition with over 1,000 hours of total time, and 900 hours of it was behind G1000 panels; that alone made the Mustang's cockpit much less intimidating.
"I tried very hard to avoid buying my own airplane," Garritano said. Splitting his time between bases in the Chicago and Orlando areas, he had good, well-equipped rental airplane arrangements and flew heavily from both locations. But, circumstances and year-end incentives brought matters to a head between Christmas and New Year's Day in 2012. "We literally HAD to close on the airplane three days after Christmas, because the weekend and holiday deadlines were going to shut everything down," as Garritano relates.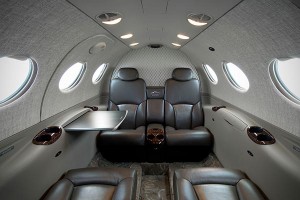 Getting Rated
In his typical fashion, he approached the Mustang transition carefully and deliberately. The initial training was accomplished at FlightSafety International's Orlando learning center, but when it came time to fly the actual airplane he was fortunate to find a highly-qualified neighbor, Russ Faller, a retired 747 airline pilot. As is normal, he first obtained the crew-only type rating, flew under Faller's mentoring for a while, then qualified for his single-pilot type rating. Jan and he have found "no shortage of destinations" to visit with the airplane, and she has obtained her private pilot certification, to make sure she can assist and take over in an emergency. Her own determination to be a pilot started with a "companion course" at the 2013 Citation Jet Pilot's Convention, where it was obvious that she could not only be a standby crew member, but a pilot in her own right. So, they bought a 2011 G1000 Skylane in early 2014 and Jan had her private ticket just over a year later.
When we met in mid-2015, Garritano had 772 hours on the C510. "When I bought the airplane, I received a three-year ProAdvantage service coverage package that was targeted for 125 hours a year. We blew through that in the first year!" Usage notwithstanding, his "High Sierra" edition interior was spotless and the airplane had matured into a squawk-free state after the usual new-plane teething period.
Garritano uses flightplan.com for most of his routing and planning, typically seeing 320-330 knot speeds in the mid altitudes. For maximum range, of course, FL390 to FL410 are desirable, but that requires a suitable stage length to get light enough for the climb. "I've had the advantage of having a team behind me," he said, giving credit to his mentor pilots, his service and support staff at Textron, his insurance agent, Greg Hiser at Air Capital Insurance in Wichita, and Kirby Ortega, a retired chief pilot and demo pilot at Cessna, who mentors extensively in Mustangs. He also had high praise for John Azma at Azma FLT, Inc. in Orlando, who does airplane-only training for clients worldwide.
The Citation Mustang
When it comes to designing and supporting an entry-level jet, no one is more qualified than Textron's Citation group. The Citation 510 came about roughly 10 years ago, in response to the pre-recession hoopla over the coming deluge of light jets being developed by a host of companies. Some were to be single-engine personal aircraft, others were to be Baron-size twins; a lot were never to be at all, given the economic downturn. Cessna elected to go a notch above the minimum-possible owner-flown jet, returning very close to its roots with a small, but capable, Citation that would offer short-field performance and vice-free handling.
Pratt and Whitney Canada's tiny PW615F turbofan was chosen for the Mustang's engines, putting out 1,460 pounds of thrust per side and offering FADEC (full authority digital engine control) management, so the pilot would have minimal involvement with its operation. The little Pratt can deliver fuel burns in the 30-gph range when cruising in the upper flight levels, contributing to a 1,200 n.mi. max range. The Mustang may generate some snide "Slowtation" remarks, but 340 knots is pretty impressive to pilots used to half that speed in piston twins.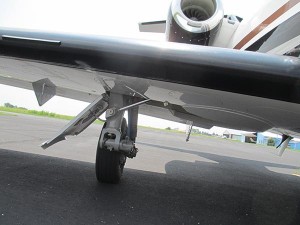 The Mustang's hangar footprint isn't excessive, with a 43-foot wingspan and just over 40 feet of length. The T-tail is 13.5 feet tall and the gear span is a relatively modest 12 feet. Carefully-designed ventral fins add extra stability at high angles of attack. Systems-wise, everything about the Mustang is designed for simplicity and low workload. The landing gear and anti-skid brakes are powered by an electro-hydraulic powerpack, while the wing flaps and speed brakes are electric. Deicing is via conventional pneumatic boots on wings and tail, with an electrically-heated windshield. The airconditioner is an electrically-driven vapor-cycle system. The 385 gallons of Jet-A are filled over the wing, just as in lesser aircraft.
The wing, on the other hand, is a sophisticated design, more or less scaled down from the Citation Sovereign's planform, with a lightly-swept (11 degrees) leading edge. It's tailored to be very stall-friendly, so there's no stick-shaker or pusher. Some vortex generators molded into the deicer boots do their part to keep the stall mild.
Baggage can go in the upper nose compartment, with doors on both sides, or in a smaller bin in the tailcone, all totaling 63 cubic feet and holding 718 pounds. The entrance door is typical Citation, opening forward to expose folddown steps that are lowered for climbing aboard. One is greeted by a non-belted when-you-gotta toilet seat before turning right to the four-place club-seating cabin or left to reach the cockpit. The 9.75 foot-long cabin is 4.6 feet wide and 4.5 feet high, very comfortable once seated, with oval windows at eye-level rather than the usual low-mounted rectangular panes of other Citations.
Maneuvering into the cockpit is easier than in most jets, because the control wheels are panel-mounted, instead of sprouting from the floor, and the center pedestal is short and truncated, making it easy to grab the windshield assist bar and swing into a seat. The simple shoulder harnesses are similar to a light twin's and the seats adjust manually, vertically and fore-and-aft. There are no old-fashioned storm windows, but a traditional manual trim wheel is still on the pedestal.
The Garmin G1000 avionics suite consists of dual 10.4-inch PFD screens, flanking a 15-inch MFD, with standby instruments centrally arranged above it. The GFC700 autopilot controls and annunciators are in the glareshield, for eyes-on-the-road manipulation.
Up And Away
Starting is virtually automatic; the pilot only moves a power lever forward after N1 spools up and the rest is handled by FADEC. Once an engine is running, the air conditioning comes on and avionics are available. The second engine starts cooler, with generator assist. A good shove is needed to initiate taxi, given the low idle thrust, and only minimal braking is needed to hold down speed. The pedal pressures are light and steering is responsive.
Most of the pretakeoff checks are done at the ramp or on the taxi roll, so there's little to do when reaching the hold line. The G1000's FMS keypad is aft of the throttle quadrant, where entries can generate field elevations to schedule the pressurization. Of course, the friendly knobs of the Garmin panel are still available if desired. V-speeds are in full display; at a takeoff weight of 7,630 pounds (900 pounds under gross), 1,800 pounds of which was fuel, the V1/Vr was 90 knots and V2 was 97 – not typical jet figures.
The "takeoff" flap setting is normally used, and strobes go on when pulling out onto the runway. Acceleration is strong, considering the small engines, and liftoff with 10-degrees pitch attitude came at about 2,200 feet down the runway. Initial climb was well over 2,000 fpm, transitioning to about 1,500 fpm when speed was increased to 140-150 knots and the power levers were slid back from "takeoff" to "climb" detents. Once trimmed, that's it; the Mustang is a solid, transport-feel airplane, with fairly heavy control forces and the stability of a brick.
Going high for fuel burn reduction is normal, even on modest trips. Speeds of 320 knots will be seen when cruising in the 20's, with 340 in the mid 30s. Limiting Mach is .63. Coming down is as simple as sliding the levers back and perhaps triggering the speed brakes. The landing gear can be used for deceleration as well, since it can be lowered at up to 250 knots, well within normal IAS, with retraction limited to 185 knots. Approach flaps can go out below 185 knots, full flaps at 150 knots.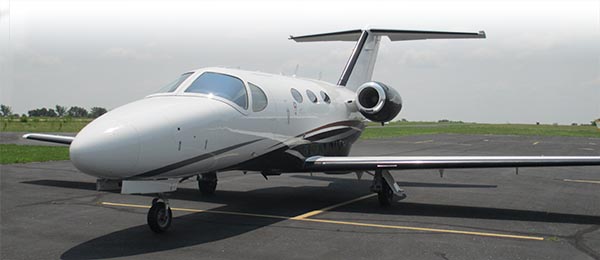 Stalls, I'm told, are non-events, with numbers in landing configuration down in the lower 70-knots range. Push power up and apply a bit of angle-of-attack reduction and the Mustang flies away harmlessly. Vref is typically less than 100 knots, and the friendly wing provides lots of lift, which means, once the landing is assured, you'll probably trim off a few knots for the threshold. Rollout is 3,000 feet or less, depending on the braking used. The Mustang was fitted with the brake system off the CJ3, so there's ample stopping power.
As a first jet, or a first-purchase airplane, the Citation Mustang couldn't be a better choice. It handles flawlessly, runs on relatively little fuel and delivers a comfortable, solid ride. Tom and Jan are a fortunate pair.