In this issue we introduce a new section of the magazine called the "Owner's Corner" – a space dedicated to stories written by you, the reader and owner-pilot.
The intent here is to stretch beyond a typical flight review and deeply explore various owner-flown aircraft through an operator's eyes. Whether its operational nuances, maintenance know-how or mission performance – who knows an airplane better than its longtime owner?
Kicking off our first owner story is reader Farhad Saba, based in Virginia. Farhad owns a coveted Piper Cheyenne 400LS – a powerful hotrod that outperformed the Citations of its day (you may recall Chuck Yeager shattered various climb records with the 400LS in the 1980s). With just over 40 built between 1984 and 1992, around half are believed to still be flying today. Find out more about the history and performance of this rare airplane on page 26. Thank you for sharing, Farhad!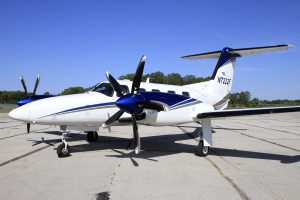 So…have you already started brainstorming an article? Maybe it's sharing time-tested learnings about your airplane, discussing a recent upgrade experience or detailing a memorable trip. This is my formal invitation for you to submit a story (~1,500 words) for potential publication in Twin & Turbine. Submit to my email below and I will work with you directly throughout the process.
And a big thank you to the dozens who have reached out to me with their "votes" and advice as we shop for an aircraft. (If you missed my September briefing, my husband Jared and I recently embarked on a search for our first aircraft. An older Mooney, Bonanza or 210 are top contenders). Your firsthand experiences and insights are invaluable as we explore and modify our prospective list – of which there have been added considerations thanks to your intel.
No decision made as of yet, but stay tuned for a search update next issue!