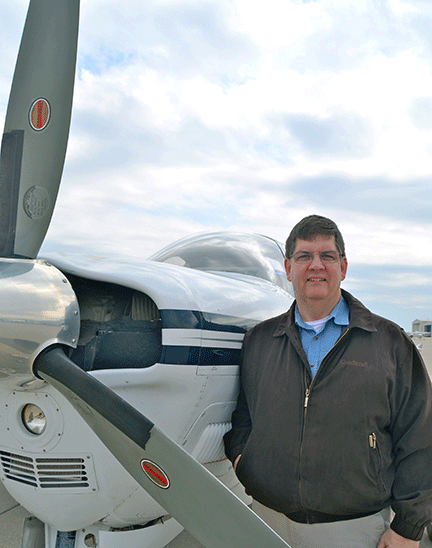 The National Association of Flight Instructors' Flight Instructor Hall of Fame was established 18 years ago to recognize individuals who exemplify the promotion of excellence in flight instruction. This year, NAFI is proud to announce two outstanding individuals as inductees into the Hall of Fame. They are Twin & Turbine's very own Tom Turner, along with Mr. Fred Nauer.
Tom Turner has been a flight instructor since 1988, after serving as an officer in the United States Air Force. He has served aviation in a variety of roles, most recently as Executive Director of the ABS Air Safety Foundation in Wichita, Kansas. In his tenure there, Turner developed such programs as the Beechcraft Pilot Proficiency Program and the ABS Flight Instructor Academy. These programs educate and standardize instructors and pilots in the techniques of flying Beech aircraft, drawing on the collective experience of American Bonanza Society instructors over the past three decades.
In addition to his duties at ABS, Turner has been a FAASTeam Lead Representative since the program's inception, and he earned the 2010 award as the Safety Team Representative of the Year. He also serves on safety committees with NBAA, has presented forums at Sun 'n Fun and EAA AirVenture, and is a founder of EAA's Type Club Coalition, among other services to the community. He is also the author of three books, Weather Patterns and Phenomena: A Pilot's Guide, Cockpit Resource Management: The Private Pilot's Guide, and Controlling Pilot Error: Checklists and Compliance, all published by McGraw-Hill.
Turner also writes the FLYING LESSONS weekly safety e-newsletter, available by free subscription at www.mastery-flight-training.com. And, of course, he contributes his monthly column, "Twin Proficiency", to Twin & Turbine magazine.
Fred Nauer has been a flight instructor since 1992, after serving as an officer in the United States Air Force. Bringing his experience as an Air Force F-4E navigator to civilian aviation, Nauer has been a role model and mentor to younger and less-experienced instructors, leading by example and emphasizing safety in all areas of training. He is currently the chief instructor at Thunderbird Aviation in Eden Prairie, Minnesota.
Turner and Nauer will be inducted into the Hall of Fame in a formal ceremony during the NAFI Members' Dinner during the Lakeland, Florida Sun 'n Fun fly-in at 6 p.m. on Thursday, April 23 in the Buehler Hangar.
About the Flight Instructor Hall of Fame
Established in 1997, the Flight Instructor Hall of Fame has inducted 26 individuals over the course of 17 years. Its recipients must have a minimum of 20 years working in aviation education and must be well respected within the industry. The award consists of three pieces; a traveling trophy that is presented to the current inductee(s) for a year, a commemorative plaque for the inductee(s), and a wall display honoring all recipients that resides within the AirZoo Aviation Museum (www.airzoo.org) in Kalamazoo, Michigan, which is also the National Association of Flight Instructors headquarters.
For more information visit NAFINet.org or call
866-806-6156.