On July 22, 2015, senior executives from Blackhawk Modifications, Inc., and Pratt & Whitney Canada commemorated their 16-year collaboration and 1,000th engine at EAA AirVenture Oshkosh.
P&WC leaders noted that "Blackhawk has earned a rock-solid reputation for providing value-added conversion solutions to its customers. Because our PT6A engine has played such an important role in Blackhawk's remarkable success, we are particularly pleased that the 1,000th engine will be used to support an evolving business venture of selling converted aircraft."
A King Air C90 with the milestone engine installed is being offered for sale and was one of the aircraft on display in the Blackhawk exhibit at AirVenture Oshkosh.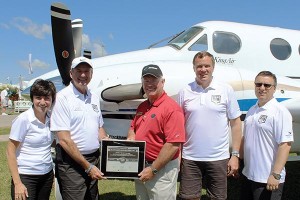 For further information, visit
www.blackhawk.aero
About Blackhawk
Modifications, Inc.
Based in Waco, Texas, Blackhawk Modifications provides new engine installations and STC paperwork for all models of King Air 90 and 200, Cessna Conquest, Piper Cheyenne I, II, IIXL, and Cessna Caravan models 208A and 208B. Blackhawk's contributions to the upgrade industry continue to be new PT6A engines, components, associated hardware, and STC paperwork. Blackhawk engine upgrades, featuring PT6A engines, have been installed on more than 500 aircraft worldwide.
Contact Edwin Black, SVP Sales
& Marketing 254-755-6711 or edwin.black@blackhawk.aero, www.blackhawk.aero