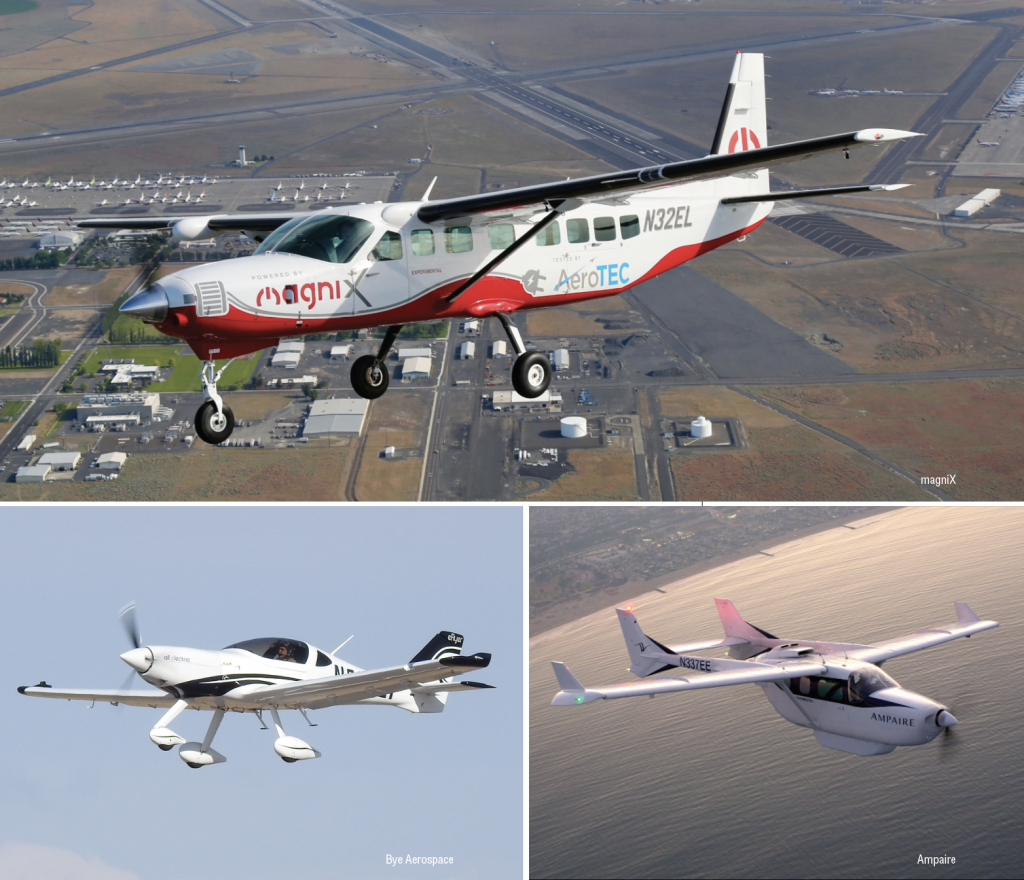 While we typically look to our favorite longtime OEMs and service organizations for the latest and greatest in new aircraft and STC's, other notable happenings are percolating in aircraft development that can easily be overlooked. Among these game-changing developments are electric propulsion systems. Many companies are currently working on designing, manufacturing and implementing hybrid electric, and ultimately all-electric aircraft, from trainers to regional passenger-carrying aircraft and everything in between. We turned to three of those companies – Ampaire, magniX and Bye Aerospace – to learn the latest.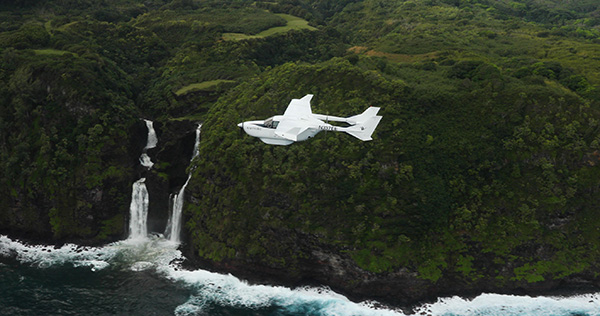 Ampaire
Brice Nzeukou, product manager for Ampaire, explains why the aviation industry is seeing more of a shift toward electric propulsion: "There are many benefits that come with an all-electric aircraft. Some of the most tangible benefits are energy and maintenance cost savings, zero tailpipe emissions and lower noise emissions. Some of the higher-level benefits include lower airfare for passengers and increased accessibility to smaller airports."
Ampaire, based in Hawthorne, California, is focused on bringing electric powertrain technology to regional aircraft of 19 seats or less. Founded in 2016, the company currently uses a Cessna 337 Skymaster called The Electric EEL in its flight test program. This hybrid-electric test platform, which utilizes both electric and traditional powertrains (a 160-kW electric power unit up front and a 300-horsepower Continental IO-550 in the back), had its first flight in September of 2020. The aircraft's milestone was preceded by a previous prototype outfitted with a conventional engine in front and an electric power unit in the rear, which first took to the skies in 2019.
Nzeukou stated, "Our retrofit [of existing aircraft] approach is much more involved than just developing the powertrain; it requires a deep analysis of the aircraft performance and integration approach, with special attention paid to safety considerations. This also supports our growing expertise in working with regulatory bodies to certify the modifications."
Results from the company's flight-testing program have been beneficial for the team in their continued development of the product, as well as proof of concept for existing and future customers – a list headlined by Mokulele Airlines. The Electric EEL is currently going through the paces in Hawaii, demonstrating the value of electric aviation in a location with challenging geography. The "island-hopping" flights that the airline makes in Caravans are ones that the company sees much potential to electrify due to the reduced costs and other direct benefits (such as lower emissions).
In the future, Ampaire also intends to partner with OEMs to replace conventional engines with zero-emission or low-emission technologies. "By pairing our innovative technology with proven airframe designs [rather than creating a clean sheet aircraft model], we reduce risks and maximize benefits for our customers," said Nzeukou.
To this point, the company is currently working on a low-emission, hybrid electric variant of the DHC-6 Twin Otter. The team expects an operating cost reduction of approximately 30 percent in this configuration and is currently being tested in conjunction with NASA in a FAA Part 23 capacity.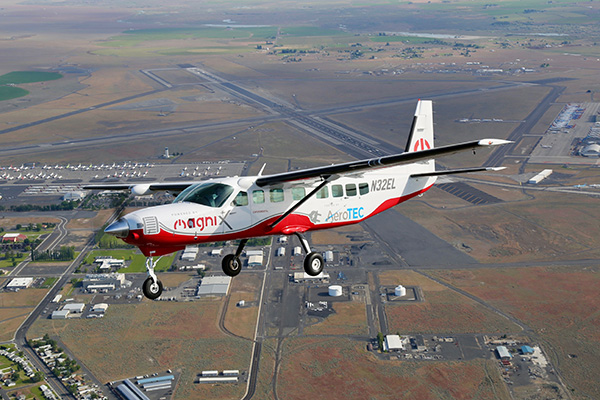 magniX
magniX, based near Seattle, began as a general electric motor R&D company in 2009 and transitioned exclusively to aerospace in 2017 after the team identified a strong opportunity with its technology. The research team found that its low RPM, high-quality, redundant motor with a high-power-to-weight ratio and advanced power electronics was ideal for aircraft.
Among the company's current Electric Propulsion Unit (EPU) offerings are the magni250 (375 horsepower/280 kW) and magni500 (751 horsepower/560 kW). The magni250 is suitable as a standalone propulsion system for smaller aircraft or a distributed propulsion system on a larger aircraft. The magni500 is built for "middle mile" aircraft like Caravans and King Airs. The company is currently expecting FAA Part 33 Certification on the products in the first half of 2022.
The company's two EPUs are "direct to propeller," meaning they are designed to provide the required torque and power turning at only 1900 RPM, the same speed as the propeller. This eliminates the need for heavy maintenance-prone gearboxes. Another EPU benefit is that it's sealed from both ends with an advanced air filter, which reduces FOD and other contaminants from entering. It also contains a proprietary closed-loop liquid cooling system that allows for full performance no matter the environmental conditions and full torque availability, even when operating at very low RPM. The EPU provides the same levels of torque and power no matter the altitude or temperature as it is not impacted by air density.
magniX's design and testing program was highlighted in 2019 with the flight of the world's first all-electric commercial aircraft, a DH2 Beaver operated by Harbour Air of British Columbia Canada. Another milestone was achieved in 2020 with the first flight of the company's 208B Cessna Grand Caravan outfitted with a magni500 propulsion system. This feat marked the aptly named eCaravan the "world's largest commercial electric aircraft."
Of course, some obstacles have hindered all-electric powerplants in the past, most notably the batteries. While still a challenge actively being navigated by all in the space, magniX estimates the current 100-nm range of their eBeaver and eCaravan will triple in a decade; a conservative estimate based upon current trends in battery technology improvements and the team's efforts. There are also players within the battery industry working on newer battery types, such as aluminum-air and lithium-ion, that could make a 300-nm mission a quicker reality.
magniX CEO Roei Ganzarski noted these improvements are important in reaching the goal of creating the electric commercial aviation future. He also warned OEMs and others to be careful not to become the Kodak of the aviation industry. "Kodak was in a position to lead with the new digital technology that was taking hold of photography culture, but they couldn't keep up once they finally accepted its importance and decided to pivot."
Ganzarski anticipates the industry to be solidified in this new electric future in about a decade or so, a period where we will see existing OEMs either unveil their own electric aircraft, partner with (or acquire) startups, or ultimately begin a gradual decline if they don't ride the waves of change.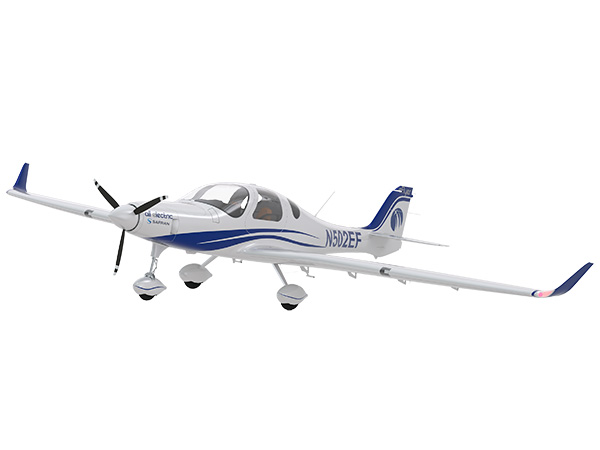 Bye Aerospace
Bye Aerospace, based in Denver, is headed by George E. Bye, who has led various aircraft design and certification programs over the course of several decades. The company is firmly planted on the trainer market side with its eFlyer 2 – a two-seat aircraft propelled by an ENGINeUS 150 horsepower (110 kW) powerplant produced by Safran.
Seeking to largely reduce the operating costs of flight training, the company currently has deposits for a little over 700 models of its eFlyer 2 and four-seat eFlyer 4. "There is a large demand so far. Certainly here in North America, but also Europe and Asia, which you wouldn't think at first," said Bye.
Much of the demand is undoubtedly related to the company's history in the all-electric space as well as being the first FAA type certificate applicant of its kind. Bye explains that FAA certification, while delayed to COVID-19's effects, is going smoothly, and the company expects its eFlyer 2 aircraft to enter into service by Q4 of 2022.
In working towards that goal, the eFlyer 2 developmental prototype test team conducted 111 test events and 47 test flights over the last two years, which demonstrated "remarkable flight efficiency." At 9,000 feet density altitude, the aircraft had a 640-fpm climb at 68 kW (92 hp) and 120 KTAS cruise using only 45 kW (60 hp). With the eFlyer 2 critical design phase complete, the focus now shifts to the assembly of the first three conformed production aircraft that will be used by the company and the FAA to complete certification.
Bye Aerospace also seeks to take a bite of the market for aircraft with more seats and increased range. The company is developing a lightly pressurized six-seater called the eFlyer X. The eFlyer X will be a step up from the company's eFlyer 4 and is powered by a 200 kW (270 HP) all-electric powerplant. This model is followed by a twin version of the eFlyer X that is set to boast nine seats and fly 300 knots with a 500-nm range. The company anticipates a strong demand for these two products due to the high operating costs associated with aircraft today, many of which have been in service for multiple decades. Certification for the eFlyer 4 is currently expected in 2023, with the eFlyer X entering into service the subsequent two years.
When asked why a lot of the industry buzz of electric powerplants is seemingly coming from startups and relatively small companies, Bye said that he is not surprised. "Large manufacturers such as General Motors did not lead the electric car revolution; Tesla did."
While not wanting to speculate on large OEMs' plans, Bye added that this technology will be disruptive, and its current state is already shaking up the industry.
Summary
Little is known regarding existing aircraft manufacturers and their intentions to compete in the electric future. What is known is that the above companies and others have made great strides in recent years. All-electric, commercially viable aircraft are not the far-away possibility that they once seemed to be, and future operators will undoubtedly appreciate the resulting cost savings, reduced noise and lower emissions that correlate with electric powerplants.