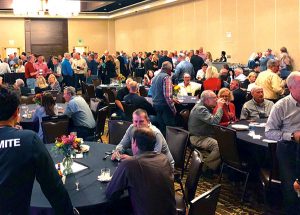 In October, I had the privilege of attending the Citation Jet Pilots (CJP) convention in San Antonio, Texas. Each year, the multi-day event offers a full schedule of seminars, exhibitors and speakers surrounding Citation ownership. Though familiar with aircraft owner's groups, I had yet to attend a convention and looked forward to better understanding the fundamentals and benefits of membership. 
I travelled to SAT via the airlines, but upon landing, promptly made my way over to Million Air to observe some of the CJP arrivals. I was especially interested to see how Citation owners were faring with the bleak IFR conditions (800-foot ceiling, visibility 1-3 miles, and rain). Sure enough, the approach controllers had their hands full vectoring various aircraft onto the final approach course. Despite the obstacles, however, dozens of Citations were still able to make it in throughout the day and park alongside their "kin" on the crowded ramp. 
When I arrived at the welcome reception that evening, I was immediately overwhelmed by the sheer size of the group. As it turns out, this was a record-breaking year for the organization. There were nearly 500 members in attendance – an impressive feat considering the organization is just in its tenth year. Afterward, CJP Vice Chairman Marc Dulude commented, "Ten years ago, we were just a handful of jet owners sharing stories in an effort to become better and safer pilots. Now, with over 1,000 members, we continue to fulfill that mission but with an industry-wide influence and voice."
Judging by the 60+ exhibitors, I would have to agree that voice was evident. One of CJP's most important roles is as a conduit between owners and companies that support the Citation fleet. I got to witness firsthand the open communication taking place throughout the convention as owners attended company presentations, visited with exhibitors and shared experiences during manufacturer-led breakout sessions. The common goal among all attendees was clear: keep the Citation fleet flying safely and efficiently. 
Perhaps one of the greatest benefits of an owner's association membership, however, is the comradery. Members frequently share common interests beyond flying, and develop lifelong friendships. When it comes to their aircraft, they listen and learn from one another while sharing experiences, oftentimes via an online forum – a place where owners, members and even manufacturers are able to ask questions and share insights.
The convention was a whirlwind of informative sessions and memorable social occasions. Despite my first-timer status, I felt warmly welcomed by the CJP owner-family.