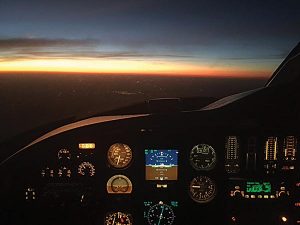 When it began selling Citations in late 1971, Cessna had already been in the jet-building business for a very long time. Almost twenty years earlier, back in December 1952, the U.S. Air Force announced that little Cessna Aircraft Company had been awarded a contract to develop a new model 318 twin-jet trainer, to be called the T-37. The first XT-37 flew on October 12, 1953 and the production T-37A entered service in June, 1956. The T-37 served as the Air Force's primary jet trainer for over 50 years, until mid-2009.
Drawing on the T-37's success, Cessna president Dwane Wallace proposed a military-utility and civilian version of the aircraft; a wooden mockup of a four-seat model 407 was unveiled in 1959. Although the airplane was never built, the mockup, with a realistic interior, still existed on April 27, 1961, when I encountered it sitting in the back of a hangar at Wichita Municipal airport.
Some 1,272 T-37s were built from 1954 to 1977, providing valuable experience in how to, and how not to, produce a light jet airplane. The T-37's little Turbomeca/Continental J-69 turbojets were noisy and inefficient, and it was obvious that a fanjet engine would be needed for civilian use. Most importantly, the airplane would have to provide utility in a way that would appeal to businessman-pilots and small companies. In October, 1968, a mockup of the new Cessna Fanjet 500 business jet was shown for the first time, designed to use Pratt &Whitney-Canada JT15D-1 engines of 2,200-lb. thrust. A short 11 months later, on the promised date of September 15, 1969, the prototype of the renamed "Citation" jet took to the air, with Milton D. Sills and James LeSueur at the controls.
Transport-category certification for the C-500 was achieved under FAR Part 25 on September 10, 1971; Cessna's intentions to the contrary, two pilots were required, per FAA rules at the time. It took until 1984 for Part 25 airplanes to finally be given single-pilot exemptions, with special training and equipment requirements. Prior to that time, the Citation I SP (501, certified on January 15, 1977) and II SP (551), as 1977 and 1978 models, had been certified in Normal Category under Part 23 as "small aircraft", so single-pilot approval could be obtained.
The Little Plane That Could
Early on, detractors were harsh with criticism of Cessna's little bizjet. It only flew at 400 mph, it couldn't operate higher than 35,000 feet, and range was limited to 500 miles or so with a full cabin. But the whole point of Dwane Wallace's vision was to serve a market that was unserved; the businessman who wanted to go faster than a turboprop and operate in and out of 3,000-foot runways. The Citation's niche was to go places other jets couldn't, simply and safely. The airplane had no gimmicks, just pulley-and-cable controls, an 80-knot stall speed, simple systems and a fat, straight wing.
In reality, what Cessna had built was a semi-turboprop, sans the propellers. Two-thirds of the JT-15D engine's thrust is produced by the fan, one-third by the jet. The fan is merely a closely-shrouded fixed-pitch propeller, wrapping the shriek of the jet in cool bypass air, and it delivers vastly more fuel efficiency than a pure turbojet, particularly at the middle altitudes used on typical short business trips.
When I watched Milt Sills turn off at mid-field as he landed an early C-500 at our town's 3,250-foot runway, I knew the game had been changed. Here was a quiet little airplane with no propellers, sitting at a small-town airport, ready to load up passengers for a hop to Chicago's Meigs Field or New Orleans Lakefront airport. The smell of Jet-A was no longer reserved for the big cities.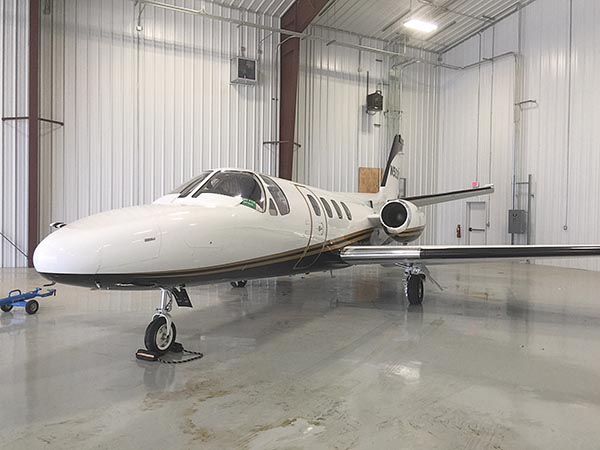 The Oldest Citation
In late 1971, serial #3, N503CC, rolled out of the factory door, very likely one of the very first, if not the first, of the customer-delivery Citations. The airplane is still flying today, in great shape and a testimony to the correctness of the original market niche.
Since the early 2000's, N503CC has been owned, in part or wholly, by Chuck Foster, chairman of Corporate Transit of America, an Arkansas-based courier and logistics company that services clients in 50 markets in 15 states, primarily in the middle and southeastern U.S. Foster understood the value of a corporate aircraft early in his business career; having a company plane allowed CTA to fly several clients to three or four cities, and still be home in time for dinner. Their first aircraft, purchased in 1981, was a Cessna 340 cabin-class twin, followed by a Beech King Air 90 that was retrofitted with a Blackhawk engine upgrade. A Learjet 35 replaced the King Air, but Foster has found the C-500 to be the perfect plane for the company's purposes. It's not as fast as the Lear, but, as he says, "for most trips, you just get up 30 minutes earlier; it does a great job."
Foster gives high marks to Superior Aviation Arkansas, the management firm at Conway, Arkansas (KCXW) that operates N503CC for CTA. Pilot Chris Fisher, Director of Development for Superior Aviation, agrees with Chuck Foster's analysis of the Citation as ideal for his trips, most of which average 500 miles in length. Chicago is an easy 1+15 trip time from the Conway base, and the airplane has taken longer trips to Miami and Phoenix.
Because N503CC is not certified for RVSM (reduced vertical separation minimums), the airplane is currently restricted to FL280 instead of its original 35,000-foot operating limit. Therefore, comfortable endurance is limited to about 2.5 hours. However, 28,000 feet is very near the early Citation's best-speed altitude, and Fisher says it'll climb up there quickly at 2,000 fpm or more and run dependably at 340 knots, burning 150 gallons of Jet-A per hour.
Maximum usable fuel is 536 gallons (3,600 pounds), and with an aircraft empty weight of about 7,000 pounds, an early Citation would have been short of payload with full tanks in its original as-certified configuration. However, a steady progression of gross weight increases added utility to the Citation 500s, and by serial #303 the ramp weight was up to 12,000 pounds. These factory increases have been retrofitted to most early C-500s, via upgrades or STC.
Other than the King EFIS 50 panel on the left side, installed as part of a Silver Crown avionics upgrade in 1998, most of the vintage Citation cockpit remains intact, including the vertical-readout engine gauges. A reliable KLN90B GPS provides space-based navigation output, and the KFC325 digital flight control system is a far cry from the original Bendix FGS-70 flight director and autopilot of 45 years ago.
N503CC's only significant modification was Sierra Industries' Longwing mod, which adds three feet to the wingspan, much as Cessna did at serial #350; Sierra also holds an STC to increase the C-500's takeoff weight to 12,500 pounds, greatly enhancing utility at very little cost. Sierra Industries, of course, is well known for its work in adding performance and value to the original Citation airframe, including retrofit with Williams FJ-44 high-efficiency fanjets.
The Longwing mod enhances the wing's aspect ratio to 8.5: 1, improving climb, cutting drag and further reducing the Citation's already-minimal runway length requirements. Fisher says he routinely operates at 3,500-foot runways, and he has used strips as short as 3,000 feet. As a Part 25 certificated airplane, a balanced-field length must be calculated and observed for each takeoff. However, the reference speeds are similar to the operating numbers for light twins, in the 100-knot range. Thrust reversers are not worth their weight for these slow-landing airplanes, their chief value coming on contaminated runways.
With only 3,500 hours on the airframe, and over 1,000 hours remaining on the engines' TBO, N503CC is still a relative youngster, despite its chronological age. More importantly, it's a benchmark airplane, a significant indicator of the correctness of Dwane Wallace's vision, bringing jets to towns and companies of every size. It still has a lot of life left in it.