What To See, How To Get There
In the 45 years that aviation devotees have been assembling at Oshkosh, Wisconsin, located in the heartland of North America, the summertime airshow has grown larger and larger. What was once just an annual convention of the Experimental Aircraft Association, when a few homebuilders and aircraft restorers would gather to swap stories and share techniques, is now a premier event that encompasses all of aviation. Every so often, we have to step back and wonder: Why?
The simple answer is, we all come to Oshkosh because we can. Freedom to fly is a precious commodity, best exercised frequently and in concert with like-minded individuals. Camaraderie is what AirVenture Oshkosh is all about. The rest of the year, we're each engaged in personal aviation pursuits. But, for that one week, we gather to mingle. People stream through the AirVenture gates to refresh their interest in flight. That's the reason "why".
Unlike big commercial expos, primarily focused on developing deals, the AirVenture show is all about fun. Everyone is welcome, so long as they enjoy some aspect of aviation. Freedom to express your devotion to the cause can be found in antique and classic restorations, aerobatic flying, ex-military warbirds, building of aircraft from plans or commercial kits, and even business aviation.
A business aircraft presence is certainly part of the EAA AirVenture Oshkosh scene. The National Business Aviation Association exhibits on the flightline, and manufacturers like Textron, Embraer, Pilatus, Piper and Daher will show their latest jet and turboprop offerings. In the public parking, King Airs and MU-2's can be seen next to Cessna and Beech singles. Last year, my airplane was tied down within 200 feet of a Learjet 36 and a Gulfstream V taxiied in as I was departing.
Now, the curmudgeons among us complain that "Oshkosh isn't like it used to be!", as if it could magically be downsized to the walkable, earthy, low-budget operation of the 1970s. That can't happen, because the world discovered the place, and people started coming in bigger and bigger droves. During general aviation's heyday, the show hit its stride, and even after new-pilot starts and production numbers dropped, Oshkosh continued to grow, because this was the one place we could still come in hard times, despite not having flown as many hours or bought as many new airplanes.
Oshkosh attendees may sacrifice other excursions, but not the annual Rite of Summer. The importance it holds in the hearts of enthusiasts is reflected in the numbers; upwards of a half-million people attend during the week, 10,000 airplanes fly into the three airports in the area, 4,000 camping sites spring up in a temporary city adjacent to the show and every available lodging option in the city of Oshkosh is pressed into use. Last year, 2,649 showplanes attended, there were nearly 800 exhibitors in the display halls and spaces, and 2,081 international visitors registered their arrival; only a quarter of those were from neighboring Canada. In good times and not-so-good, everyone comes to AirVenture.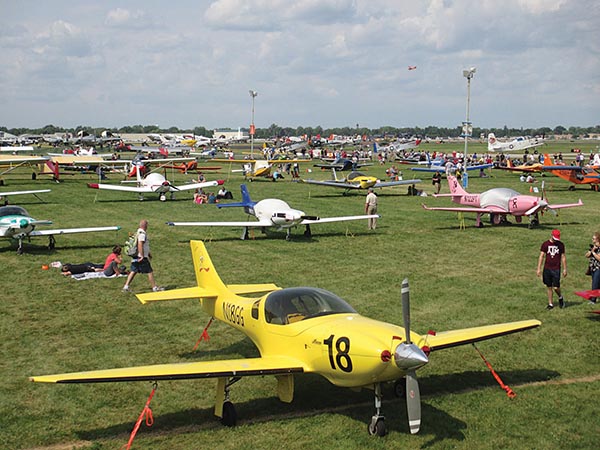 The 2015 Prospects
What's there to see this year? Lots! EAA AirVenture Oshkosh will have something to appeal to everyone. The 2015 historical themes will center on the 70th Anniversary of the end of the Second World War, along with the 75th Anniversary of the Battle Of Britain. Had the notable Few and their stalwart leader, Winston Churchill, not turned the Nazi tide, this publication might very well have wound up being printed in Deutsch instead of English. Accordingly, one of the last flying Avro Lancaster bombers will be at AirVenture, and at least one Boeing B-29 Superfortress will be on hand. Other notable warbirds scheduled will be the only flying Consolidated PB4Y-2 Privateer patrol bomber and a rare Goodyear-built FG-1D Corsair.
More modern aircraft on display will include a North American F-100F Super Sabre from the Vietnam War era, and the first display appearance of a USAF B-52H Stratofortress, still nowhere near retirement after a half-century in service. An F-35 Lightning II will make a debut, and an F-22 Raptor will be making Heritage Flights in formation with older fighter aircraft.
Airbus Group is bringing its A350 XWB (Extra Wide Body) 300-seat long-range twin-engine airliner to the first three days of AirVenture, for public tours and arrival and departure demonstrations. In addition, the record-seeking Perlan II pressurized glider, sponsored by Airbus, will be on display. The Perlan Project expects to fly to 90,000 feet in mountain wave lift.
Some other attractions at this year's Oshkosh will be attempts to set a record for a mass skydive event on July 22 and 24, involving 108 parachutists, organized by the Skydiving Hall of Fame in Fredericksburg, Virginia. The famed short takeoff and landing contest planes from Valdez, Alaska are back by popular demand, to exhibit their unbelievable 50-foot landing rollouts. The sponsored evening entertainment includes a concert by country music star and pilot Dierks Bentley, on Monday, July 20, and a Salute to Veterans show by TV and movie celebrity Gary Sinise and his Lt. Dan Band, scheduled for Friday, July 24.
Some of the daily themes will be a Burt Rutan Legacy day on Tuesday, July 21, marking the 40th Anniversary of his VariEze design, and special honors for the crew of Apollo 13 on Wednesday, July 22, some 45 years after the near-tragic Lunar voyage. Thursday is Gateway to Innovation Day, Friday is Salute To Veterans Day and Saturday will feature World War II tributes.
AirVenture's crowd-pleasing afternoon airshows always showcase the best of the aerial demonstration world. New this year will be Jeff Boerboon in his highly-modified 1929 Waco Taperwing "Sasquatch", which has a GE CJ-610 turbojet mounted under the fuselage to supplement its R-985 radial engine, generating 2,500 pounds of thrust to permit vertical climb maneuvers. The only Fairey Gannet early-1950s turboprop submarine hunter airplane will perform, and on Wednesday, July 22, a special night airshow will be featured, in addition to the afternoon show. While EAA AirVenture Oshkosh is generally free of class-distinction, the Aviator's Club chalet will return to the flightline this year, for those wanting to enjoy its comfort and cloistered viewing.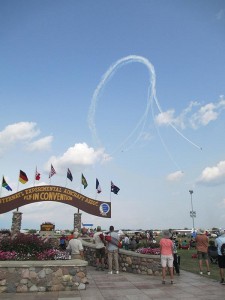 Making It Happen
That such an extravaganza can be pulled off is an amazing act of coordination and cooperation, involving over 4,000 EAA volunteers. The Wittman Field airport (KOSH) is a regional treasure, featuring multiple runways, an ILS approach, an expanse of parking and (normally) not a lot of traffic. However, for the week in late July, KOSH becomes the Busiest Airport On Earth, seeing more daily aircraft movements than anywhere else, even though night operations are not permitted. Flown-in aircraft are parked on every bit of grass (as well as the seaplane marina) and a parallel taxiway is designated runway 18L/36R during the show, replacing runway 22/4 that's closed for heavy warbird parking.
It would be impossible to handle such a traffic volume using normal VFR controlled airport procedures. Oshkosh is a non-radar Class D airport, but radar separation wouldn't work anyway; limited IFR traffic is handled by Chicago Center, coordinated by the local controllers. The supplemental FAA ATC contingent at AirVenture is competitively recruited from the best controllers in a 17-state region, and it uses creative "Oshkosh procedures" to get the huge and varied volume of aircraft in and out.
The physical layout at Oshkosh is an airport immediately adjacent to a small city, with housing and industrial businesses on two perimeters, farmland on the other edges. A huge lake lies just east of the field, for an easy pilotage reference. However, during EAA AirVenture, traffic is channeled through specific entry routes, both to synchronize aircraft in an even flow and to minimize radio communication. All pilots flying in must obtain and follow the NOTAM issued for the show, downloadable at www.eaa.org/en/airventure. The size of the NOTAM stems from the specificity of its pages; different procedures are printed for each runway in use, for arrival and departure, and for IFR, VFR and warbird arrivals. There's even a provision for no-radio aircraft.
When inbound, listen to the NOTAM's arrival ATIS frequency (not the charted one for the airport) and do what it says. If the airport is not closed to arrivals, the procedure begins at the small town of Ripon, 15 miles southwest, where you must descend to a specific altitude and slow to a standard speed, watching for other aircraft to follow along the abandoned railroad track leading to Oshkosh. Stay precisely in trail, a half-mile or so behind, and listen up on the arrival frequency for instructions from the "gatekeeper" at Fisk, a spot halfway to OSH. You'll be addressed by color and type and told to respond by rocking your wings; do not talk unless requested.
You'll be given a runway assignment at Fisk; be ready to flip to the appropriate arrival page in the NOTAM. Switch to tower frequency, listen for instructions and acknowledge with a wing-rock, and stay close behind your preceding traffic, which will be clearing the runway into the grass along the sides. Be prepared to aim for a requested color-coded touchdown spot, the controller's way of adjusting spacing. Do not contact ground control; just follow the marshalling signals from the volunteer flagmen. Per the NOTAM, they take their cues from a lettered sign you've placed in your windshield.
If your aircraft is not suited for parking on the sod, for which you're expected to provide your own tiedowns (emergency rentals are limited), you must make prior arrangements for a hardstand spot. Basler Flight Services does a creditable job under the overflow conditions, but there's only so much room.
Departure must also be conducted in accordance with NOTAM procedures. If IFR, observe your slot reservation time. More appropriately, wait for VFR conditions and leave the transponder off until 30 miles away, maintaining the runway's NOTAM procedure until well clear of the Class D. When ready to taxi, place your VFR/IFR sign in the window and just move out to join the queue; you'll hear an ATC query on tower frequency near the runway, to confirm you're listening. Wave an acknowledgement and be ready to be launched without loitering.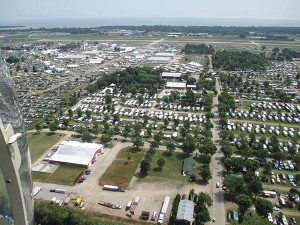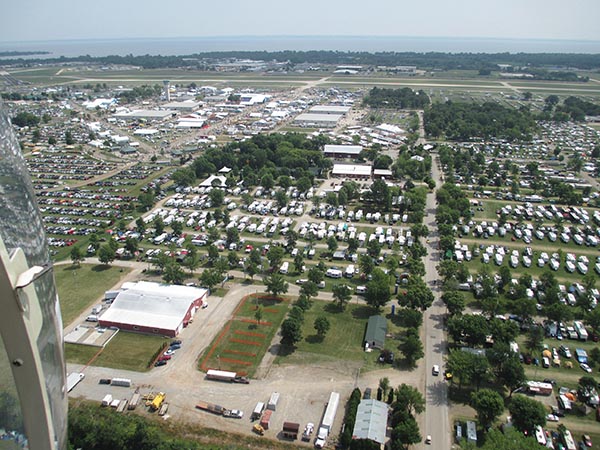 Should you feel not quite ready for the total Oshkosh fly-in experience, you can land at Appleton's Outagamie County airport, 16 miles north, or Fond du Lac airport, 13 miles south at the foot of Lake Winnebago. Both will have tower control, grass parking and bus service to the show. If arriving by airline, Appleton is served by commuter flights and Milwaukee and Chicago are the closest points with major airline connections. Unless you've planned months ahead, lodging and rental cars will only be found at considerable distance from the show.
From July 20 to 26, everyone will be coming to Oshkosh!