Preview of the world's greatest air show
"Wow, you're a pilot? Aren't you afraid of those little planes? Is it expensive?"
For one week, every year, there is magical place where questions like these stop at the gate. Because for that one week, every year, the world's greatest collection of aircraft and aviation enthusiasts come together to celebrate EAA AirVenture – most often known simply as Oshkosh.
"As aviation geeks, we spend so much time explaining to our neighbors and friends about airplanes and why we fly," said Dick Knapinski, EAA Director of Communications. "But you come here, and everyone speaks the language."
This year, EAA AirVenture takes place July 24 through July 30. Read on for the main attractions, hidden gems and insider tips.
Can't-Miss Attractions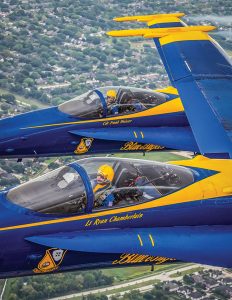 One of the main events at AirVenture this year is the 50th anniversary celebration and reunion of the Apollo program taking place Friday, July 28, at the Theater in the Woods. The event is expected to be the largest gathering of Apollo astronauts at AirVenture since the Salute to Apollo program in 1994.
Ten astronauts including Buzz Aldrin and Jim Lovell will be in attendance along with other Apollo program affiliates from mission control and engineering. This will be an extremely rare opportunity to hear firsthand stories and experiences as they reflect on the times during the great space race. Former Good Morning America host David Hartman will be hosting the event.
You'll want to arrive early that Friday – and not just for a good seat. Members of the Blue Angels will make a public appearance at Theater in the Woods just prior to the Reunion program (further details and additional Blue Angel public appearances planned, but not yet announced).
This will be the Blue Angels' first year performing full demonstrations at AirVenture. They will fly their full show Friday and Saturday. Special crowd lines will be in effect, similar to those in place for the Canadian Forces Snowbirds last year. If you will not be in attendance during the weekend, you might still catch team members performing orientation flights earlier in the week (note special TFR regulations during those times).
This year also marks the 75th anniversary of the Doolittle Raid, a WWII operation integral to boosting American morale following the attack on Pearl Harbor. On April 18, 1942, 16 B-25 bombers departed a U.S. aircraft carrier on a daring mission to bomb military sites in Japan, and were successful in doing so, but afterward forced to land in China and surrounding areas for lack of fuel. Incredibly, the majority of the 80 crewmembers survived and were able to return to the United States.
Show activities commemorating the people and aircraft involved in the Doolittle Raid will include a whopping 16 B-25 bombers flying in the warbirds air show Tuesday, an evening program with Dick Cole (last remaining veteran of the famed Doolittle Raiders) and a re-enactment of the Doolittle Raid to kick off the night air show Wednesday night.
Continuing the theme of WWII bombers, the fully restored B-29 Superfortress named Doc embarked on its first air show tour this year and will make a stop in Oshkosh to join FIFI – the world's only other flying B-29, operated by the Commemorative Air Force (CAF). This will be the first time in 60 years that two flying B-29s will share a ramp.
Doc is expected to arrive at AirVenture Friday, July 21, and remain the length of the show. A number of special flights will occur over the course of the week, but certainly one of the main sights will be when Doc shares the sky with FIFI. It is suspected that no one has seen two B-29s fly in formation since 1956.
Other events worthy of noting include a tribute to Bob Hoover on opening day, a performance by the Barenaked Ladies opening night, the 10th annual WomenVenture gathering, a 25th anniversary celebration of the Young Eagles program, and a presentation by Uber regarding its endeavor with autonomous airplanes.
"One of the fun things about AirVenture, it not only pays tribute to what people are doing now or the heritage of aviation, but it also addresses what's next," said Knapinski. "From flying cars, to rockets, to drones, what is our airspace going to look like 10 to 15 years from now?"
Aircraft Highlights
Last year, more than 10,000 aircraft flew to AirVenture. Whatever area or niche of aviation holds your interest, chances are you'll find numerous instances of it present at the show.
According to EAA, special aircraft to look out for this year include: a F-86 Sabre, P-47 Thunderbolt, B-29 Superfortress (2), Douglas C-47, Extra 330LE (electric), Boeing YL-15, Fairchild C-123K Provider (aka Thunder Pig), B-25 Mitchell fleet, Supermarine Spitfire Mk IX, Douglas SBD Dauntless, Piper J-3 Cub fleet (80th anniversary), Bell P-63 Kingcobra, F-35 Lightning II, Douglas A-20 Havoc and Cessna 195 fleet (70th anniversary).
And these are sure to only be a handful of the collection. Every year, additional rare or recently restored aircraft make a surprise appearance.
"If it has flown, is flying or will fly, it will come to Oshkosh at some point," added Knapinski.
Hidden Treasures
For many of us in the pilot community, we have now worked and/or attended EAA five, 10 or even 15-plus years. We've developed our patterns – exhibits to visit, things to do and people to see. But it's key to not fall into a rut of comfort if you can help it. There are several hidden gems on (and off) show grounds. To name a few:
Seaplane Base If you want to witness this lesser-known facet of flying, all it takes is a quick, inexpensive ride on the shuttle. The seaplane base is just 5 miles down the road. More than 100 seaplanes take off and land at Lake Winnebago during the week of Oshkosh. Allow yourself a break from the heat and spend a few hours or a half day visiting this shady little treasure.
EAA Museum Regular air show admission includes access to the EAA Aviation Museum – a collection of more than 200 historic airplanes and rare exhibits. A special, temporary exhibit this year is the CAF's rare WWII Nose Art collection. More than 30 pieces of nose art from WWII combat aircraft will be on display. If you're looking for kid-friendly activities, the museum is also a great stop.
Ultralight Strip Nestled on the south side of the grounds, near the Vintage aircraft, you'll find a grass strip home to the ultralights (powered parachutes and trikes, hot-air balloons, homebuilt rotorcraft and light-sport aircraft). Make your way over there either first thing in the morning or in the evening post-air show and you'll be able to watch the action.
Drone Area An area newer to the EAA grounds is the Drone Cage at Aviation Gateway Park. UAV pilots can come here to test their skills by bringing their own drones. Observers can watch from the viewing platform and/or the live video feed.
Rock Your Wings
Planning to fly yourself to AirVenture? Give the NOTAM a thorough review. Preparedness and efficiency are key in moving 10,000-plus airplanes safely in and out of the "World's Busiest Airport." You can find the 2017 NOTAM downloadable via the EAA website or ForeFlight. It is also a good idea to have a printed version of the procedure allowing you to highlight key information.
A few adjustments to the NOTAM this year include a TFR Friday morning from 10 a.m. to 11 a.m. (Blue Angels orientation flight), changes to surrounding MOA's and taxiways, aircraft camping at Appleton, alterations to IFR routing and IFR airport Special Traffic Management Program.
The ATC-preferred, and most widely used, method of arrival into KOSH is the famed Fisk VFR arrival procedure. Starting Friday, July 21 and extending through Sunday, July 30, all non-turbine powered GA aircraft arriving into KOSH must follow the Fisk VFR Arrival. For those flying a turbine aircraft, you will follow the Turbine/Warbird arrival can also be found in the NOTAM.
Within 30 nm from the Oshkosh airport, all VFR aircraft must turn off their mode C transponder and proceed to the town of Ripon (that's RIPON fix in your GPS), a mere 15 nm southwest of KOSH. Aircraft capable of safely flying at 90 kts should maintain that speed and approach the town at 1,800 feet. Aircraft that are unable to fly at 90 kts should approach Ripon at 2,300 feet.
When landing, ATC may request you execute a short approach to touch down on one of two to three color-coded dots located laterally down the runway. All communications are one-way: ATC issues instructions in rapid-fire succession and it's critical pilots are listening carefully. At times, they may tell an aircraft to "rock your wings" in acknowledgement. Precision is required as other aircraft will be touching down ahead of and behind you at peak traffic times. Aircraft weighing less than 6,000 pounds will be expected to exit the runway into the grass to make room for the next arrivals.
Your reward for a skillful execution of this complicated procedure? A friendly voice over the radio saying three magical words: "Welcome to Oshkosh!"
Themes of the Week
Monday, July 24: Opening day and a tribute to legendary aviator Bob Hoover.
Tuesday, July 25: Innovations Day and 25th Anniversary celebration of the EAA Young Eagles program.
Wednesday, July 26: 75th Anniversary of the famed Doolittle Raiders mission and the annual WomenVenture activities.
Thursday, July 27: 90th Anniversary of Charles Lindbergh's solo flight over the Atlantic Ocean, and a look to the world's future in space.
Friday, July 28: An Apollo space program reunion and EAA's Annual Salute to Veterans Day.
Saturday, July 29: Bomber Day, a parade of bomber aircraft from throughout military history, plus an observance of the 8th Air Force's 75th anniversary.
Sunday, July 30: Fox Valley Day, a thank-you to the Oshkosh region for the support of The World's Greatest Aviation Celebration held in Oshkosh since 1970.
Tips For First-Timers
• Be prepared and read up, especially on the office website www.airventure.org;
• Utilize the EAA website and social media;
• Allow yourself a few days at the show, you can't cover it in one day;
• Plan ahead for lodging – house rental, hotel, campground, etc.;
• Bring along comfortable shoes, hat, sunscreen – you're in for a lot of walking;
• Grab a map to plan route and prioritize what you're interested in;
• Use resources: maps, daily show newspapers and visitors guide available.