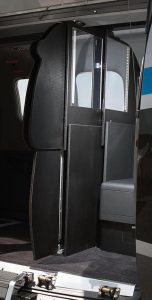 On July 26, 2016, Daher announced a major new enhancement for its TBM very fast turboprop, offering the quick-change option of a lavatory compartment to be available for new-production aircraft from 2017. The "Elite Privacy" configuration integrates a lavatory area into the TBM's aft fuselage. It serves as a non-belted bench-type seat with a low divider wall when not in use, and converts to a fully private toilet compartment at the simple touch of a button.
Two electric motors drive a deployable multi-segment partition with an anti-lock door to ensure privacy, and the compartment includes a large courtesy mirror that illuminates automatically. Built using lightweight, resistant composite materials and cabin soundproofing, the "Elite Privacy" compartment weighs only 90 pounds and can be installed/removed by a mechanic in 30 minutes – converting the TBM cabin's standard six-seat layout to a four-passenger configuration.
"This latest evolution offers our operators a private, fully functional toilet compartment, which will be appreciated by pilot/owners who use the TBM's long-range capabilities, and by the increasing number of charter operators that are performing commercial flights with the aircraft," explained Nicolas Chabbert, Senior Vice President of the Daher Airplane Business Unit. Chabbert said the TBM Elite Privacy arrangement results from a year-plus-long project involving the Daher Airplane Business Unit's engineering and style-design teams. "It is an excellent demonstration of Daher's commitment to continue evolving the TBM family in response to our customers' operational requirements."
The Elite Privacy installation's 29-inch-long bench seat section is aligned along the aft fuselage's right wall. When not being used in the lavatory configuration, its compact design enables easy passenger circulation from the forward seats to the rear luggage zone. To ensure style continuity within the cabin, Elite Privacy installations will match the customers' interior color selection, with its leather finish complemented by stitching and carbon trim for the bottom fittings. The closure's door is made of ultralightweight carbon fiber, and an area carpet tailored for the compartment's use as a lavatory is also provided. For information, visit www.tbm.aero.