Usually when a company opens a new facility, they hold a ribbon-cutting ceremony, take pictures and serve refreshments. Cutter Aviation took the "grand opening" event to a new level by holding a log-cutting ceremony to celebrate the completion of their new FBO terminal at the Colorado Springs Municipal Airport.
The new executive terminal features a mountain retreat theme. In addition, the company has a 62,000-gallon, state-of-the-art fuel farm and a 23,000-square-foot hangar adjacent to the terminal. Cutter Aviation began its FBO operation at Colorado Springs Municipal Airport in August 2006 with the purchase of the existing FBO, Discount Fuels. Over the past decade, as activity and fuel sales steadily grew, Cutter began plans for expansion and entered into negotiations with Colorado Springs Airport for additional space on the west side of the airport.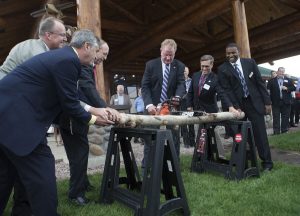 Since 2006, Cutter has more than doubled its footprint at the airport including over 9,000 square feet of FBO and office space with VIP lounge areas, a flight planning center, executive conference room, on-site car rental and 132,000 square feet aircraft storage space on 17 acres of leasehold.
"Our new world-class facility at Colorado Springs Municipal Airport is a great enhancement to Cutter Aviation's southwestern U.S. FBO network and we are thankful for the opportunity to celebrate our grand opening with customers, colleagues and friends," said Will Cutter. "We look forward to welcoming customers from around the world, and providing them with premium business aviation services.