Just how hard could it be? A 90-mile flight on a sunny, 70-degree, late-spring morn-ing, at a weather-friendly latitude of 24 North with a high pressure system covering the entire area, flying in loose company of other aircraft with similar performance. Yet, there was a palpable sense of tension during the somewhat informal pre-flight briefing; irritable and short-tempered pilots were making themselves apparent. The angst was because the trip was to heretofore forbidden territory…the cold war, nuclear missile-threatening, Russian-friendly, communist country of Cuba.
I was here because I had given a talk for Bob Thomason on Aircraft Performance at the annual Twin Cessna Flyer owners' meeting in Charleston, SC. Following the meeting, 22 members took advantage of a follow-on week-long trip to Cuba. My wife Kari and I decided to join the group's trip to Cuba, all nicely organized by Catherine Tobenas of International Air Rally (www.airrally.com), flying in our own Cessna 340.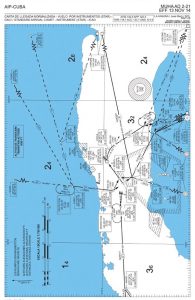 The flight itself could not be simpler. From Key West, FL (KEYW), a short 53-nm leg on a bearing of 238 to the MAXIM intersection, which is on the border of U.S. airspace, is followed by a left turn to 190 and an even-shorter 49-nm leg to the FARAC intersection, just 15 miles north of the Cuban shoreline. The FARAC 1 arrival is a couple of left turns that finish at AVSAK, the initial approach fix for the Havana (MUHA) 06 ILS. No complicated multiple fix choices or transitions, no airframe ice, no convection, and all in visual conditions…not at all difficult.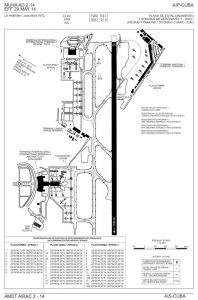 However, there a few anomalies you need to be aware of.
A lot of countries define 'Flight Levels' (where the altimeter is set to 29.92) at some random altitude well below 18,000 feet, as does Cuba. On the FARAC 1 arrival, you are at a "Flight Level" all the way down to 3,000 feet, regardless of local barometric pressure. The key is to just listen to the controllers. If they say "descend (or climb) to Flight Level 040", you know your altimeter should be at 29.92 when you are at 4,000 feet, as opposed to the local barometric setting.
Another anomaly is that altimeter settings are usually given using the metric system, rather than in inches of mercury. Sometimes, if asked, a foreign controller will make the conversion for you, but that will make it known to everyone on the frequency that you are a novice at international flying…information you would rather keep to yourself. So, the best solution is to carry a chart showing the conversion, or divide the altimeter setting in metric by 33.9 and round up to convert to inches (1014 mm Hg/33.9 = 29.92 in Hg).
Also, ICAO nomenclature must be used when filing flight plans, easily done on your cell phone using the ForeFlight program, which will readily explain it to you. You'll also need to file outbound and inbound eApis forms, and while the U.S. government website for this is not as difficult as, say, applying for ObamaCare health insurance, it's a lot more complex than it should be. The solution is to use one of the private-sector contractors for this service, such as FltPlan.Com. Finally, you currently need a State Department permit number, obtained over the internet, but that requirement is soon going to disappear.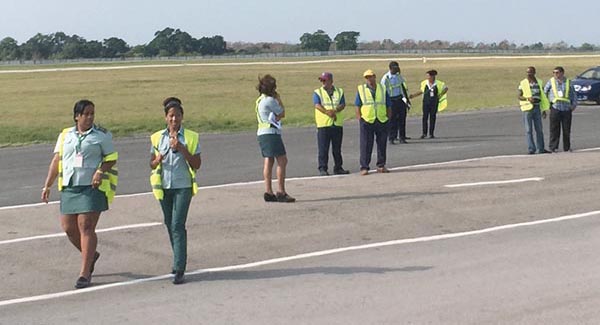 Having done all this a day before, on departure morning I copied a short two-line IFR clearance from KEYW ground and entered the few required fixes into the Garmin box, while taxiing behind fellow Twin Cessna traveler Vern Raburn's nice Cessna 414. The takeoff from Key West's runway 9 was followed by a right turn to avoid the Navy base, then a leisurely climb through a few clouds to 8,000 feet while on a radar vector. No cumbersome departure procedure, traffic conflicts, mountainous terrain, convection avoidance or airframe ice. Once a couple of miles off the coast, we were cleared direct to MAXIM and given a frequency change to Miami Center.
Arriving over MAXIM, the female controller in Miami with a distinct Spanish accent handed us off to Havana Center. Upon switching, we were answered in English by yet-another female controller, who had an almost-identical Spanish accent. We were cleared to follow the FARAC 1 arrival and to expect ILS 06 into Havana.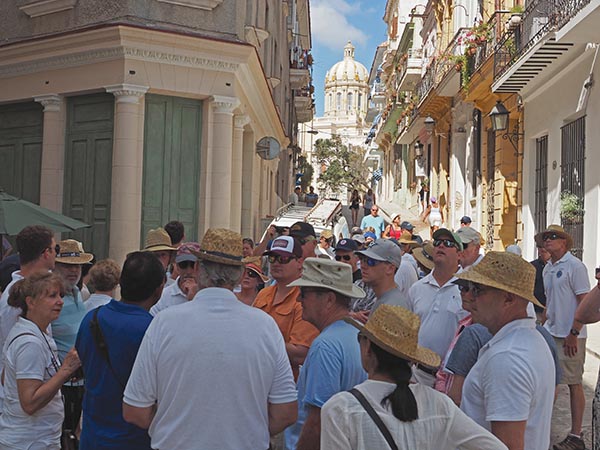 Coasting in to Cuba's north shore, a bit west of Havana at FL 040, it is hazy with in-flight visibility at 4-5 miles. On the frequency is a turboprop airliner with an unrecognizable Russian name, also headed for Havana in trail behind Raburn's 414. The pilots vary back and forth between Spanish and broken English in their discussion with the controller, and seem to be going a bit less than our 180-knot speed. Rather than request that I slow down for separation, the controller vectors us further to the southwest. Not wanting to wind up in Cozumel, I volunteer to either slow down or speed up to anything between 80 and 200 knots, whatever works best for her. She seems pleasantly surprised by this offer, and responds with a bright and cheerful "120 knots would be good, thank you", then tightens up the separation by turning us back to the left.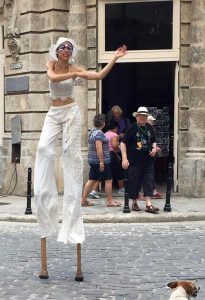 Five minutes later, we have the ILS needle starting to liven up and are looking at about a 45-degree intercept. Our friendly Cuban lady controller now says, with a note of apology in her voice, that she will have to vector us through the final approach course and have us re-intercept from the south side. Apparently the airline guys flying the old Russian airplane slowed down more than she anticipated. Now somewhat close in, we are vectored back to the intercept, cleared for the approach, and switched with a polite "have a nice day" to the tower frequency. While calling the tower, I drift a bit north of the final approach course, but the tower seems to pay little notice and clears us to land.
The runway at MUHA is slightly undulating and over 10,000 feet long. Knowing we would be parking at the northwest corner, I touch down early and make taxiway Charlie, the first high-speed exit on the left side, then contact ground. Ground control clears us to ''Platforma 5" via taxiway Alpha, then helpfully tells us to just follow the blue truck in front of us. In the distance, I can see the 414 is already chocked, not having had to slow for Russian turboprops. The truck leads us to ramp guys in yellow hazard vests, patiently waiting. With two wing-walkers, a marshal with large wands, and a supervisor seemingly for each individual, you would think we were parking a Boeing 747 rather than a Cessna 340. But, it is all conducted in a very professional and friendly manner.
Almost immediately upon engine shutdown, a fuel truck sufficient for an airline jet pulls up. Three uniformed and safety-vested fuelers energetically jump out, two heading for my fuel caps and the other my vent window. This triggers all kinds of mis-fueling concerns, but then I see "Avgas 100LL" printed quite clearly on the truck's enormous tank. Still ill-at-ease, I ask the driver if the truck really contains "gasolina". He replies, "Si, capitan, es gasolina por el avion, no es jet." Finding the price is $3.25 per gallon, I decide to top off, even though U.S. bank-based credit cards are not accepted. I ask one of the supervisor types why fuel is so cheap; he says it is because Castro himself (the apparent source of all things good) made a special deal with Chavez in Venezuela. Works for me.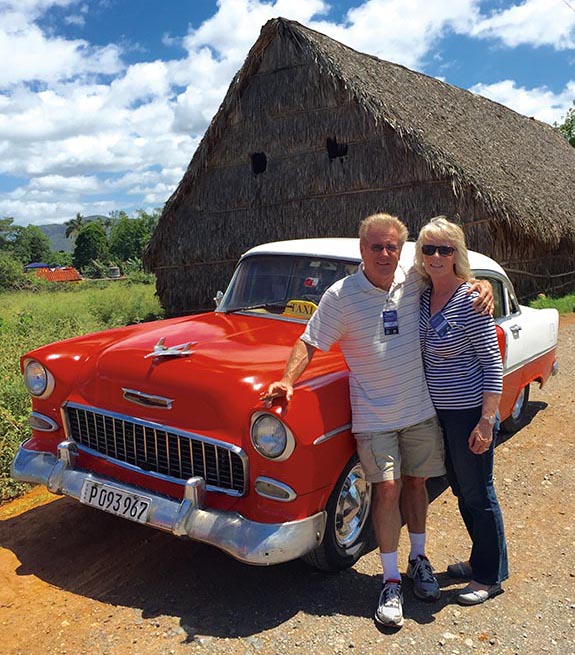 Fueling taken care of, we are given a ride, in a new air-conditioned crew van of some obscure foreign manufacture, to the customs and immigration section of the airport terminal and are quickly processed with very little hassle. We are then welcomed by some very attentive airport hospitality staff, who offer us "mohitos", a mixture of rum (lots), water (not much), ice (some), mint leaves (a few) and sugar, and are told this was Ernest Hemingway's favorite drink. An opportunity is offered to change U.S. dollars for what they call "Cucs", a special form of currency intended for visitors carrying U.S. dollars, which I take advantage of to pay the fuel bill.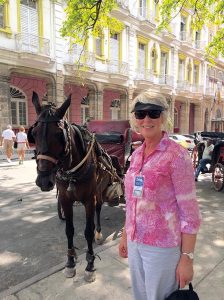 A bus ride into Havana follows, where we spend a week with new friends from the Twin Cessna group seeing the sights, visiting with the locals, riding around in 1955 Chevys, looking in tobacco barns, eating whole-roasted suckling pig, smoking the occasional cigar, and drinking yet more "mohitos". The average Cuban on the street feels their economy could be doing a lot better, and they make it clear they are looking forward to the opening up of business with the U.S.
The return flight at the end of the week is just as simple. There was minimal administrative fuss from the ground-based bureaucrats, a straight-out departure from MUHA runway 06 to TADPO intersection, followed by a left turn and hand-off Miami Center, landing at KEYW twenty minutes later. Even U.S. Customs and Immigration at Key West were welcoming.
At one time Cuba may have been "forbidden territory", but that is just no longer so.