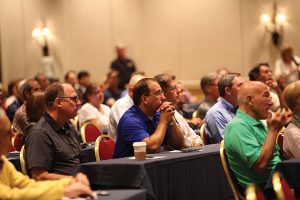 Cessna Citation owners, partners and exhibitors will soon gather at CJP's annual convention, October 24-27, at the scenic Hyatt Regency Hill Country Resort and Spa in San Antonio, Texas. It will be a particularly special year as the Citation Jet Pilots Owner Pilots Association (CJP) is celebrating its 10th anniversary. 
Each year, the CJP Annual Convention is focused on helping Citation owners operate their aircraft in a safe, professional and efficient manner; all while fostering new friendships and creating memorable social and companion activities. Over 100 Citations are expected to fly into the San Antonio Airport (SAT) for this event. 
Guest speakers will include world renowned air show performer, Sean D. Tucker and former NASA astronaut, Charlie Precourt. In the last 40 years, Tucker has performed in more than 1,000 air shows in front of approximately 80 million spectators. Charlie Precourt, a Citation owner and Chairman of the CJP Safety Committee, will lead an in-depth "safety standdown" where he and other safety experts will analyze accidents/incidents and discuss best practices. 
Additional guest speakers will include: Greg Feith (aircraft accident analyst), Pete Basile (Textron Aviation accident investigator), Neil Singer (CJP Safety Consultant), David Miller (CJP Safety and Education Foundation Chairman), Dr. David Strahle (NEXRAD expert) and others.
This will be the inaugural year of the CJP Gold Standard Safety Award, which will be presented by the recently instated CJP Safety Committee. Open to all Citation pilots, the award's purpose is to recognize an individual who goes above and beyond minimum Citation currency requirements to complete enhanced training programs offered by CJP partners. Examples of the award's criteria include 100 turbine hours PIC (in the last year), a second 61.58 check at a Part 142 simulator training provider, adding a rating and/or undergoing upset recovery training. Interested applicants can find more information on CJP's website.
Throughout the gathering, attendees will hear the latest updates from CJP partners includng Textron Aviation, Aviat Aircraft, FlightSafety International, Garmin, jetAVIVA, TRU Simulation + Training, Rockwell Collins and Tamarack Aerospace. Moreover, these partners will participate in assorted breakout sessions regarding Citation operations, avionics and engines. 
CJP partner jetAVIVA will host a two-hour Companion Ground School led by CEO Cyrus Sigari. Additionally, jetAVIVA instructor pilots will be offering a "Companion Flying Training Course." These courses are designed to refresh the principles of the pinch hitter course and increase companion safety and knowledge of their model aircraft. Also available will be a Companions Lounge that offers yoga, massage, painting and other activities. 
The event will conclude with CJP's annual auction on the final evening. Proceeds from the auction support the many programs and activities that meet the goals of the CJP mission such as the CJP Bob Hoover Presidential Scholarship and The Russ Meyer Citation Library. During the auction, attendees will be treated to a private concert courtesy of Textron Aviation: music superstar Dierks Bentley (a Citation pilot himself). Bentley has amassed more than one billion digital streams and countless music awards.
If you are a CJP member (or are interested in joining), registration for the 2018 CJP Convention is still open. Visit www.citationjetpilots.com for more information.