by John Brantigan, Owner-Pilot
When my wife Carolyn and I purchased our Citation CJ2 brand new from Cessna in December 2002, we specified dual Garmin 530s in place of the Collins Nav-Com units normally a part of the Collins ProLine 21 system. This was new for Cessna because so many buyers were immediately replacing the Collins Nav-Coms with the Garmin units everyone loved. Fast forward to 2013 when WAAS became available and was necessary to fly LPV approaches. I had the upgrade completed at the San Antonio Citation Service Center. I really like the folks at San Antonio and have most of our major service done there. However, this turned out to be an unhappy experience.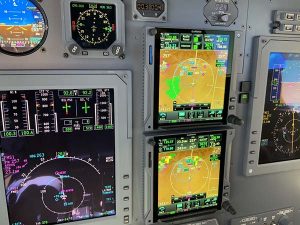 After a few practice approaches at SAT, I departed single-pilot for Eagle-Vail (KEGE), where Carolyn was visiting daughter Scoie. I was in weather with constant moderate turbulence the entire flight and could not access METARs or NEXRAD. I had not been informed that the method of accessing them had changed. At RLG, I asked Denver Center if anyone was having trouble getting into KEGE, expecting turbulence to increase while descending in the mountains. Center replied that they hadn't had any complaints. After a wild ride, the folks at Vail Valley Jet Center told me that I was the only one who had landed that afternoon. Are we having fun yet?
Later I studied publication 525AFM-S59 describing the operation of the system along with documents provided by Garmin. To fly an LPV approach, you needed to begin with the autopilot in heading mode (HDG), then select "activate vectors to final (VTF)." Next, select approach (APPR) – but only after the snowflake GlidePath (GP) switches to a diamond symbol, indicating that the 530 had switched from linear deviation mode to angular deviation, and you saw on the PFD scoreboard the white symbols "APPR GLC()" and "GP," indicating that the LPV approach had been armed. When the lateral and vertical paths were captured, the respective symbols turned green. In actual practice, the approach frequently didn't get armed. And if armed, the autopilot failed to capture.
There were some things that I did like about the installation. The WAAS 530 flew the autopilot much more smoothly than before. It flew automatic approach course reversals, holding patterns, missed approach procedures and missed approach holding patterns, which it did not do before. But I needed an upgrade.
Collins Aerospace has a new system, the ProLine Fusion, at an installation cost of $400,000, but it is not available for a CJ2. And based on airport gossip, the ProLine Fusion system requires a full week of classroom training and is described as difficult. We occasionally need to engage a professional pilot from Corporate Air Center at KBVS. They fly the Lear 40 and 45, a G150 on domestic and international flights, a Pilatus PC-12, numerous helicopters, and a Lear 35, recently sold. A few years ago, I provided my CJ2 for three of their pilots to receive the C525 type rating
(T &T contributor Kevin Ware was one and wrote about his experience in this magazine). They all know the ProLine 21 system and other avionics installations, but they do not know the ProLine Fusion.
You might ask why we don't just trade our CJ2 for a CJ2+ with newer avionics. That would be fine but at a differential of $1 million. We have had a total of three overnight mechanical delays over 18 years and 2,000 hours of operation in our CJ2. This airplane has been reliable and does everything we want it to do.
In January 2017, Carolyn and I purchased a 2009 B407 from Bell Helicopter in Ft. Worth, Texas. It was outfitted with a G500 display, a GTN750 GPS and a HeliSAS autopilot. Because the 750 was new to us, we engaged long-arm Lewis – the protagonist in many fables of Kevin Ware published in these pages – to fly with us from Ft. Worth to KBVS. Flying VFR in January, you want to cross the mountains in the south rather than attempting a direct route. The GTN750 has been easy to learn, very intuitive, and flies a
better coupled LPV approach than our 530-equipped Citation.
I then learned (I don't recall where) that Garmin International, Inc. operates a CJ2 with dual GTN750's based on an STC developed by JetTech. I contacted the company, and Rob Irwin of JetTech quoted us a price for the installation of dual GTN750Xi's with GMA 35 Audio Panel and voice-activated intercom, including autopilot coupled WAAS LPV and GTX 335/345 ADS B (In and Out), and traffic display on both GTN's. The installation included Flight Stream 510, GDL69A Satellite weather and radio and AIS 380 digital fuel flow with the replacement of all instrument panels. A key to fitting dual 750's was the replacement of existing standby ADI and altimeter dials with a Garmin GI 275 standby instrument that displays attitude, altitude and airspeed.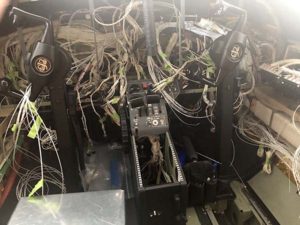 We delivered the CJ2 to JetTech at KBJC in July. The projected three to four-week installation time was achieved despite a week delay due to an unexpected need to replace two cables on the traffic system. I spent the downtime reading the GTN750 manual and using the Garmin Trainer, an iPad app that simulates the GTN function. I believe anyone familiar with the Garmin 430/530 will find the GTN750 very intuitive, yet there are a lot of advanced features as well. The panel is much cleaner. You don't see audio panels or transponders, which are controlled by the 750s.
When we picked up the airplane, JetTech already had the databases loaded. Rob spent about two hours with us in the cockpit reviewing the operation of the systems, and we departed KBJC for Lincoln, NE that afternoon to visit daughter Matel. We felt no need for an instructional flight.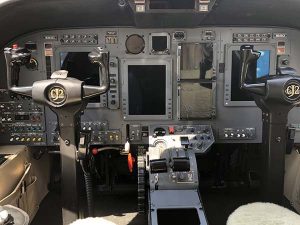 What do I like about the system? Everything (well, almost). LPV approaches are reliable, and there are no surprises. But once established on final, you still need to select autopilot "heading," then "activate vectors to
final," then autopilot "approach" in order to couple the glide path. The GTN750Xi adds some features
beyond the basic GTN750. One is Connext, a Bluetooth data link between the panel units and portable electronic devices such as an iPad running ForeFlight. This allows automatic transfer of flight plans, FIS-B weather, ADS-B traffic and other data. Imagine how much easier the helicopter flight would have been if we could have transferred all those user data points instead of entering the lat-lon coordinates manually. The Stratus unit that we previously had in the cockpit is no longer necessary. 
Another terrific feature is the Telligence Voice Command. You press and hold the Push-to-Command (PTC) switch while you make one of many voice commands, such as "Show Approaches Page," "Say distance to destination," or "Tune destination tower."
In the basic CJ2, if both generators are off-line and the battery is the only source of electrical power, the full system will run for only 10 minutes. With battery in EMER, the emergency bus will be powered for 30 minutes. The GI275 has an internal AHRS and Air Data Computer and internal battery that powers the unit for a minimum of 75 minutes, a significant improvement over the original standby instruments.
In conclusion, this is the system that I wanted for a long time. All professional pilots that I use for backup know the system without training. I am totally happy with the system and excellent work completed by JetTech.