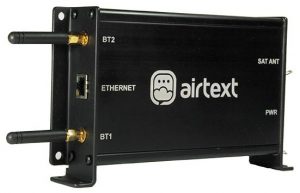 Airtext™ solves the problem of staying connected electronically without the high cost of a traditional internet option.
Send Solutions, LLC announced on June 24, 2016 the receipt of STC approval for the installation of the "Airtext" passenger Iridium Texting Systems on Textron Aviation Inc.'sCessna 750 (Citation X).
Airtext allows up to 16 passengers the ability to send and receive SMS messages, as well as emoji's, whether in flight or on the ground, anywhere in the world for essentially five cents a message. Using the iridium satellite network, Airtext has designed a product that allows connectivity through your cell phone while on the airplane. Messages are quick and delivered to the appropriate device. Using new technology BLE (Bluetooth Low Energy) found in modern phones, the passengers open a free application loaded on their phone giving them access to Airtext.
The hardware consists of a small "paperback" sized box weighing 1.1 pounds that is installed on the airplane and connects to the existing iridium phone antenna found on most airplanes. Then, utilizing a simple switch, the operator can change from voice mode to data mode for messaging. Hardware cost is $9,750 plus install, data costs vary depending upon usage and three packages (small, medium or large) are available, based on five cents per message.
Airtext is available for immediate shipment through authorized Avionics Dealers. The free Airtext app is available for iOS and Android devices and can be downloaded from the respective app stores. Visit www.airtext.aero for additional Information.