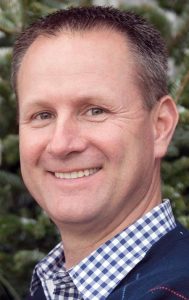 The Citation Jet Pilots Owner Pilot Association (CJP) Board of Directors is pleased to announce the appointment of Andrew Broom as the organization's Executive Director. Broom's appointment was approved during a board meeting on July 27th at EAA AirVenture in Oshkosh, Wisconsin.
"A methodical search process and two months of interviews concluded in Oshkosh with a unanimous vote by the CJP Board of Directors to offer the position of Executive Director to Andrew Broom," said CJP's Chairman of the Board David Miller. "Andrew is an accomplished aviation leader with executive experience at both aircraft manufacturers and associations, and we are thrilled that he will be helping us strengthen the world's premier Citation owner-pilot organization."
He joins CJP after most recently launching the HondaJet for Honda Aircraft Company, where he led all marketing and communications efforts globally since 2012. Prior to Honda, he was Vice President of Communications and Outreach at the Aircraft Owners and Pilots Association (AOPA) and had responsibilities that included advocacy programs, efforts to grow the pilot population, and the annual AOPA Aviation Summit. Broom has also worked at Hawker Beechcraft, Eclipse Aviation, the General Aviation Manufacturers Association (GAMA), and Embry-Riddle Aeronautical University. He earned both a BS in Aeronautical Science and an MBA from Embry-Riddle, and completed his Certified Flight Instructor and Instrument Instructor ratings.
"I am excited to apply my aviation experience and passion to help CJP continue to deliver the best value proposition for our members," said Broom. "This is an amazing group of Citation owner pilots and I am committed to building personal relationships with our board, each member, and our partners to successfully deliver CJP's mission and goals."
"CJP continues forward in our mission to provide advocacy for our membership while enhancing the safety and value of Citation ownership," said CJP's President Dr. Russell Boyd. "Andrew brings industry experience, business insight, and an incredible amount of energy and enthusiasm to the position of Executive Director," concluded Boyd. For more information visit www.citationjetpilots.com.